Williams Formula 1 driver Alex Albon has provided the first substantial update on his condition following his part in the monster multi-car collision that red-flagged the British Grand Prix.
Albon was checking up to avoid chaos triggered by Pierre Gasly, George Russell and Zhou Guanyu coming together when he was whacked from behind by Sebastian Vettel's Aston Martin.
This sent him spinning into the pitwall and back across the track, where he received two hits from Esteban Ocon and Yuki Tsunoda.
It immediately ended Albon's race and the Williams driver was examined at Silverstone's medical centre before being flown to Coventry Hospital for further precautionary checks.
He was released uninjured on Sunday night and his Williams team released a short statement in which he thanked all of the staff at the track and the hospital.
All ok, the pets are ok 😅 but more importantly I'm glad @ZhouGuanyu24 is ok! Thank you to the medical staff and for all the messages. Eyes already on Austria 👊 pic.twitter.com/15PI86Iooz

— Alex Albon (@alex_albon) July 3, 2022
On the Wednesday following the race, Albon spoke at length in a Williams release that detailed his reaction to the incident and his preparation for this weekend's Austrian Grand Prix.
"I'm pleased to say that after everything that happened at Silverstone, I'm feeling fine," Albon said.
"I've had a pretty relaxing few days and have used that time to recover; I'm in the simulator today [Wednesday] and just looking to get my eye in for Austria.
"Obviously, Silverstone didn't go quite as planned.
"It all happened so quickly. I only really saw what actually happened with the crash when I watched the replays back.
"But it was just one of those things, crashes happen, and, luckily, everyone in the crash was OK.
"I'm feeling positive. It's a shame we had that incident as I think we could have scored some points at Silverstone."
Albon added that he feels "pretty much back to normal" but will be taking it "easier" with this training prior to Austria.
"Obviously, it can sound quite dramatic when people go to hospital," Albon explained.
"But, to reassure everyone, I just went for precautionary checks. It's standard procedure, really.
"They've got the best people working in F1, so I was airlifted to the hospital as a precaution.
"I was feeling a little bit uncomfortable, and the crash felt bigger than it actually was. On my body, it felt like a bigger crash than I expected.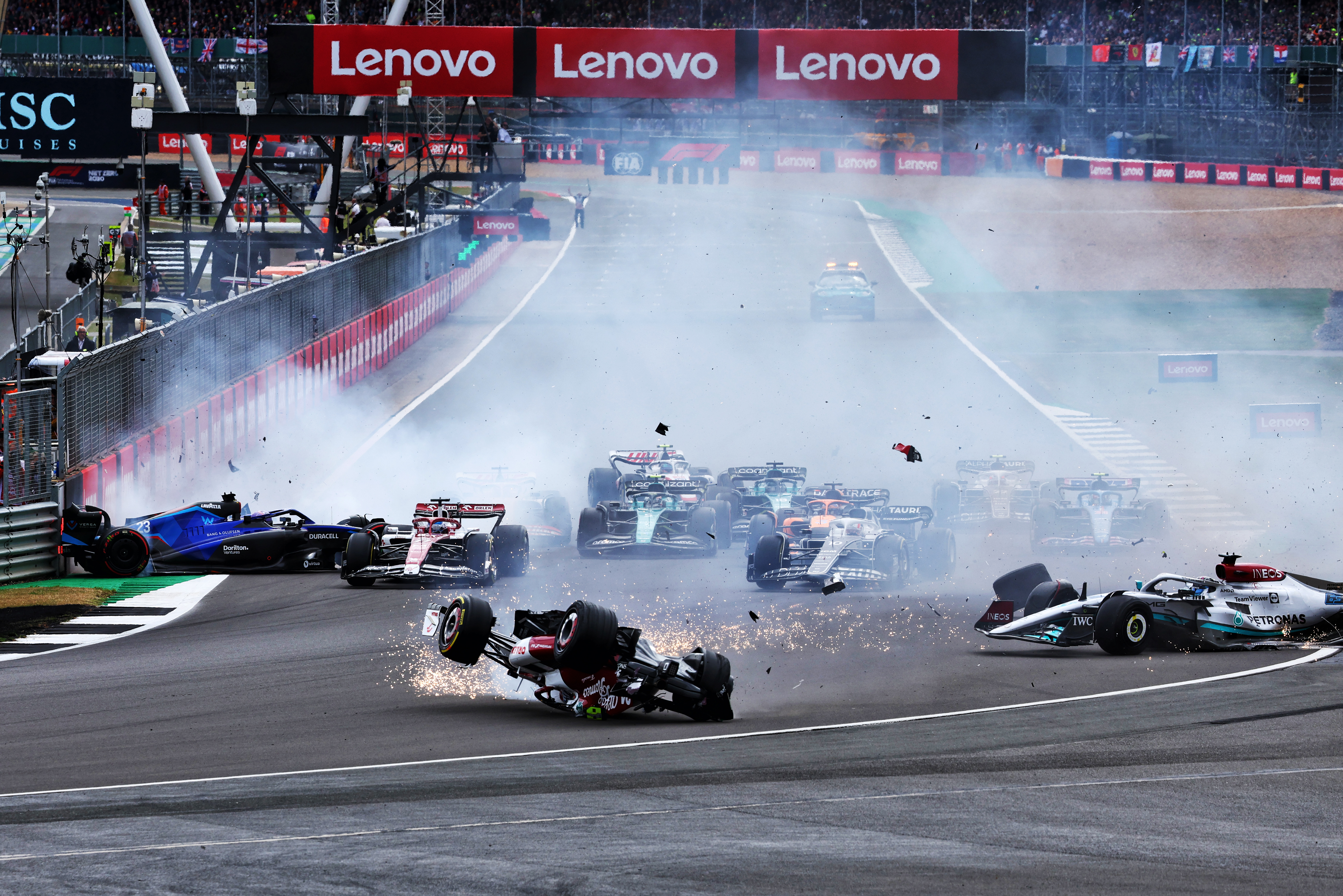 "Of course, it wasn't ideal, but it ended up being just a few bumps and bruises. There was nothing major at all, so it was all good in the end.
"No hard feelings. And as I say, it was just one of those things.
"Just for a bit more context, I was playing Sudoku in the hospital bed with Lily, my girlfriend, and I was also watching the race on my phone!"
Albon had qualified in 16th place as Williams debuted its new upgrade package on his car, while his team-mate Nicholas Latifi reached Q3 for the first time despite having the older version of the FW44.
"The good thing is that it looks like our aero package is salvageable," Albon added.
"The guys are now obviously working really hard to get that fixed and ready for Austria."
Concerns were immediately raised by Latifi after the grand prix, following his team boss Jost Capito's admission on Saturday that any crash damage would further delay the introduction of the new package on Latifi's car.
The upgrades are expected to arrive no earlier than the French Grand Prix, the race after Austria, but could be delayed by the repairs required to Albon's car.
Williams' head of vehicle performance Dave Robson provided an update on the status of Albon's wrecked FW44.
"Having damaged Alex's car at the race start last weekend, coming straight into a sprint event is logistically difficult," Robson said.
"However, we have been able to repair or replace much of Alex's car such that we can continue to understand the updates during FP1 on Friday.
"There is very little time to change the car before it passes into parc ferme at a sprint event [Friday afternoon] and so we will need to be bold going into FP1 if we are to continue to push the performance."
Albon believes the Red Bull Ring "will suit our car a bit more than other circuits" and highlighted his predecessor George Russell's Q3 heroics in 2021 as one reason to be optimistic.
"The Red Bull Ring is a great place to test the upgrade package out. It's got a good mix of low-speed and high-speed corners, which makes our set-up important, especially because there's so few corners to get right," he said.
"You're looking for hundredths around this track, more than tenths, so, if we can be in the ballpark for the weekend, I think we'll be in for a good race.
"I'm excited to be racing there again and we've also got a tyre test the week after the grand prix which will be good for us – again, more mileage and more running on the aero package."