The Alfa Romeo Formula 1 team will continue with current drivers Kimi Raikkonen and Antonio Giovinazzi in 2021, setting up Mick Schumacher for a move to Haas.
Speculation was rife through much of the season that either one of the drivers or both would be moving on at the end of the year.
Raikkonen joined in 2019 on an initial two-year deal after leaving Ferrari and Giovinazzi occupied Alfa's Ferrari-controlled seat.
Ferrari's choice over the second seat meant its swathe of Formula 2 proteges have been linked to Alfa at some point and the promotion of F2 championship leader Schumacher seemed a foregone conclusion at one stage.
However, Alfa has opted for stability into 2021 given Raikkonen's solid form even as he turned 41 and Giovinazzi showing flashes of the potential that mean Ferrari continues to back him.
"I am very pleased for the team to continue working with Kimi and Antonio for another season," said Alfa team boss Frederic Vasseur.
"Kimi is a driver who needs no introduction: his talent has been clear to everyone since 2001 and I still see the passion and motivation in him every time I see him at work.
"He can be trusted to deliver 100% of what the car can produce and he is a true leader for the people working around him.
"Antonio finished last year's campaign strongly and he picked up where he left off and kept improving throughout 2020.
"From the track to the engineering briefings, Antonio has played a crucial role for our team and he has thoroughly deserved a new contract for 2021.
"His work ethic, commitment to the team and contagious enthusiasm are a huge asset."
As previously reported by The Race, that makes Schumacher's F1 graduation with Haas a near-formality.
Schumacher, the son of seven-time F1 champion Michael, is closing in on the F2 title and all but guaranteed an F1 seat next year.
He has tested with Alfa and Ferrari in the past and was due to run with Alfa in Friday practice at the Nurburgring but the session did not happen because of the weather.
However, Ferrari is set to strengthen its ties with engine customer Haas, which has shifted its position and is now willing to run a Ferrari junior driver for the first time.
Schumacher is expected to be paired with fellow F2 race winner Nikita Mazepin in an all-rookie line-up.
Alfa has had a disappointing season with Ferrari's underpowered 2020 engine, which has disrupted the process of re-establishing the Sauber operation that runs the team as an upper-midfield force.
However, Alfa has re-committed its title sponsorship of the team for 2021 and Raikkonen, who recently broke Rubens Barrichello's record for most F1 starts, said he still believes in its potential.
Raikkonen called Alfa his "second family", having made his F1 debut back for Sauber back in 2001, and said the team's atmosphere is what "gives me that extra motivation to keep going".
"I wouldn't be here if I didn't believe in the team's project and in what we feel we can achieve together," said Raikkonen. "This is a team that values hard work over words and this fits well with my style.
"I am looking forward to next year and hopefully making some steps forward towards the front of the midfield with the team."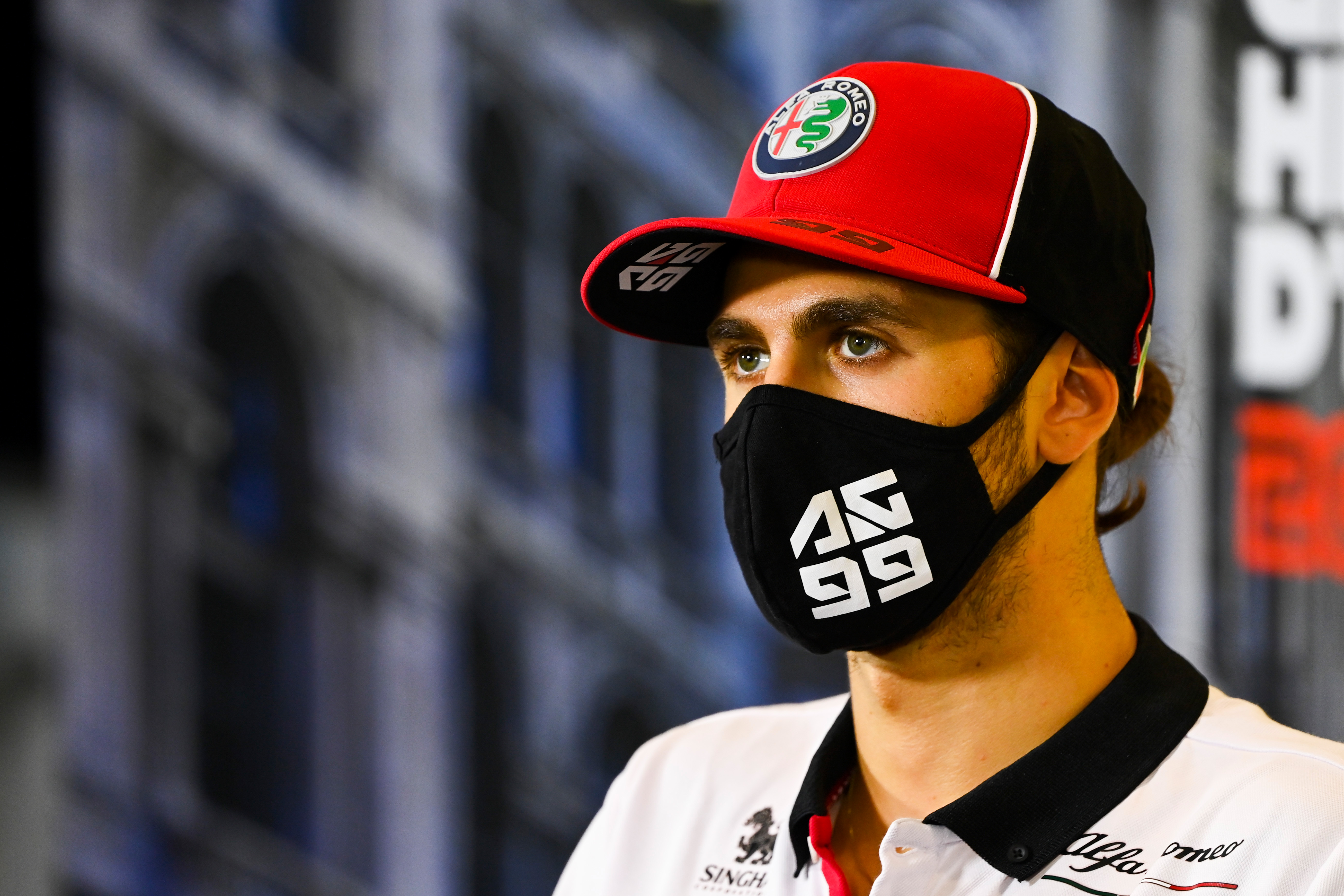 Giovinazzi, who has been under-fire at times for errors and underwhelming performances against his ageing team-mate, said he has "done my best" to repay the confidence shown in him so far.
"We have achieved some good results and I feel I have done my part to make the team progress, but the road ahead is still long and there is much more we want to achieve together," said Giovinazzi.
"There will be a lot of continuity between this season and the next one, so everything we work on between now and the end of the year will already count for next, and we are ready to give it all we have."