W Series driver Alice Powell is writing regular Formula 1 columns on The Race through the 2021 season. She gives her view on a thrilling Azerbaijan Grand Prix
---
Prior to the two-lap shootout that decided the fate of the Azerbaijan Grand Prix, Lewis Hamilton said across the radio to his Mercedes team "we've got to remember that this is a marathon, not a sprint".
So, he was taking the view to take it steady into Turn 1 – a sensible approach with his main championship rival out of the race.
I was doing commentary for F1TV, and after Max Verstappen's dramatic tyre blowout I said it might be the incident that decides the 2021 world championship. And that I really hoped it wouldn't be, with Hamilton potentially getting a lot of points over Verstappen in those circumstances.
And then, Hamilton changed that…
It's important to get as much temperature into the tyres and brakes on the red flag restart and you only have one out-lap to the grid. Hamilton's brakes were smoking like you wouldn't believe, which the team's insisted wasn't relevant.
At first, I wondered if his brakes were too hot when he ended up sailing straight on down the escape road and he came across the radio, absolutely distraught with himself.
But after the race, we found out Hamilton had actually accidentally flicked a switch on his Mercedes steering wheel that turned the brake balance aggressively to the front, causing him to lock-up heavily into Turn 1 and drop outside the points.
It's a massive error. I jumped up in the commentary box, I could not believe what I'd seen to be honest, especially after what he'd said over the radio.
Maybe he made that unusual error because of the adrenaline going through the drivers, visor down, you know you've got two laps to make something happen. He got a better start than Sergio Perez, was alongside and arguably in a position to take the lead.
Perhaps it was the buzz of taking an unexpected win, especially after Mercedes' struggle in the free practice sessions. Maybe he just got a bit too over-excited into Turn 1 after thinking 'well I can get the win here' and ended up losing focus just enough to hit that switch. It was a real shock to me to see that mistake.
Going forward it's how Hamilton comes back from this that will be important. It's not actually Verstappen's fault, the suspected tyre failure, whereas Hamilton's error was his own fault.
It's all about how Hamilton can recover mentally, he's not just cost himself big points in the drivers' championship, it's also big points lost for Mercedes with Valtteri Bottas not scoring either.
Whereas Verstappen can say 'well not my fault, I was in comfortable control of that race, made no errors, so I'm still in control of this championship'.
Who would have expected his team-mate Perez to win this weekend? He'd dropped away from the lead a lot by the time of Verstappen's puncture, but he won't be worried about that. His first win with Red Bull and quite early on in this season – he'll be over the moon.
It's taken him some time to deliver a top result, but it seems he got a grasp of the Red Bull this weekend. Not as fast as Verstappen on the road, but a great day for him and for Red Bull – first non-Verstappen Red Bull win since Monaco 2018!
It wasn't such a good race for Hamilton's team-mate Bottas. He would've been wanting to leave the track as quickly as possible after a really tough weekend for him. I can't work what was going on with him, he struggled all weekend for pace and was just confused and lost over the radio.
It's probably one of the weekends where he'll walk away from and be like 'what do I do now?', especially when Hamilton was up there fighting for the victory and Bottas way out of the points.
I didn't expect Mercedes to struggle as much as it did in Monaco and Baku, so let's see what the pace is like when we go back to more 'normal' circuits. Verstappen is still flying high, he seems confident and is really enjoying his Red Bull whereas Hamilton is not as comfortable in his Mercedes.
I'll be expecting Red Bull and Max to be fighting hard over the next few rounds, they know they have a really good chance to beat Mercedes and Hamilton. They just need to take it.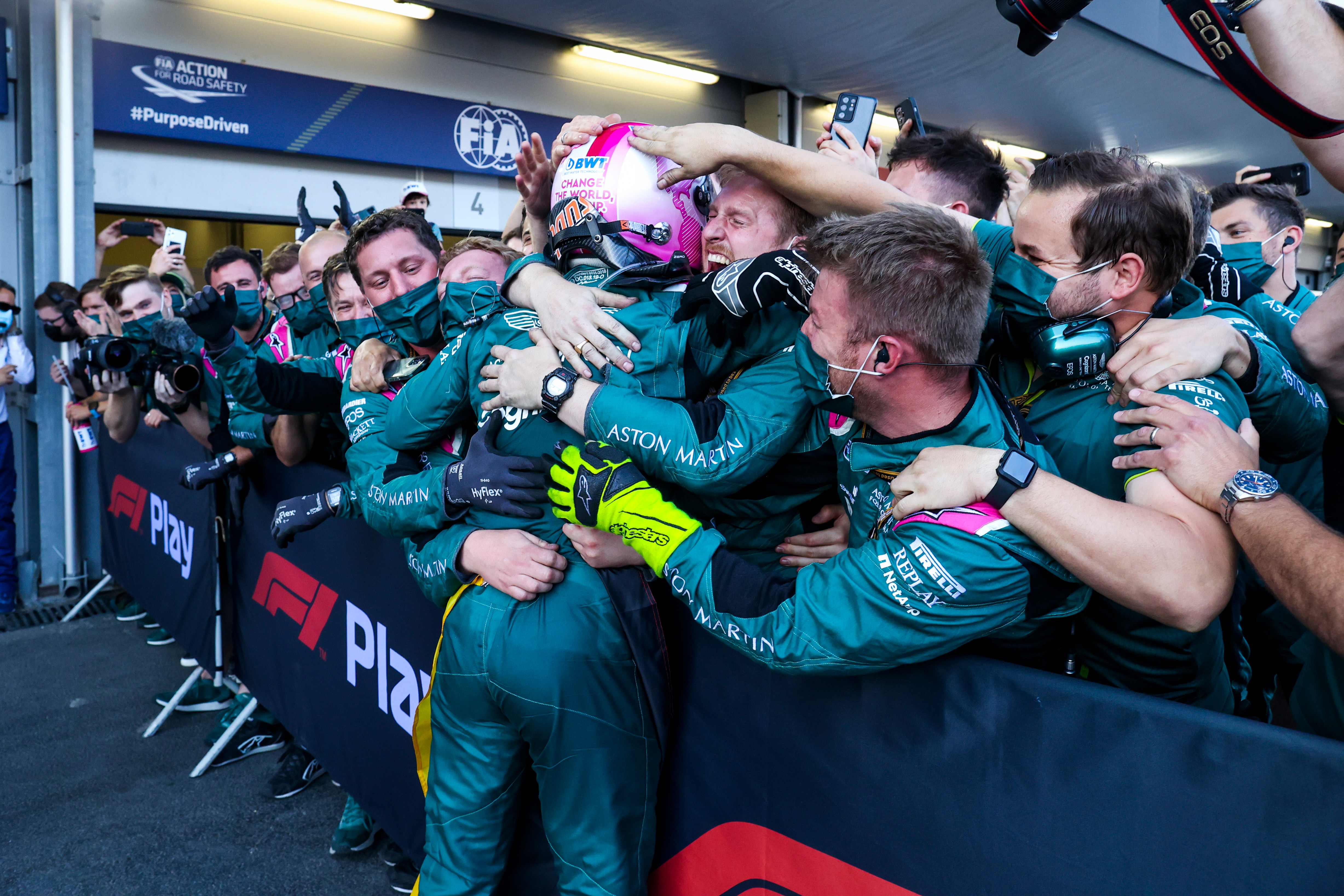 I was so happy to see Sebastian Vettel and the Aston Martin team getting a podium, an incredible job and fully deserved because Vettel put in a stellar drive on the hard tyres in the second half of the race. It will be a huge confidence boost for him and the team. It's really nice to see Vettel getting a podium after all of the struggles he's had at Ferrari in the past.
It wasn't just F1 that was entertaining in Baku. I was on commentary duties for Formula 2 too, and that never fails to deliver an exciting race so it was a pleasure to commentate on.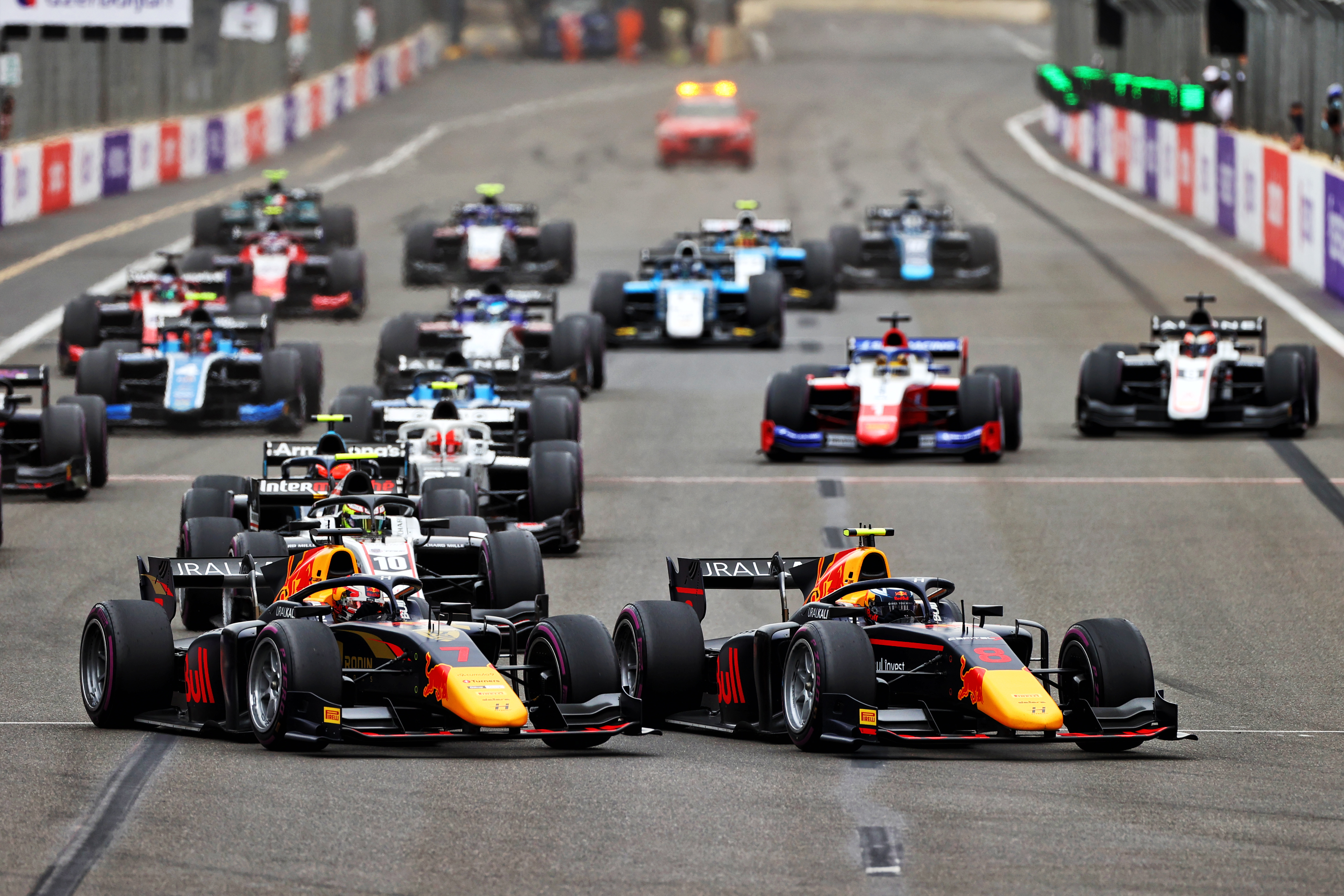 There's so much talent there this year. Robert Shwartzman and Juri Vips took really commanding race victories, the future of F1 is definitely looking very bright whether you look in F2, F3 or F4.
It would be nice to see some of those young chargers getting their deserved reward for their good performances racing and getting a chance in F1 soon.
Baku ultimately delivered another thrilling weekend in F1 and F2 and you could say the end of that F1 race provided us with a taste of the sprint races, which we'll see at Silverstone for the first time next month.
Alice Powell is competing in the second season of W Series in 2021. The all-female championship is now part of the F1 support bill and begins its eight-race campaign this year alongside the Styrian Grand Prix at the Red Bull Ring on June 26.