Statistically, the 2020 season was the biggest defeat suffered by Valtteri Bottas at the hands of Lewis Hamilton in their four years together at Mercedes.
The 124-point margin was a crushing one, particularly considering the truncated, condensed 17-race season and the fact Hamilton missed the Sakhir Grand Prix thanks to COVID-19.
Though Bottas trailed Hamilton by 161 points in 2018, this was over a 21-race season. His 2020 deficit is 127 if you exclude the race Hamilton was sidelined for, and this translates to an average of 7.9 points lost per race – as opposed to 7.7 in 2018.
But while Bottas wasn't up to putting together a genuine title challenge this year, the final margin exaggerated his deficit with more than his fair share of bad luck.
"If I were to make a list of unlucky events that I've had this year in races and sessions, it's quite a long list," said Bottas.
"It's between, should I cry or laugh? Maybe I'd rather laugh. Some of those things, there's nothing you can do. I'm not a superstitious guy, it just sometimes happens. Some people can have a run of bad luck, it can be many years, it can be a short moment. I hope things equal out at some point."
Mercedes team principal Toto Wolff believes Bottas should have won at least three more races in 2020, which is not unrealistic as the final tally of two did not reflect his form.
"Valtteri has had bad luck in his season that almost comes close to freak events," said Wolff. "Like the punctures that shouldn't have happened, red flags when he is in the lead.
"If I didn't know that he has an absolutely strong mental constitution, a driver could start to question why that was happening to only one guy. But not Valtteri. He's so strong. He's so robust and resilient that it is only going to make him stronger.
"But I feel sorry for him. Picking up all those problems in a single season, when he could have won three or four or five races more and been a solid second, at least. This is difficult."
So here's how Bottas's season panned out, with the points swing relative to Hamilton tracked for each race. In total, he only outscored Hamilton four times in the 16 races they both competed in.
This is not intended to argue he deserved to be world champion because he didn't and was very much the second driver on overall performance at Mercedes. But the way the season went unquestionably made his campaign look worse on paper than it was.
AUSTRIA – 13 POINTS GAINED
Bottas made a great start to the season, winning the Austrian Grand Prix from pole position while Hamilton finished fourth after twin penalties.
The first was a three-place grid drop for not adhering to yellow flags, which happened as a result of Bottas's off on the final run of Q3. Hamilton recovered to finish second on the road, but dropped to fourth in the final results thanks to a time penalty for colliding with Alex Albon.
STYRIA – 7 POINTS LOST
This reversal was all about Hamilton's stunning qualifying pace in the wet with a "close to perfect" pole lap, and Bottas down in fourth place and 1.428s slower.
With Hamilton in command, Bottas passed Carlos Sainz Jr for third early o,n then ran 10 laps longer than second-placed Verstappen before stopping.
This gave him a tyre advantage in the final stint and he recovered second with four laps remaining by passing the Red Bull.
HUNGARY – 11 POINTS LOST
Bottas never looked Hamilton's match in qualifying but dug deep to close to just 0.107s off on the final run of Q3.
But what really cost him was the start, as he moved fractionally before the lights (when distracted by his dashboard) but within tolerances then wheelspinning his way briefly as low as seventh place on the first lap.
That meant third in the race as Hamilton won again.
BRITAIN – 25 POINTS LOST
Bottas had already been beaten resoundingly into second place both in qualifying and the race by Hamilton, with a seven-point loss already inevitable.
But on the 50th lap of the race he suffered a front-left tyre failure when the belt in his Pirelli broke in the worst possible place on track. He had to do a full lap at crawling speed, rejoining outside of the points and finishing 11th.
70TH ANNIVERSARY – 4 POINTS LOST
This was a real missed opportunity for Bottas, who beat Hamilton to pole position by 0.063s.
But on a day when rear tyre blistering was a huge problem for Mercedes, Red Bull driver Verstappen was able to take the initiative and win.
Even then, Bottas ran ahead of Hamilton until their strategies diverged, with Hamilton running nine laps longer on his second stint then using a tyre advantage to pass Bottas for second and take a point for fastest lap.
SPAIN – 9 POINTS LOST
Bottas was at a low ebb after this race, with a bad start meaning that he wasn't even able to finish second.
His reaction time off the line from second place on the grid wasn't sharp enough and he slipped behind both Verstappen and Lance Stroll.
While he quickly dispatched Stroll for third, he couldn't get ahead of Verstappen for the rest of the race and was left ruing taking softs, rather than mediums, for his third stint.
A bonus point for fastest lap after a late pitstop was little consolation.
BELGIUM – 7 POINTS LOST
This was a regulation defeat for Bottas, who finished second having been outclassed by Hamilton.
Bottas's surprise after qualifying half a second behind his team-mate despite what he considered a decent lap underlined the difference in performance, although come the race Bottas had no problems covering off Verstappen to hold second.
ITALY – 3 POINTS GAINED
This has to go down as a missed opportunity for Bottas, given Hamilton's penalty for entering the pits when they were closed under the safety car cost victory.
Bottas should ideally have been there to pick up the pieces, but wasn't thanks to almost jumping the start, then fluffing it as a result and dropping to sixth.
Cooling problems and the car pulling to the right in the closing stages, as well as the timing of the safety car and the red flag, meant he only finished fifth.
TUSCANY – 8 POINTS LOST
Bottas had good reason to curse the pile-up at the back of the field after an early safety car given he'd taken the lead from Hamilton at the original start.
At the standing restart, Hamilton reversed the situation and Bottas couldn't repeat his first-start trick and the third start late on to reclaim the lead.
Had the restarts never happened, Bottas would have had the lead and every chance of holding off Hamilton, rather than finishing second to him.
RUSSIA – 11 POINTS GAINED
This was an occasion where Bottas can genuinely be said to have lucked in. Having settled into second place behind Hamilton at the start, albeit with the advantage of starting on mediums with his team-mate having to use softs, he was handed the lead.
This was a result of Hamilton serving a 10-second time penalty at his first pitstop, which allowed Bottas to take a comfortable win and fastest lap with Hamilton third.
EIFEL – 25 POINTS LOST
The race started promisingly for Bottas, but he was eventually overtaken by Hamilton while struggling with tyre graining.
An electrical problem later set in that cause the Mercedes power unit to shut down, putting Bottas out of the race.
PORTUGAL – 8 POINTS LOST
After initially dropping behind Verstappen, Bottas repassed him then overtook Hamilton to lead as the cars struggled to build tyre temperature. Despite briefly falling behind Carlos Sainz, he retook the lead, only to be passed by Hamilton.
Ultimately, Bottas had good pace in Portugal but both his capacity to adapt to the wind conditions and manage the tyres fell short of what Hamilton could deliver, meaning he was ultimately well-beaten into second.
EMILIA ROMAGNA GRAND PRIX – 8 POINTS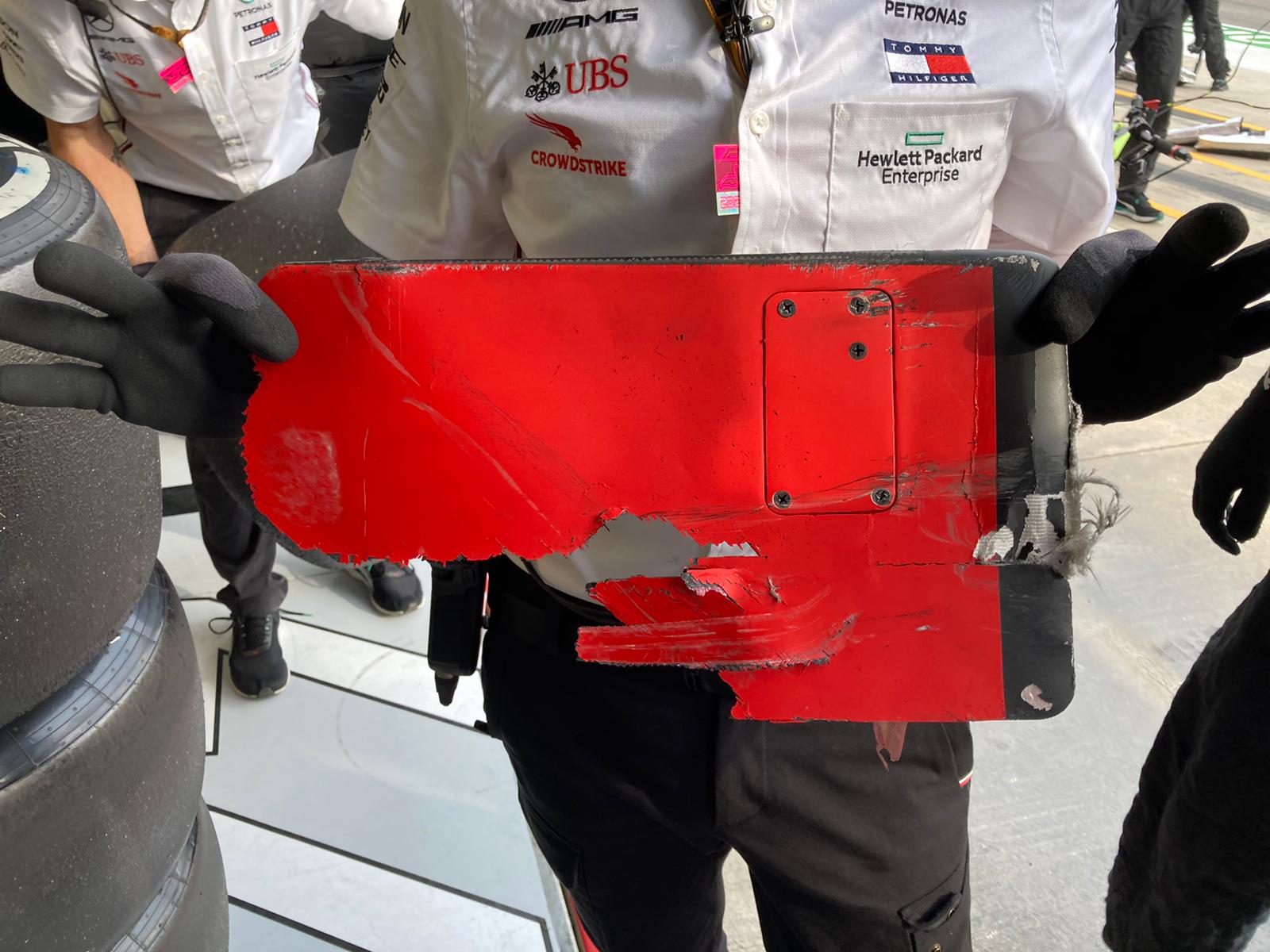 This would surely have been a victory for Bottas but for the misfortune of getting a big chunk of Sebastian Vettel's Ferrari endplate lodged in his car on the second lap.
He turned in a superb lap to take pole and led the first stint despite the car limitations, but as the race progressed it was increasingly difficult given the pace the car had lost.
While trying to hold off Verstappen he had a brief off that cost him second, but regained the position when the Red Bull driver suffered a puncture. This promoted Bottas back to second place but, chances are, without that bit of debris it would have been a fine victory.
TURKISH GRAND PRIX – 25 POINTS LOST
It's hard to imagine how the Turkish Grand Prix weekend could have been worse for Bottas, who qualified ninth, spun at the first corner and then hit Esteban Ocon later in the opening lap.
In total, he had six spins and was lapped by his team-mate, although after the first lap his struggles were largely down to the damage he picked up. While it was his fault he had the damage, it cost him pace and the endplate and steering damage meant that correcting rear-end slides was rendered extremely difficult – hence the series of spins.
It was an inglorious way for his championship defeat to be mathematically confirmed.
BAHRAIN GRAND PRIX – 21 POINTS LOST
Bottas couldn't match Hamilton's qualifying pace and made another bad start, wheelspinning his way down to sixth. But while that's on him, what happened after was not.
He picked up a puncture at the restart and dropped to 16th after pitting and recovered to finish eighth – but not before having to pit under the late safety car thanks to another puncture.
SAKHIR GRAND PRIX – 4 POINTS GAINED
This weekend should have been an open goal for a Bottas victory, but despite edging George Russell in the battle for pole position he lost the lead at the start thanks to an inferior reaction time.
The Mercedes pitstop catastrophe allowed him to get ahead of Russell, but left him with an unchanged set of tyres and he faded to eighth in the final part of the race as he struggled for grip.
ABU DHABI GRAND PRIX – 3 POINTS GAINED
With Hamilton back, Bottas outqualified his team-mate then finished ahead in a bland one-stop race. Unfortunately, Max Verstappen was ahead of both of them, meaning Bottas didn't get to sign off with a victory.
Tracking the points swings for and against him – but mainly against – makes it very clear both where Bottas's deficiencies were and also the times where his greater misfortune extended the gap between him and Hamilton. While even had luck not been against him, he still would have finished well behind Hamilton, by rights it should have been closer.
But on the positive side, while Bottas himself admitted that finishing second in the world championship isn't much to get excited about, he did at least have a slice of fortune.
Verstappen's own bad luck – with five retirements – meant he fell nine points short of relegating Bottas to third in the championship.