It's just three weeks until F1 23, the third Formula 1 game to be released since EA purchased Codemasters, comes out and we've been lucky enough to get a hands-on look at a preview build of it.
Since it isn't the final version of the game, not all of the game modes and new features were available for us to try out. That includes all of the online modes – which means we've still yet to see how the all-new hyped-up 'F1 World' mode will be in actuality.
The standard grand prix and time trial modes were able to give us an insight into some of the other much-marketed improvements and additions to F1 23. That includes the changes to the physics and car handling model, which have been based on feedback from F1 teams themselves.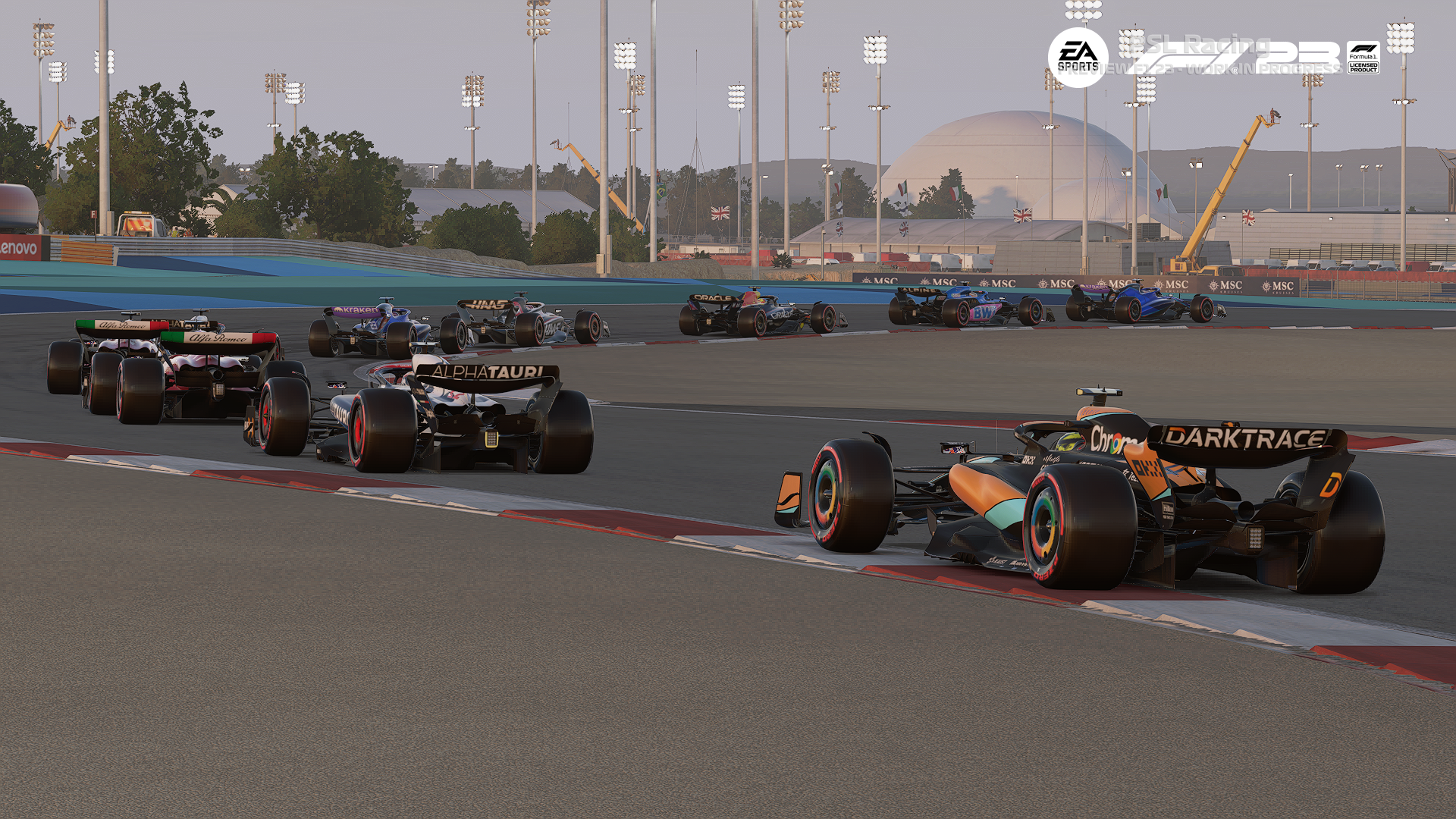 Naturally, every new racing game is going to boast new and improved vehicle physics, but it's particularly important for F1 23 to get it right.
There was a widely held feeling in the community that F1 22's handling model made the cars too tricky to drive on the limit consistently, particularly if you played on a controller instead of a wheel and pedals.
Two particularly big issues with last year's game were the lack of traction when exiting a slow-speed corner, and that it was extremely difficult to catch a slide from the rear as you would often spin out before you had a chance to correct it. This meant driving in F1 22 was harder to acclimatise to than it was in previous games and even then the cars were still frustratingly unpredictable.
F1 23 delivers on its promise as there's less numbness when steering and if you get a bit eager with the throttle on exiting a corner then you can catch a small slide and recover without spinning first.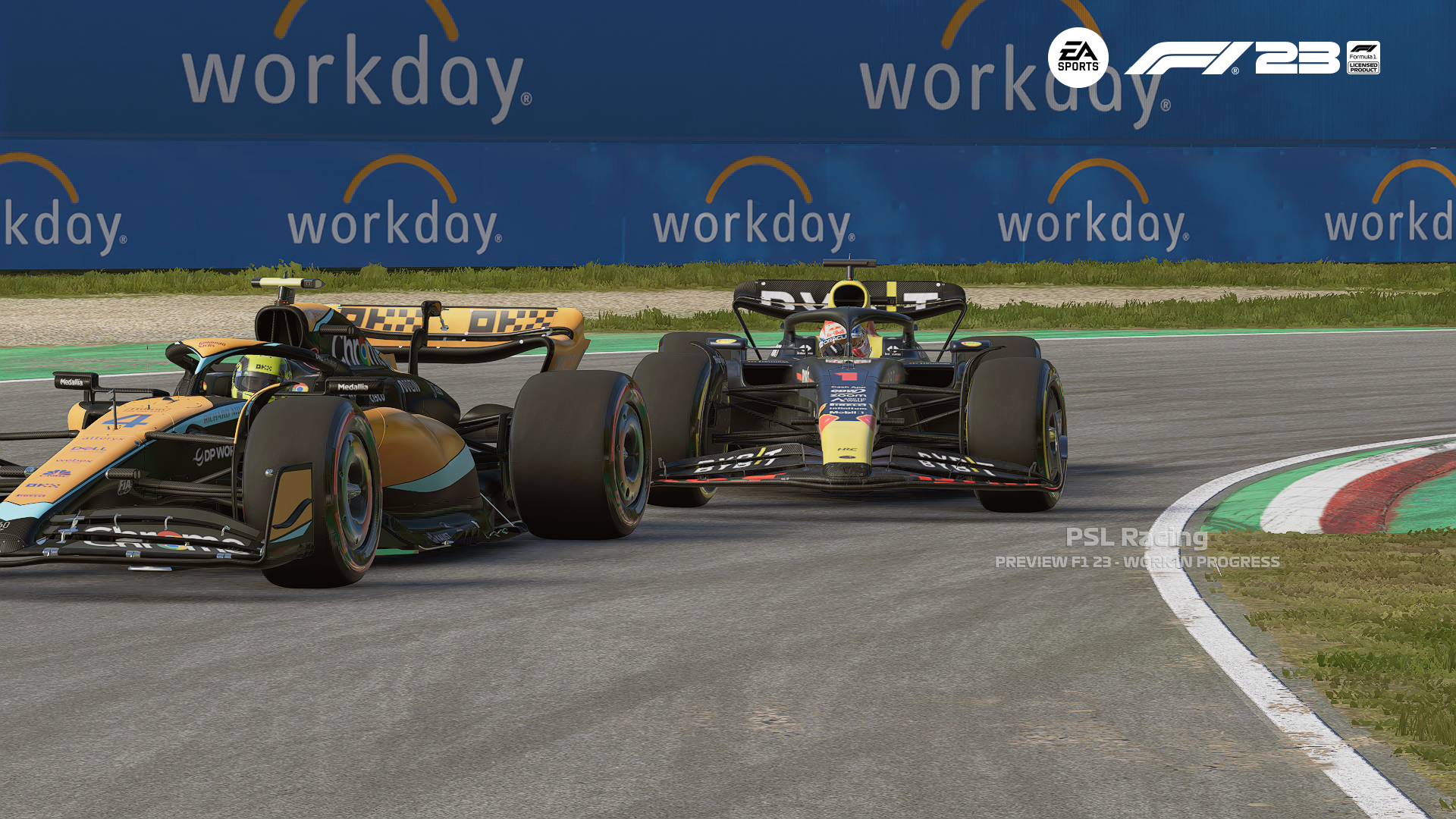 That's not to say that the handling is suddenly dumbed down; too much power too soon and you will spin, if you dip a tyre on the grass in the braking zone or just go too hard on the brakes then you will lock up. But, unlike in last year's game, you have a better sense of the car's limits and you aren't immediately punished for straying over them.
It's worth noting as well that this was all experienced on the default car set-ups, so the driving experience will almost certainly become even more enjoyable when the community tinkers with those settings.
Also the feeling on a controller has been greatly improved and you don't get such a violent recentering of the steering wheel in-game once you've finished turning around one of the tighter and slower speed corners.
If you want the challenge it is still there, but it's much easier to get to grips with than F1 22 was and the extra predictability and leniency you get in F1 23 really comes into play later in a race when you're on heavily worn tyres or if it rains.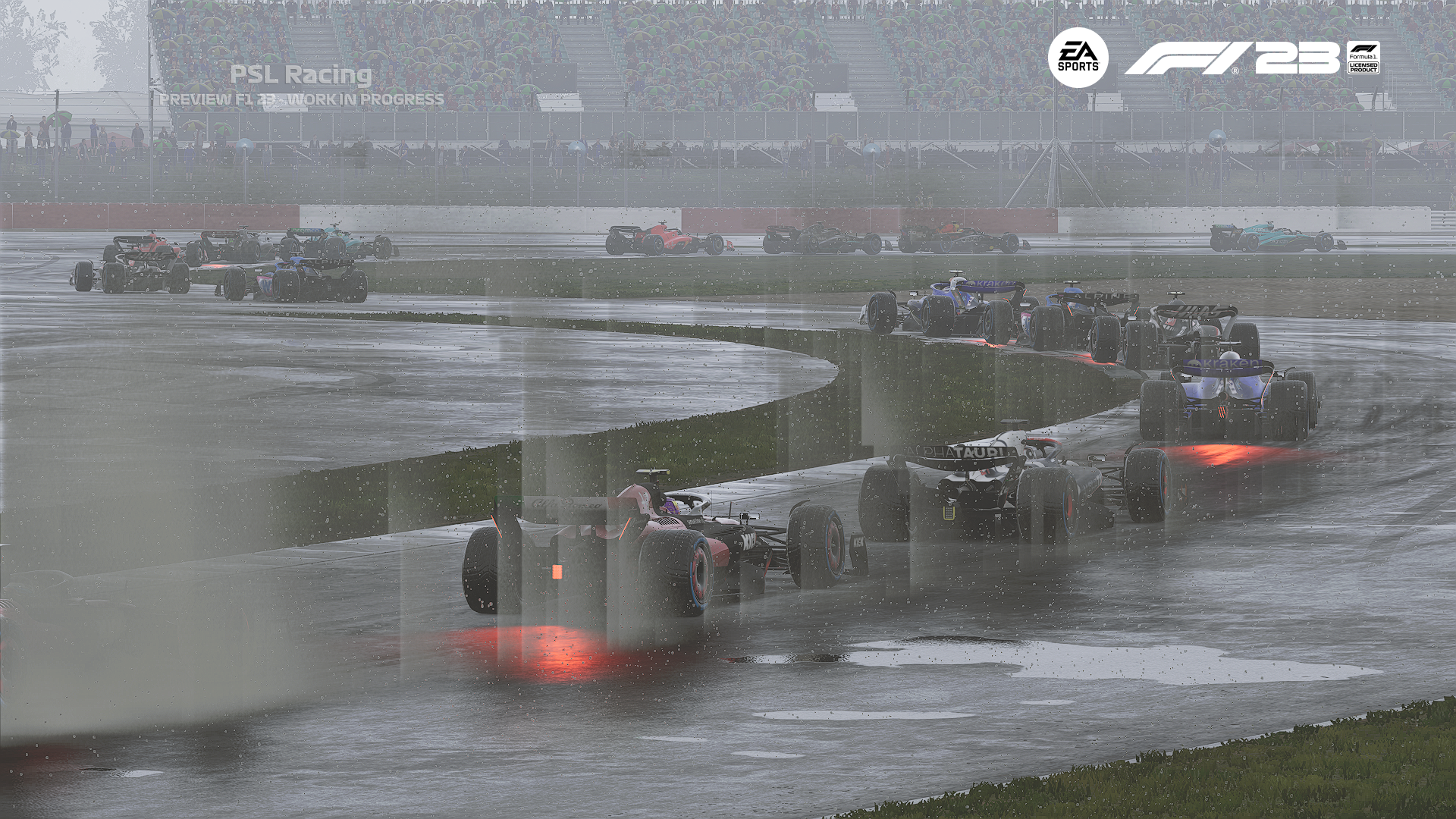 That point goes hand-in-hand with another of F1 23's new features, the ability to do races that are 35% of a full grand prix distance.
The reasoning for introducing 35% distance races stems back to F1 Esports. The competition used to run races at 25% distance due to that being the shortest race length in the F1 games which had mandatory pitstops.
But after longer races had been heavily requested by the drivers and viewers in order to offer up more strategy options, the 2020 F1 Esports season debuted 35% distance races. As intended, that led to much more strategic variety and produced some thrilling races. However, 35% distance races were never available to all players until F1 23.
Race distance is a matter of personal preference but most players' career mode playthroughs and online league racing series will typically run races at either 25% or 50%. So the 35% option is a middle ground that could easily appeal to players who don't want to spend roughly 45 minutes per race but would like more viable tyre strategies than the 25% distance option offers.
Exactly how much more open the strategy choices are for a 35% distance race compared to 25% isn't completely clear as it depends on a number of factors and changes for each circuit.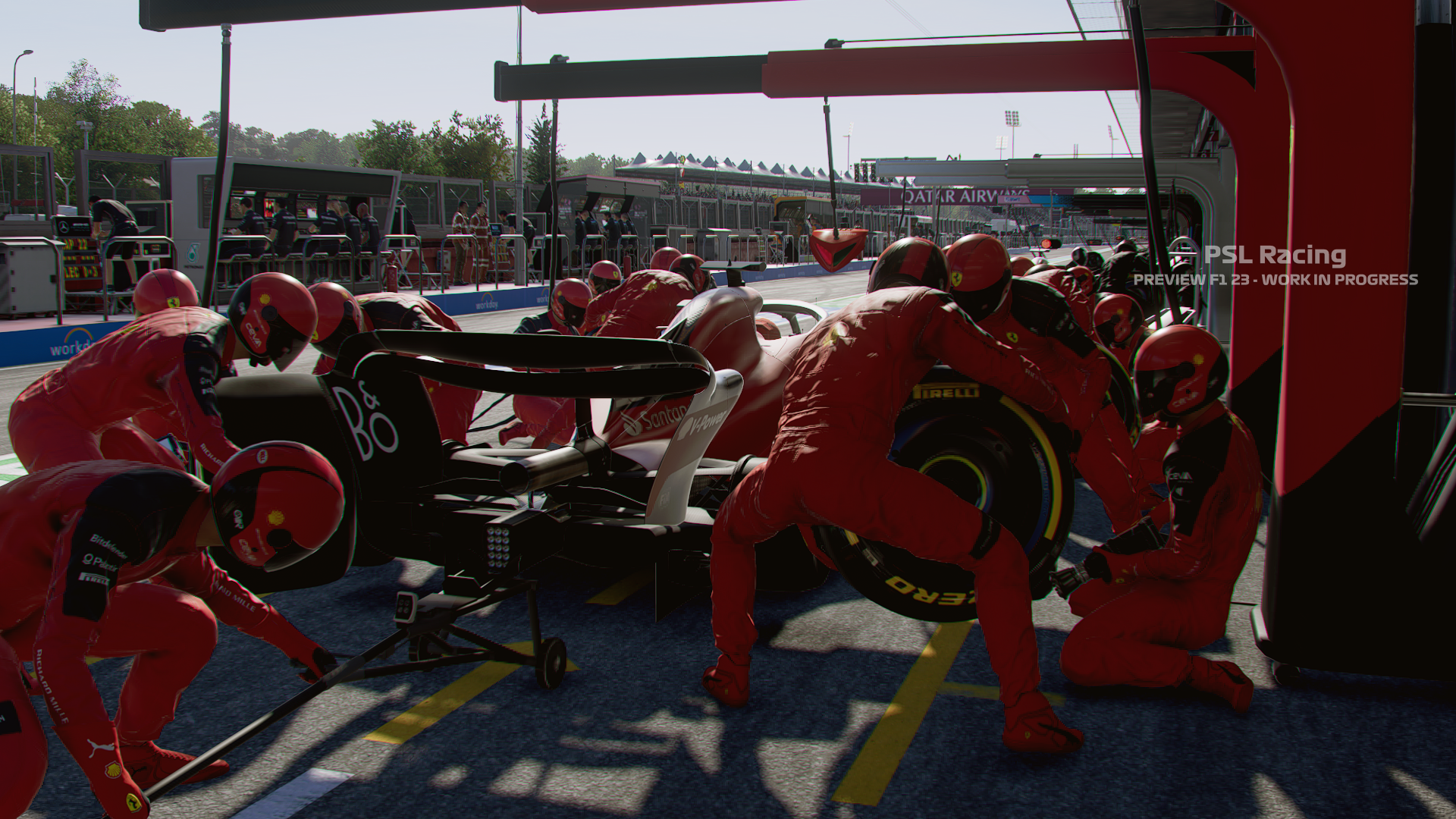 Going based on the pre-race strategy screens, which aren't always completely reflective of how the races play out in reality, in Bahrain 25%, 35% and 50% distance races are all only one-stoppers. In Hungary only at 50% distance is a two-stop viable and it's a similar story at Imola.
That said, Imola produced an exciting race at 35% distance. Starting from last in Max Verstappen's Red Bull, the increased distance over 25% meant there was a larger gap in laps between pitstops for those who started on the softs and those on the mediums and hards.
Starting from the back on the medium tyres and trying to make up ground by overcutting and running in clear air was more viable than it would otherwise have been in a 25% distance race. And at just over 30 minutes for the whole race, it was just about short enough to prevent it from becoming boring as the finishing order was pretty much set in stone a few laps from the end.
Unfortunately the much-hyped return of red flags was not included in this preview build so we've been unable to test them out.
The first deep dive video released by EA and Codemasters promised that red flags can come out for reasons including cars which retired with mechanical issues stopping on track or even extreme wet conditions.
That would be an improvement over F1 2014, the last game to feature red flags, when they only really were seen if you either parked your car to block the entire track or if modded the game. But as of yet we've been unable to test if F1 23 delivers on a much more realistic inclusion of red flags.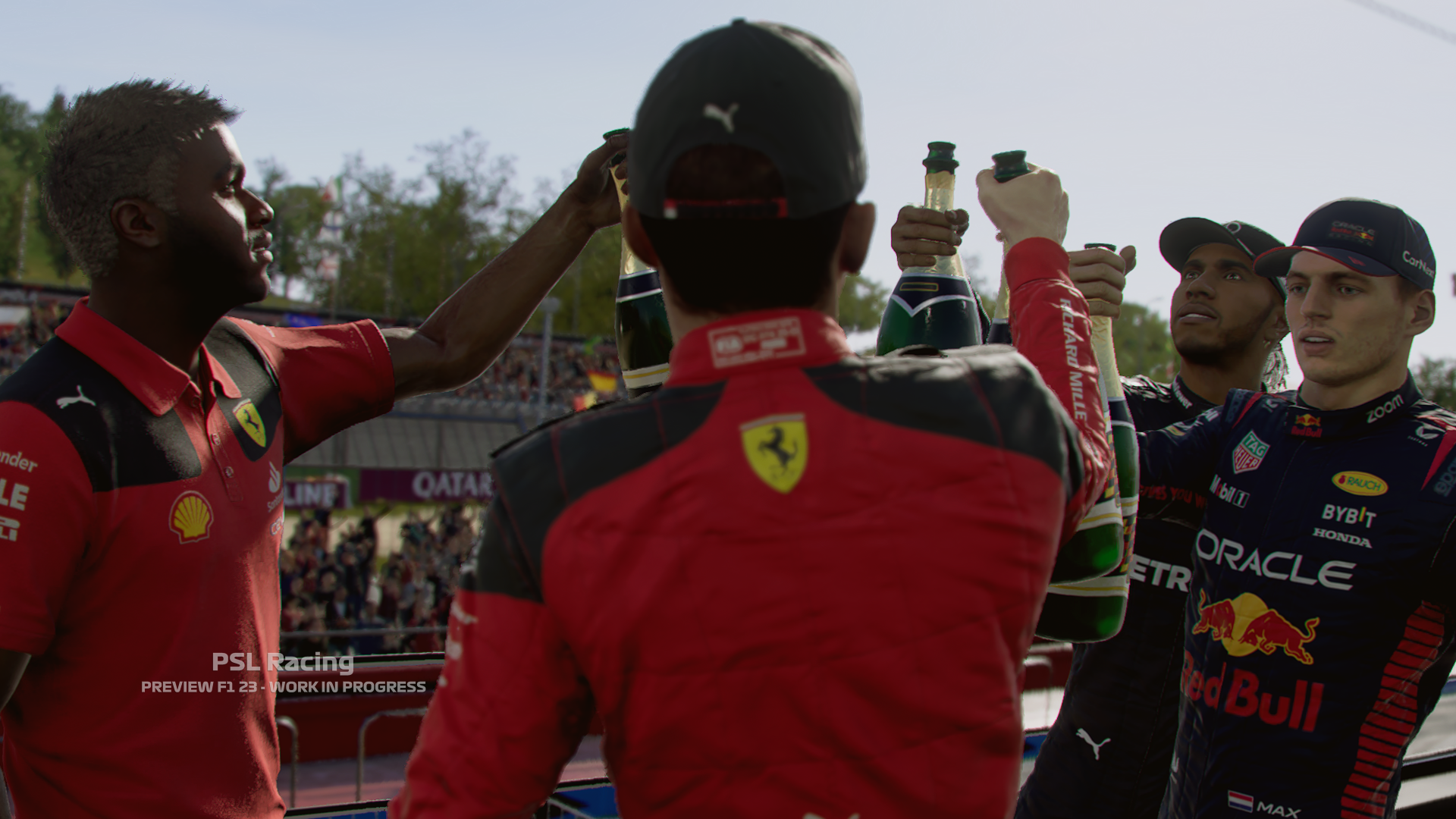 What we have been able to see instead is the new colour encoding system for F1 23. While not a groundbreaking change, it is instantly noticeable to anyone who's spent a lot of time with F1 22.
The biggest impact it has is during the cutscenes where you get to see the drivers out of the car, as well as a more naturalistic implementation of sunlight. It also gives the game a much more sepia tone.
Ultimately it's not the colour palette that is of most interest to the player base and one which will swing someone's decision to buy the game or not. The car handling is, though- and it's great to see that player feedback from F1 22 has been listened and reacted to.
But we're still eagerly awaiting to get our hands on the red flag system and the all-new F1 World, neither of which are in the preview build of F1 23, to see if they can also live up to expectations.