Alfa Romeo lost a potential point in the Turkish Grand Prix after Antonio Giovinazzi disregarded two team orders to let team-mate Kimi Raikkonen past in the closing stages.
Giovinazzi was told to let Raikkonen past during lap 52, with the plan to change places at Turn 1 on the following lap. Giovinazzi did not cede the position. Midway through that lap he was told again "Antonio, swap position as Kimi is about one second quicker", but he did not do so.
The Italian said he would find more pace if he pushed more in the long Turn 8 left-hander and attempted to up his lap time to Raikkonen's pace, which he was told was a 1m32.5s. He later complained after the chequered flag that he had not been told to attach more in Turn 8 earlier.
During this spell of the race, Giovinazzi was unable to lap quicker than a 1m33.165s, although he was able to chase down and pass McLaren driver Ricciardo then close on Esteban Ocon, falling short of 10th place by 0.7s.
"We asked to swap position, but at this point, Antonio started to pick up the pace and he decided that he wanted to stay ahead," said Alfa Romeo head of trackside engineering Xevi Pujolar.
"Maybe that situation was a couple of laps when we potentially could have been faster as a team. And then we needed one more lap to catch Ocon."
Pujolar said he didn't understand why Giovinazzi, who is expected to lose his seat with the team at the end of the season, did not let Raikkonen past given they could have swapped them back around later on if both passed Ocon. It should be noted that there was no discussion over the radio of this possibility.
"For the team, that was not ideal," said Pujolar.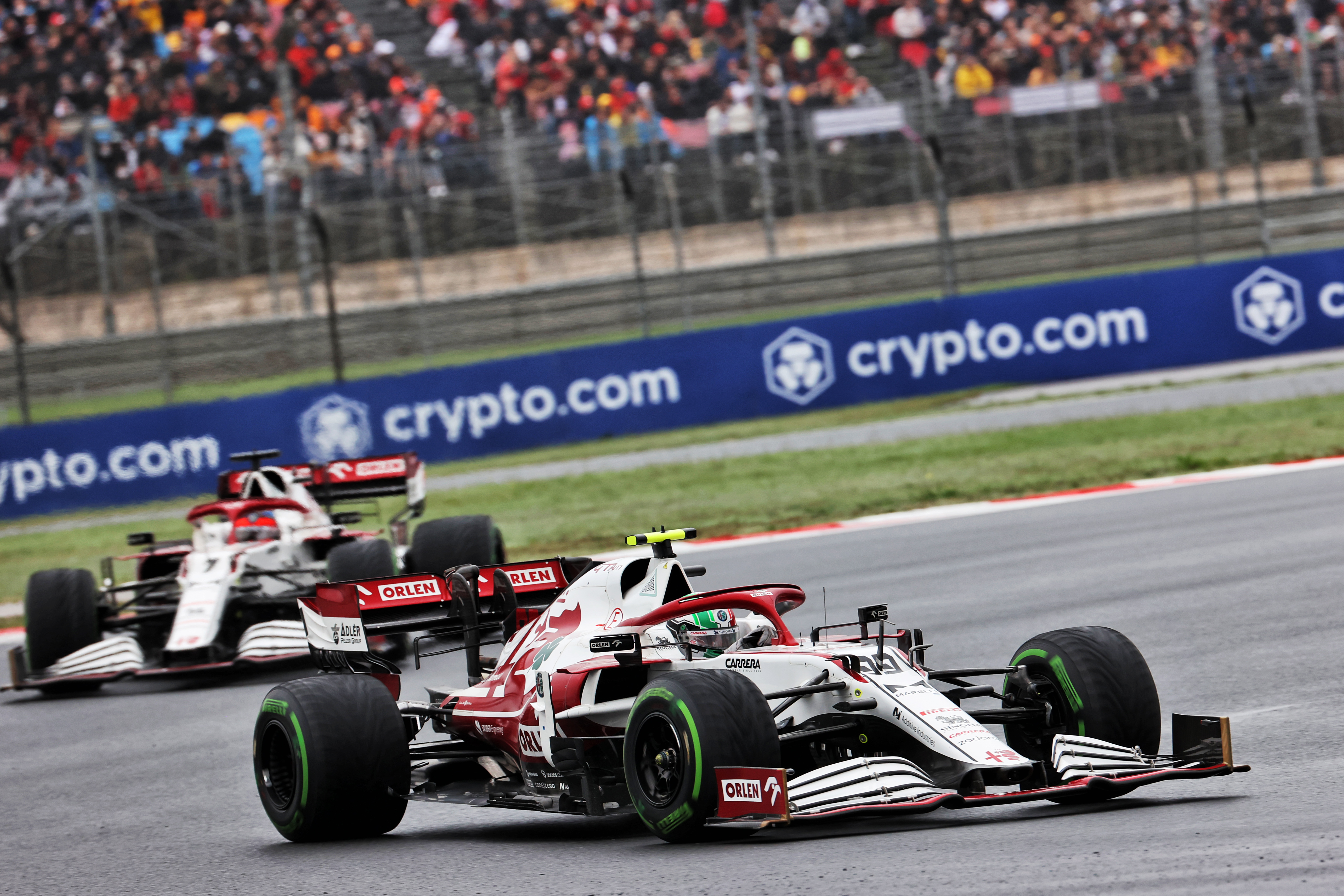 "I did not understand well why we couldn't swap at this point because at the end we can change it back depending on the situation.
"For us, it is important to achieve the points and Kimi's pace was strong at the time."
While the drivers didn't talk about what happened publicly after the race, Raikkonen suggested over the radio after the chequered flag that "maybe we should think about it a bit earlier" in terms of the failed attempt to make the switch.
The response from race engineer Julien Simon-Chautemps was that "Antonio was told".
Although Raikkonen crossed the line five seconds behind Giovinazzi, this was the result of time lost on the last lap to a couple of errors and being lapped. Given he had closed at just over a second a lap before getting caught behind Giovinazzi and the fact Ocon was struggling on a no-stop strategy, it's almost certain he would have come through to score a point had he been released.
"We were happy with the pace and the way we managed the race in these difficult circumstances so the calls were correct," said Pujolar.
"It's disappointing that on that team radio call on the end that we didn't manage to score positions, but after a difficult qualifying, we recovered today. Being P11 is always frustrating.