One lap after passing Yuki Tsunoda for ninth in the Monaco Grand Prix, McLaren driver Lando Norris enquired about the gap to eighth place.
Given he was the fastest driver on track – half a second faster even than Max Verstappen on the previous tour – and setting a superb pace on intermediate rubber, the hope was that he might be able to make more gains. The deflating response eventually came informing him that "the car you're racing is Sainz, 48 seconds [up the road]".
Norris responded with what sounded like a sardonic "ah, sick", suggesting he was disappointed to have lost so much ground during the dry phase of the race, leaving him with nothing left to race for other than consolidating ninth. Even so, he closed the gap to Sainz to 27 seconds by the end of the race.
After crossing the line and being told he'd finished ninth, his response was a simple "uh-huh" followed by laughter, then some positive – and more sincere – comments to the team about a job well done.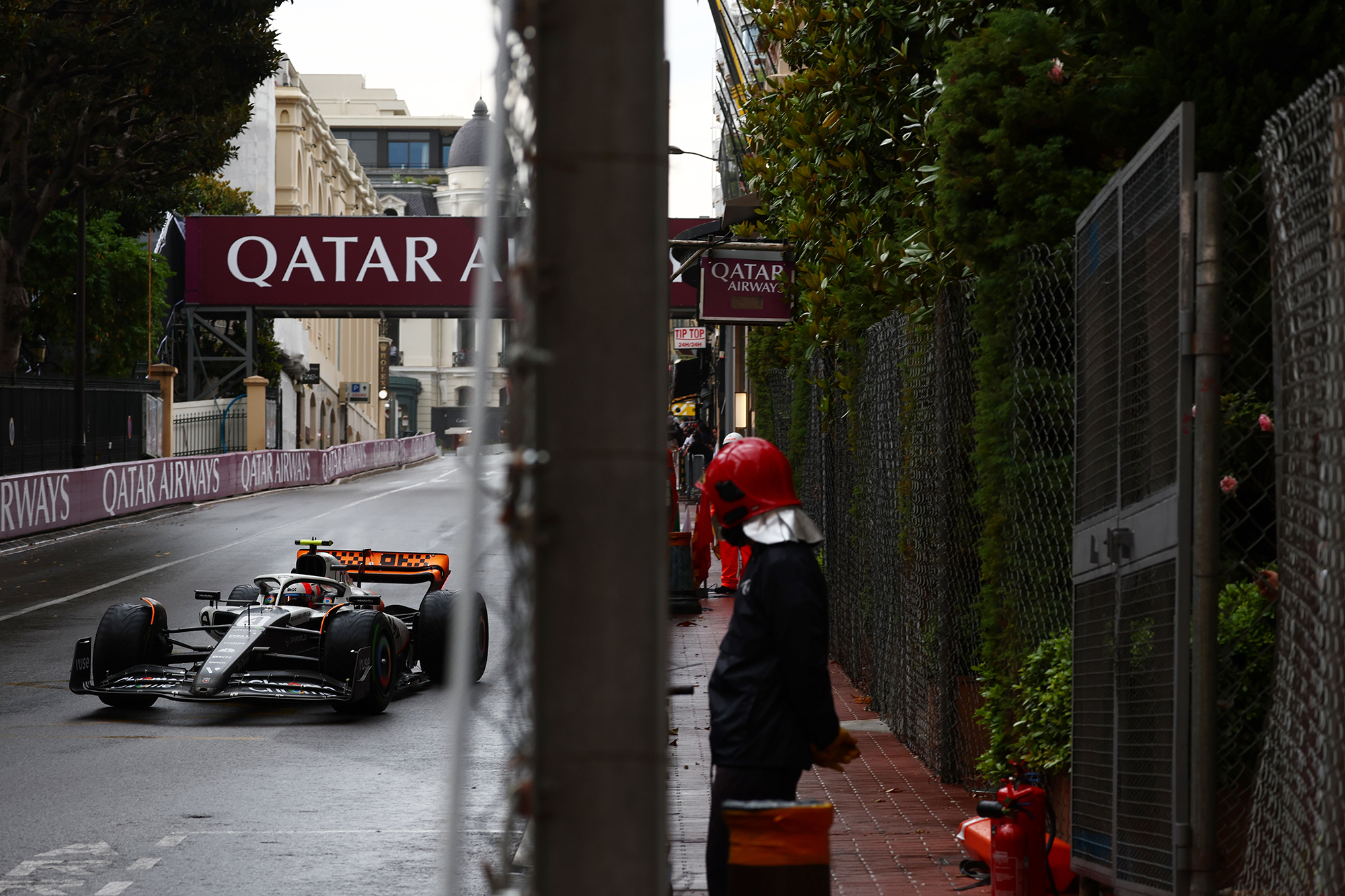 Any suspicion that Norris's radio message when told about the gap to Sainz might have been misinterpreted was dispelled by his tone after the race. Given he'd finished in as high a position as the pace of the McLaren MCL60, he was asked if he was pleased with what was a decent result. The answer: "Yeah with some of it, not a lot of it, to be honest".
While there were comments about the pitstop strategy and the fact that had his first stop been delayed there might have been the chance to gain several places, the key concern was the car performance. The McLaren was the sixth-best car in the race in terms of finishing position, but in the hands of Yuki Tsunoda the AlphaTauri had been quicker in qualifying and was on course to finish ahead before the rain came.
"I wouldn't say it was anything special, honestly," said Norris when asked by The Race what the performance in Monaco said about the car. "If I just look at today, the AlphaTauri was a lot quicker. I don't believe we had a quicker car yesterday and not today.
"Mixed feelings I guess but there's what five or six teams who are a lot quicker than us. Not a lot, AlphaTauri is maybe a little more on par with us [but] little bit quicker this weekend. You have Alpine who are considerably ahead of where we are.
"There's little things to take away, I wouldn't say big positives, wouldn't say the car was mega. I think we just did a good job at getting up to speed and everyone takes a long time to get up to pace and that's why we looked very good in FP1, FP2, but the further into the weekend we got, that's why we ended up where we did."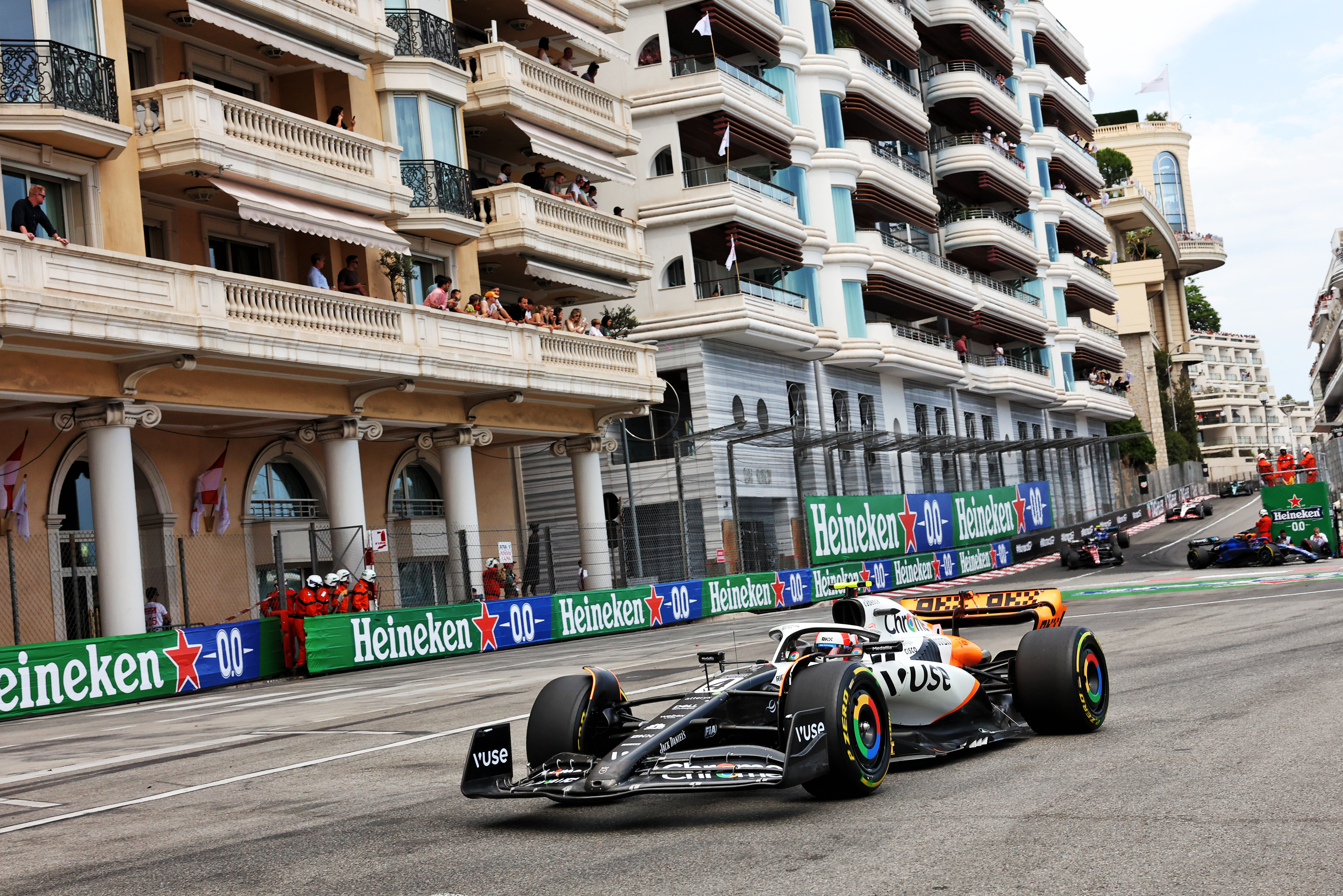 Remember this is a McLaren that the team hopes can still climb to be fourth-best by the end of the season in terms of performance. To do that would mean overhauling Alpine, which bagged a podium through Esteban Ocon in Monaco, as well as one of the three teams battling for second – Mercedes, Aston Martin and Ferrari. We will get a firmer indication of how likely that ambitious target is to be realised in this weekend's Spanish Grand Prix at a Barcelona circuit that will be the most accurate evaluation of the current performance of the upgraded car.
Since McLaren introduced its major upgrade package in Azerbaijan, one that represented a fundamentally different direction in terms of floor approach, both the treatment of the edges and the unseen design beneath, its performances have been inconclusive.
In Baku, the car was quick enough to qualify seventh and head the midfield – although that only added up to ninth place in the race. In Miami, the performance was dire with both cars eliminated in Q1, while in Monaco it was better again but a distant ninth place in a race where Norris, and Piastri, flew once the rain came shows how far there is to go – something team principal Andrea Stella primarily put down to the drivers. And that's at a Monaco track where McLaren has gone well in recent years.
Norris said in Baku that "we have things coming which are looking good and definitely bigger steps than we had [in Azerbaijan]". But it seems there will be a longer wait before those are phased in with the next big step still a few races off.
"Looking forward, the plan is to get the car more competitive," said Stella. "We have now released our package that should become available between Austria and Britain and this is what should take the car to a more competitive level and will be the foundation for future developments for next year, and also the second half of the season there will be another major upgrade. "
The Baku upgrade was all about adding aerodynamic load rather than transforming the characteristics. It produced a performance improvement reckoned to be worth two or three tenths of a second at Baku, but the package will be tested more at high-downforce Barcelona.
Realistically, a good weekend would be making it into Q3 on merit with more minor points finishes to follow. But if things are worse than that, then it will be another reminder of how far McLaren has to go.
While big things are going on off track with the recruitment of Rob Marshall as part of the overhaul of the technical structure, Norris in particular will hope the step the team made in Baku is confirmed at Barcelona.
It's a higher-speed track that the team expects to better suit its car. That confidence will be put to the test this weekend.