AlphaTauri Formula 1 driver Yuki Tsunoda admits his quest to improve how he handles himself in the car continues, after being startled by news of a laptime deletion in Spanish Grand Prix qualifying.
Tsunoda, in the middle of a stellar third season in F1 so far, had posted a laptime that should've left him 11th in the second qualifying segment in Barcelona – ahead of the likes of Sergio Perez and George Russell.
But a track limits infringement exiting the Turn 5 left-hander meant it was all for nought, with Tsunoda relegated to 15th and last in Q2.
The Japanese driver has something of a reputation for being quite vocal and emotional – and occasionally foul-mouthed – on team radio, and it's something that had been previously highlighted as an area to work on by his boss Franz Tost.
And indeed, just as recently as the Monaco Grand Prix Tsunoda was asking whether his team was trying to get him to crash – while he was managing an ultimately race-destroying brake problem.
His Spanish GP qualifying reaction was nothing on that level, as upon being informed of the laptime deletion he simply let out a high-pitched "what?!".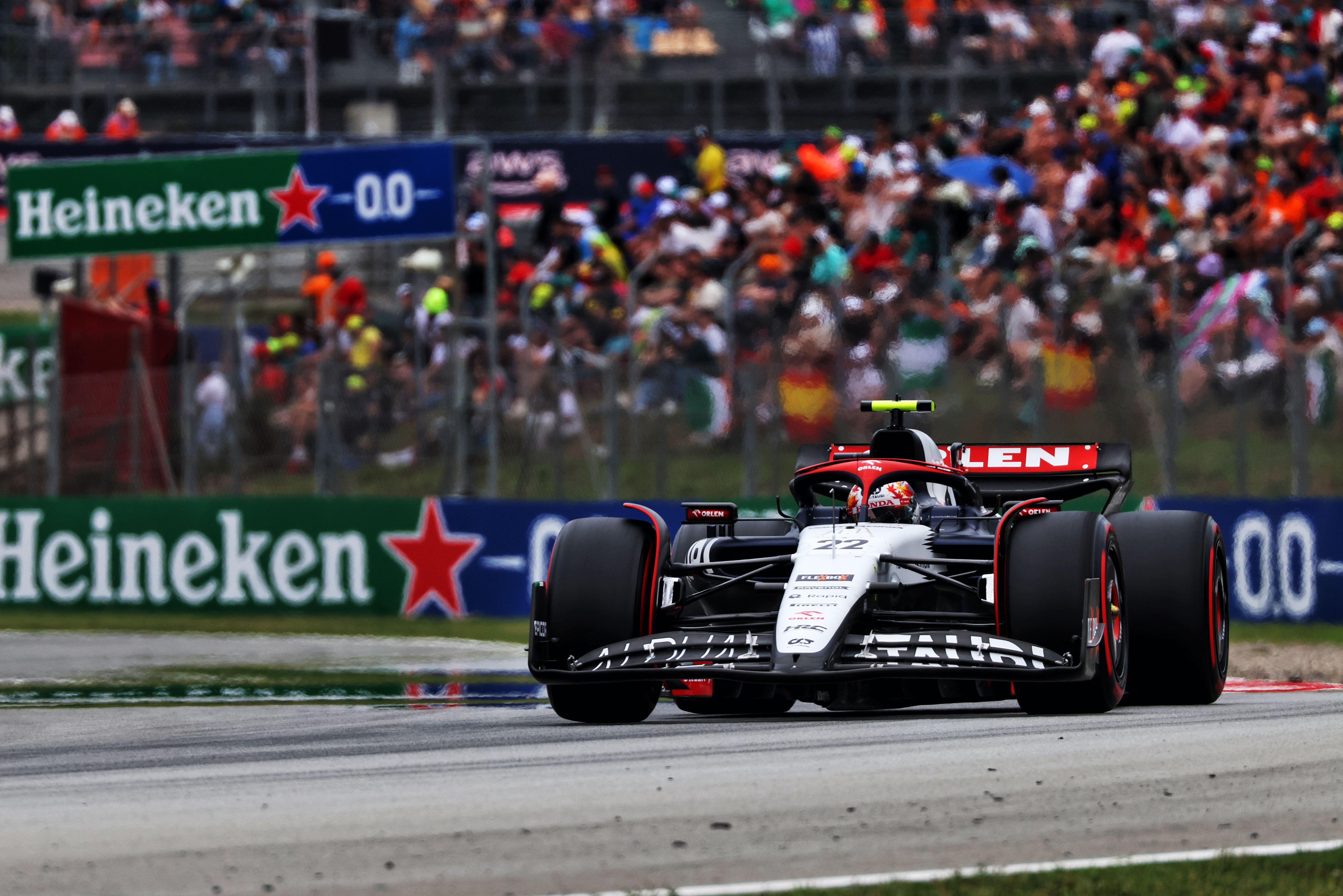 In a much quieter tone, he subsequently mentioned that "I was not even gaining, I didn't gain at all", before being further soothed by his race engineer that "you were seven tenths faster than Nyck, just for the record" – albeit with the caveat that team-mate Nyck de Vries had left himself tyre-limited in the second segment by two spins in Q1.
When asked about his frustration on the radio in the first question of his media debrief after qualifying, Tsunoda said: "I was shouting, or not? Not too much, right?"
He then quipped: "Hearing that, I feel more frustrated about my shouting – the thing I want to improve most!"
Tsunoda added later: "I was controlling [my emotions] at the same time. But at the same time I still believe there is room to improve my volume.
"I was a bit curious [how loud it was]. Because in the end, I kind of overheat my head. I swear a little bit maybe. It's okay."
On his performance, Tsunoda said: "The track kept changing quite a lot, had to adapt quickly but at the same time always you have to give everything and see how it goes. In the end, I had a big snap, ended up [breaching] track limits Turn 5. But… I think the team did a good job, [the lap would've] ended up P11, ahead of Red Bull and Mercedes, pretty okay."