Venturi driver Edoardo Mortara has been diagnosed with a micro fracture of a vertebra following his crash with Mitch Evans at the start of the Berlin Formula E finale.
Mortara slammed into Evans's Jaguar after it failed to get away from the starting grid in Sunday's race.
Evans was left stationary just in front of his third-place grid slot, while Mortara was coming through from 11th position.
Both drivers initially stayed in their cars before exiting them seemingly uninjured.
While Evans went back to the Jaguar garage to watch the restart, Venturi quickly reported that Mortara was "OK" but he had to go to first the circuit medical centre and then a local hospital for precautionary checks because his accident triggered the cockpit g-loading impact sensor.
The Race understands the sensor registered a 26g impact via the FIA mandated equipment that is installed under the seat in the cars.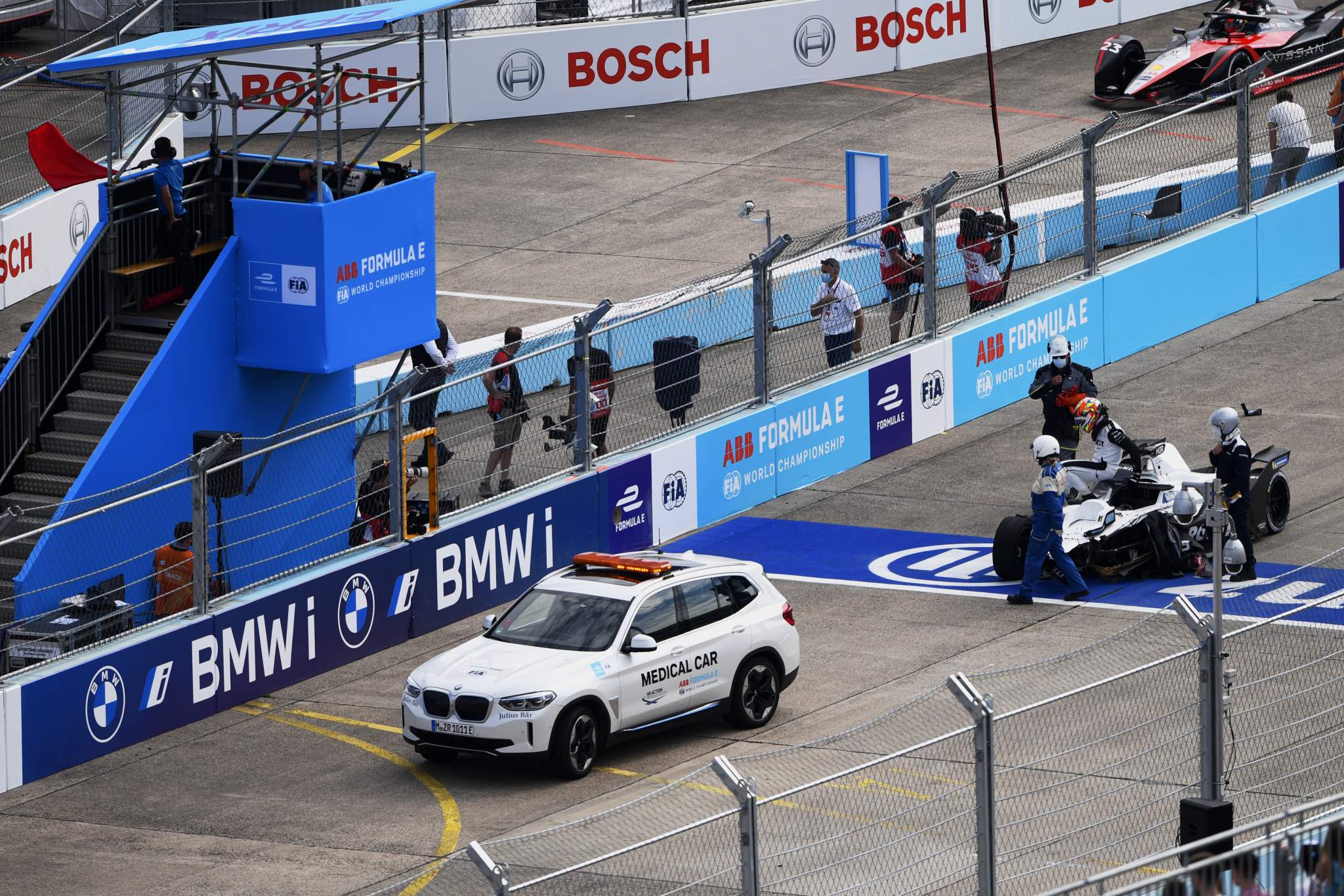 He had initially had a radio conversation with his engineer Laurent Fedacou, in which he said he was alighting from the car. This came after a clearly distressed Mortara could initially be heard on his radio struggling for breath.
Given the injury now diagnosed, questions are likely to be asked about the circumstances in which Mortara was allowed to vacate the cockpit and then walk to his pit by himself.
Late on Sunday evening Venturi tweeted a quote from Mortara revealing his injury.
"It was a heavy impact and I'm glad Mitch is OK," said Mortara.
"From my side, I have a micro fracture of my fourth vertebrae from the crash but I'm very grateful that I don't need an operation or have a more serious injury."
Mortara's 2021 Formula E season both began and ended with hospital trips after violent accidents.
A brake problem in practice ahead of race two of the Diriyah opener had resulted in a massive crash, though he was passed fit after checks that day and would've raced had his car been rebuilt in time.
He briefly led the championship later in the season after winning at Puebla and was back in the title hunt at the finale having finished a very close second to Lucas di Grassi in the Saturday Berlin race.
Mortara held on to second in the points despite today's crash. His Venturi team-mate Norman Nato won the race.
Evans had looked set for a clear shot at the championship before the incident.
He had qualified third – six places ahead of the next-highest title contender and 10 in front of points leader and eventual champion Nyck de Vries, who was just four points clear of him at that stage. Jaguar was also leading the teams' championship after race one.
The technical problem that stranded him on the grid in Mortara's path has yet to be completely identified by Jaguar, which ended up beaten to the teams' title by Mercedes.