After 10 years without an IndyCar title and another season without a title challenge for rising star Colton Herta, it was clear Andretti Autosport had to improve in 2023.
With Romain Grosjean grabbing his first pole for the team, Herta second and new signing Kyle Kirkwood fifth on the grid, the team has made a good start in St Petersburg.
So what's the secret?
"If I told you, I'd have to kill you," laughed team owner Michael Andretti.
"We finally attached the front wing," said Herta, prompting a final quip from Andretti: "Why did you tell them?!"
The post-qualifying press conference certainly displayed an air of relief. Even afterwards, Grosjean was clear that this had meant a lot to him in particular as his first top result since his switch to the team in 2022.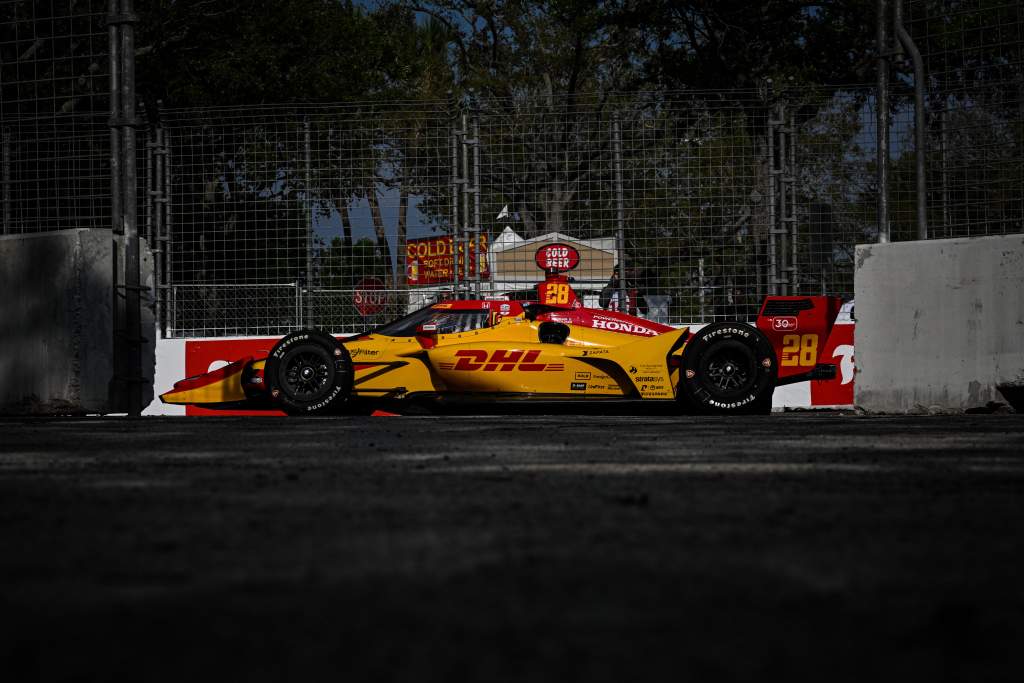 "It's a reset of a tough 2022," he told The Race.
"We had some tough races but also we didn't really understand what was going on [with the car]. Now I know, since the Thermal test, that we are there. We've found something that's good, it's a really good dynamic between the drivers, we're super-fast. It's working well in the team."
Grosjean especially had a tough time of 2022 because from the word go, he was uncomfortable in the Andretti car. It has a strong rear end that has a tendency towards understeer that Grosjean doesn't like. Bringing the car his way has been a long journey between him and his engineer from his rookie season at Dale Coyne, Olivier Boisson.
"We tried to replicate some of the things we were doing at Dale Coyne and it didn't work, and then the Andretti guys are very quick, they go faster than you so you start doubting about, 'am I missing something'?" Boisson tells The Race.
"It took us a while, unfortunately, to find a set-up Romain liked.
"It's difficult. Especially when you have your little team [like Dale Coyne] where you're focusing on a small amount of things, everything is awesome, and then you show up here at Andretti, you have some really fast drivers, the team have evolved to a place that's very different – and now it doesn't work, what should I do now?
"Because those guys are very fast, I can't dismiss that. But this is what I had that worked for him, too, and now it doesn't work anymore, so where do we go from there?"
So not only was Grosjean impacted by troublesome pitstops, incorrect strategy calls and sometimes poor race day execution, he was also fighting a car that didn't handle how he wanted it to.
With the changes he and Boisson have made – which they ran a back-to-back comparison for at the pre-season Thermal and Sebring tests – they have settled on a car much more to Grosjean's liking and that he can get the most out of far more consistently.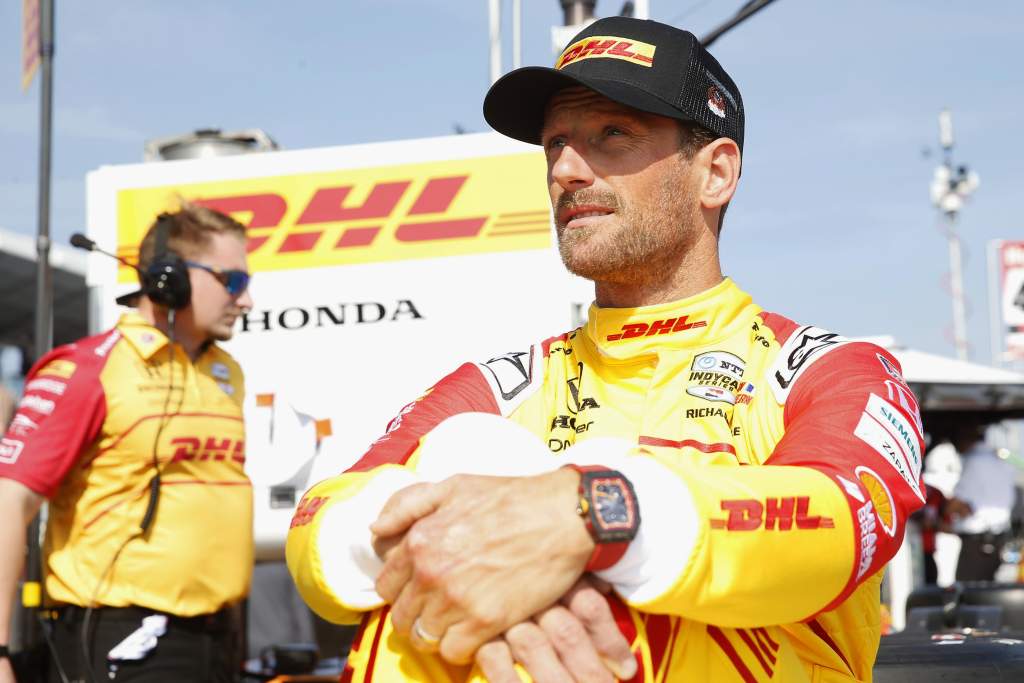 "The car has come my way," Grosjean tells The Race, something Boisson said should translate to road courses, too.
"Obviously you're always adapting, but the car came a long way, my way. I was talking to the team last night and someone was saying 'last year at Long Beach you were second and it was really good', but I just didn't feel good in the car.
"Now I have a car I feel comfortable driving and I can deliver the best out of it. Today was the perfect example."
Grosjean even reckons the other drivers are considering his set-up direction and if it can make them quicker.
"They're actually coming towards me, which is quite funny," he adds.
"I was on my own and now they're kind of starting to come, not all the way, but I think Colton will try my set-up.
"So it's really good to know that closer together, we are better, because if one of us tries something, and it works, we can all go there.
"If it doesn't work we can revert back. It's a really good dynamic."
Speaking more generally, it's clear Andretti is in a better place starting this season than last.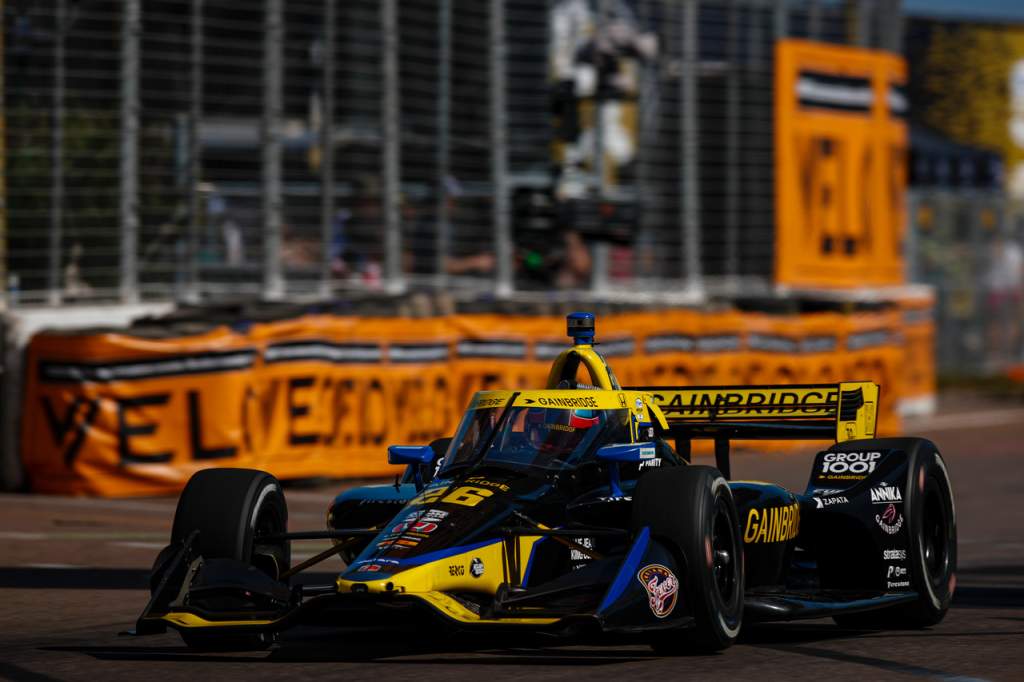 The Race knows extracting pace from the tyres was a big part of Andretti's off-season task list, but a 'no stone left unturned' strategy of trying to get better in every single area has been a big part of getting prepared for this season.
They all know last year wasn't good enough and there's more to do.
There's also the fact that Andretti put two cars in the top six last year in St Pete qualifying, so adding one more shouldn't necessarily mean we can conclude the 2023 season will be a success for Andretti already after one competitive session.
---
Andretti at St Pete
2022 qualifying
Colton Herta – P3
Romain Grosjean – P5
Alexander Rossi – P13
Devlin DeFrancesco – P18
2023 qualifying
Romain Grosjean – P1
Colton Herta – P2
Kyle Kirkwood – P5
Devlin DeFrancesco – P18
---
Andretti has often tested well in the pre-season and then failed to deliver on that during the year. It feels different somehow this year.
"For me, I feel a lot more optimistic," says Michael Andretti.
"We really studied ourselves and got real honest with ourselves, where we needed to improve. I think we've done it.
"Obviously the race is going to be another thing. Hopefully we can have all four cars go through the race without making a mistake. If that happens, I think we have a great shot at winning.
"The other thing we have to do, we did have many races where we had very fast cars last year, but we tended to do something wrong, shoot ourselves in the foot one way or another.
"That's another thing we've really studied and worked on. Hopefully our pitstops will be better and strategies will be better.
"If we just operate and don't make mistakes, we feel like we are in a good position for the whole year."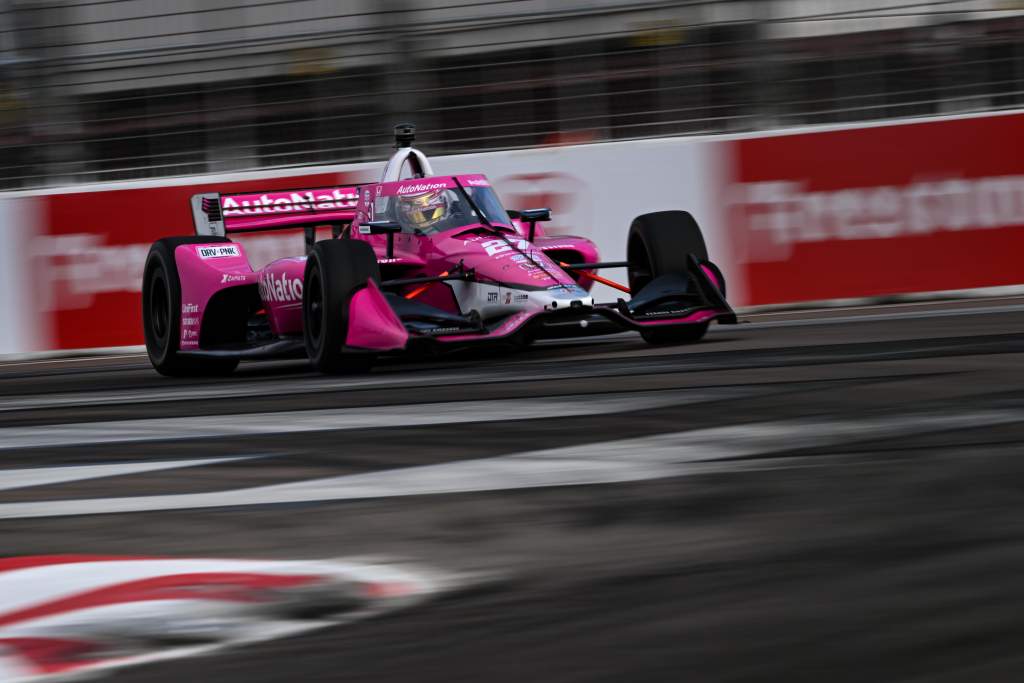 The proof will be in the pudding, as we know Andretti has been unable to follow-up on early successes before. But this is a good start to the season and it shows progress has been made.
It's perhaps too early and too simplistic to place the gains on one thing. Especially when you consider that the difference between making the Fast Six and ninth place was 0.0324s in Saturday's qualifying.
But the way Andretti has focused on execution, as well as its engineering work correlating from the factory to the track, in the off-season is a great start.
Having Grosjean up there and feeling more comfortable can only be a benefit, as they kick off a year where both he and Andretti will have to decide if this partnership will extend beyond 2023.
With so many fast cars behind, Sunday is going to require a perfectly-executed race and is therefore the best possible test of how far Andretti has come.
It's had fast cars for years but its execution as a whole over a weekend is where it's been lacking and St Pete gives it a good chance to prove that's changed.