Colton Herta puts it best when he says the last IndyCar race was "a nightmare" and "pretty embarrassing" for the Andretti Autosport team.
McLaren and Ganassi both claiming to own the rights to reigning series champion Alex Palou for 2023 has certainly taken the heat off Andretti.
Had the IndyCar news spotlight not been grabbed by that contract drama, there would have been much more focus on how Andretti would react after a Mid-Ohio race a fortnight ago where all four of its cars were involved in a crash with one of their team-mates.
Sometimes two or even three crashes if you're Alexander Rossi and Romain Grosjean, with Rossi shoving Grosjean all three times in those incidents.
It came a year on from a Mid-Ohio race where all four Andretti cars qualified in the top 10 but only one, Rossi, finished there in 10th, after James Hinchcliffe and Ryan Hunter-Reay crashed early on and Herta's fuel hose malfunctioned before he had a chance to fight for the win. The team really has a monkey on its back there.
Back in 2022, the on-track collisions and critical aftermath played out in the public eye, which I'm sure Andretti will be furious about given it feels like the whole world is watching this team and its actions as it tries to force its way on to the Formula 1 grid.
There was a harsh word from team boss Michael Andretti after the race, with the drivers were told in no uncertain terms exactly what is expected of them.
What the Palou news has done in relegating the Mid-Ohio Andretti saga to the background is also likely made the team's resurgence less of a story.
For the first time since that Mid-Ohio event in 2021, 16 races ago, Andretti put all four cars in the top 12 again in Toronto qualifying on Saturday.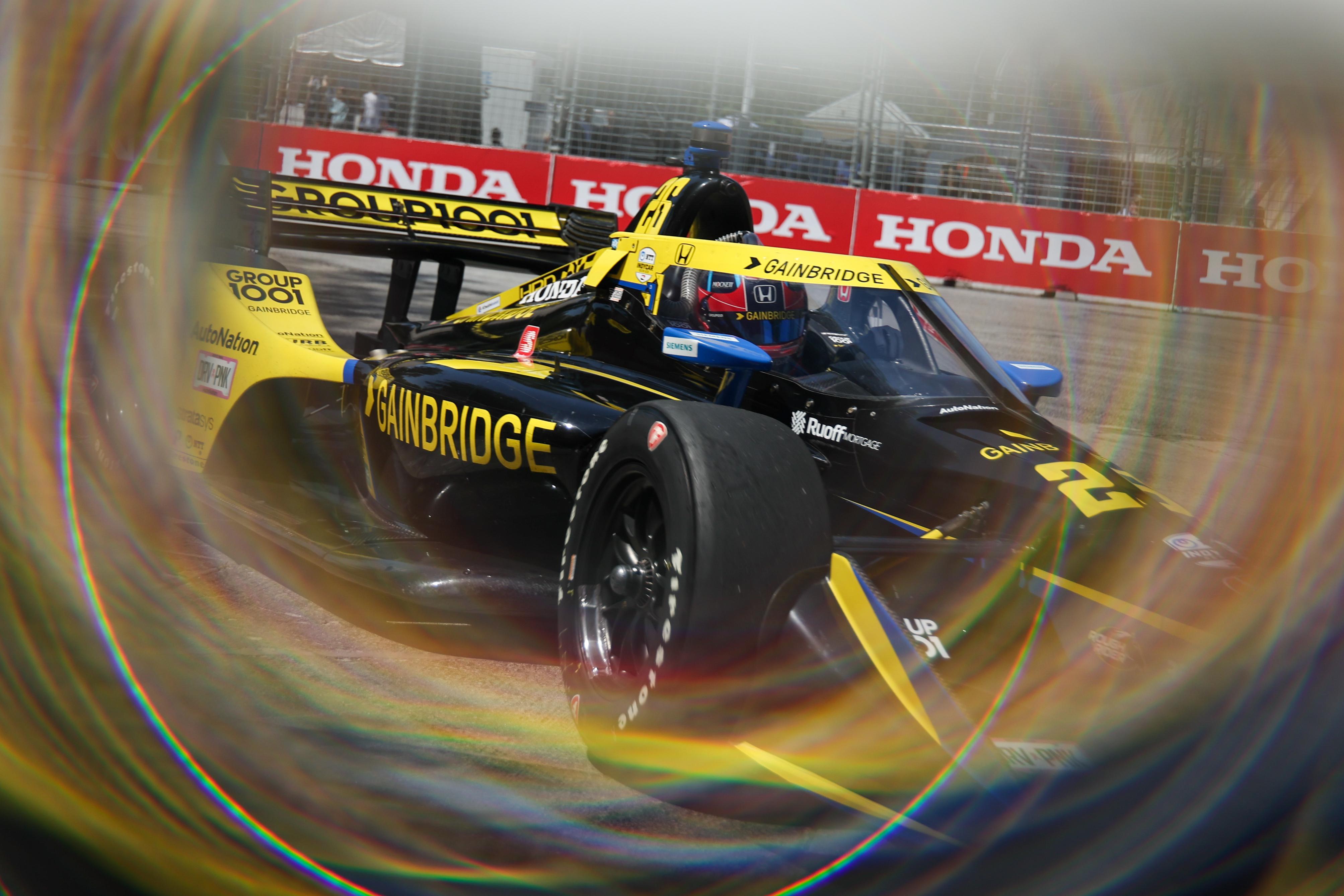 Herta starts on pole while Rossi is fourth even after doing his final lap on used softs. Grosjean starts 11th in what was a fantastic recovery from a crash in practice that broke his rear-right suspension, and Devlin DeFrancesco had his best qualifying yet in IndyCar in 12th despite a dramatic session in his first race at his home track where he came to watch his first IndyCar race with Tony Kanaan 10 years ago.
"Last weekend [Mid-Ohio] was a bit of a nightmare for us as an organisation, pretty embarrassing," said Herta, who was punted off by Grosjean after Herta's race had been ruined when a misunderstanding over a codeword meant he stayed out when a caution was about to fly and his rivals took advantage, taking him out of contention.
"But good to kind of get it behind us. Nice that everybody's kind of made up and no longer are in that mindset.
"It's a good way to kind of regroup. We had a great test in Iowa last week, then came here and obviously are having really good sessions. Everyone is very fast. All the Andretti cars in the top 12.
"I'm sure we're all happy."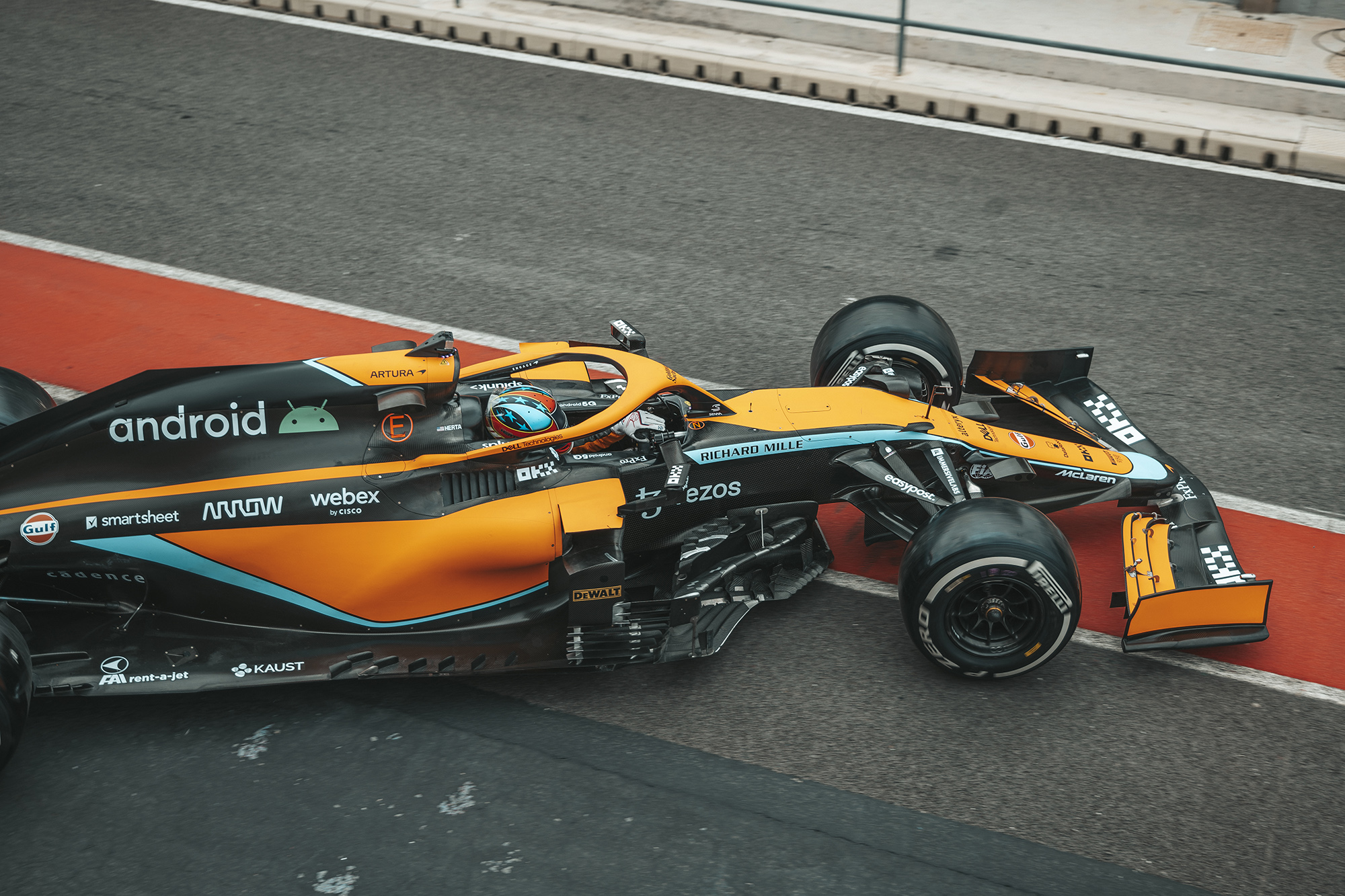 It's been a phenomenal week for Herta, He impressed McLaren in an evaluation test at Portimao in its 2021 F1 car, which you would think would have provided him with extra energy and adrenaline he could carry into his second visit to Toronto.
He said that wasn't the case when asked about it by The Race, though.
"It was nice to drive [the F1 car, but] you kind of want to hit the reset coming into a weekend like this," Herta explained.
"It's five IndyCar races in four weeks, which is really important for the championship, to get back up there, which we've been lacking.
"We really just needed to be focused on that.
"Got here nice and early, got here Wednesday. I was kind of able to keep my mind off of what I was doing the last few days before that.
"An amazing experience, one I'll never forget."
Asked whether it was hard to adapt back to the IndyCar, Herta added: "I was a little bit worried about maybe taking a session to get back into it.
"But as soon as I got in the car, the seating position and everything is so different that it was almost kind of like a light switch just flicked in my head that this was the IndyCar. It took maybe one or two laps.
"The actual driving style isn't incredibly different, so it was pretty seamless to kind of go back and forth."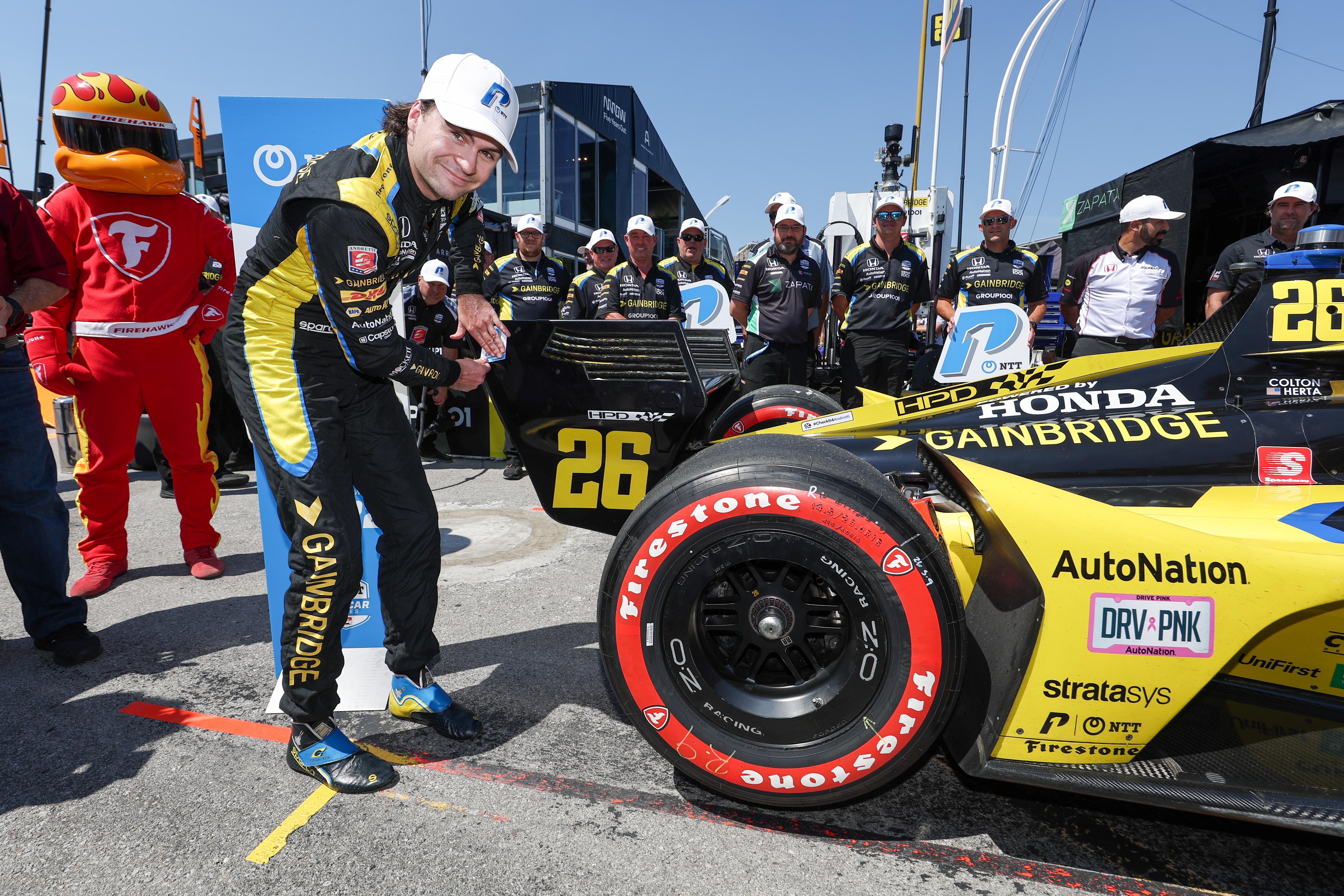 His pole – nailed by less than a tenth over Ganassi's Scott Dixon – was Herta's ninth in IndyCar mid-way through his third season, and it means Detroit is the only active street course he hasn't won a pole position on.
After wins in St Petersburg and Long Beach too, it's clear Herta is one of if not the best driver on street courses, at least on raw pace, in IndyCar.
However, he gave a big chunk of the credit to his team after the pole when asked by The Race what he's doing so well on street courses.
"I think the team's doing an amazing job," he answered.
"It's one place where damping is so important. All the bumps and bits of a place like Toronto where it's incredibly bumpy and smooth, so you kind of get a mixture of both the balance and the damping.
"The team is doing an amazing job with that, and they continue to."
Perhaps you would expect Rossi and Grosjean to be inside the top 10 – although as aforementioned both fought tricky circumstances to get there – but DeFrancesco was a welcome addition to the top half of the grid.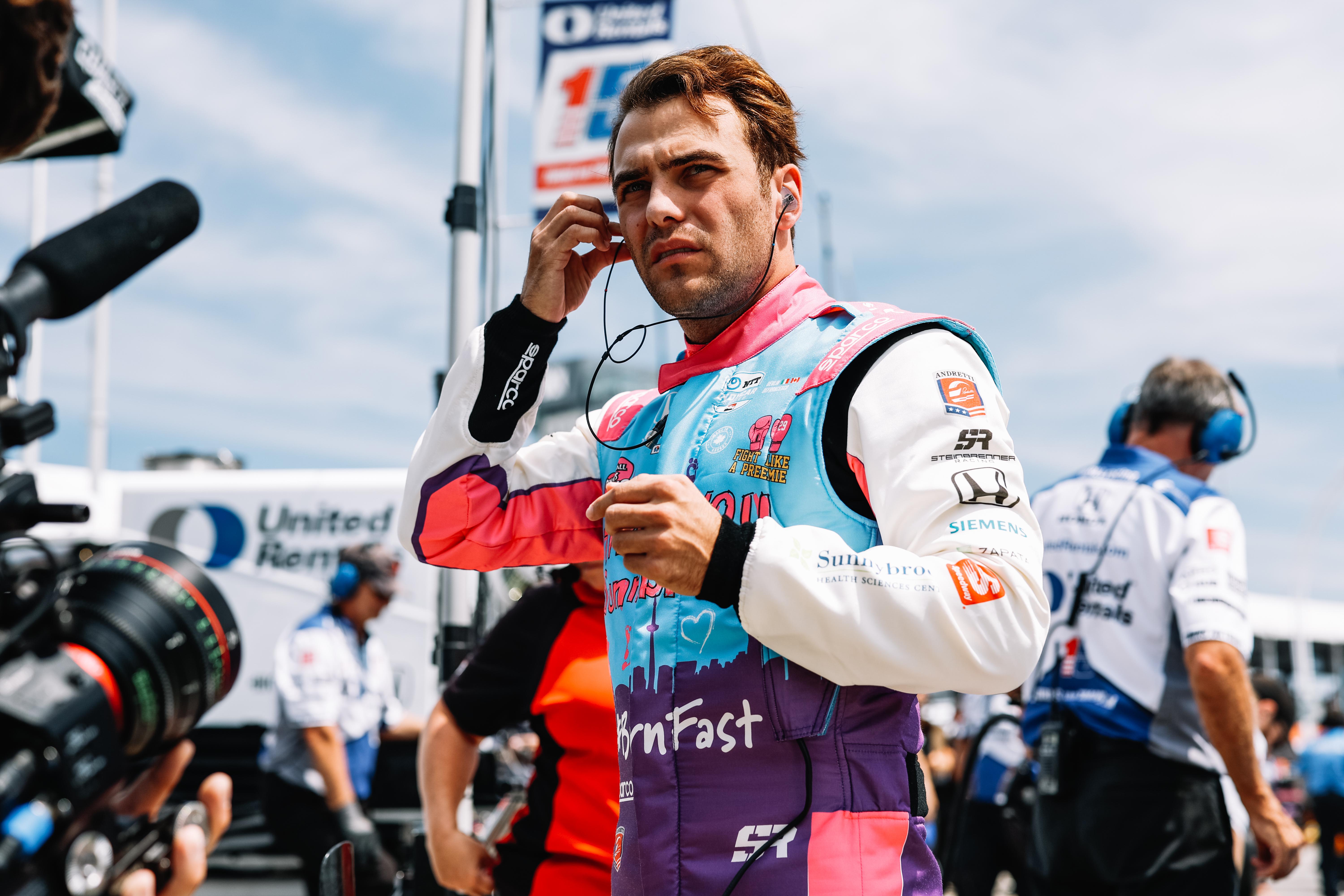 He's been involved in his fair share of incidents this year but reacted admirably – often seeking out drivers and apologising while showing a willingness to learn – and continued his progression this weekend.
He was fastest in the second group in Q1 before nosing the tyres at Turn 3. He avoided getting a penalty for causing a yellow flag because Palou stopped on track and brought out a red flag in the same period, but then DeFrancesco was caught out again.
After locking up at Turn 1 he tried to rejoin the track at Turn 2 but the escape road is blind for the driver rejoining the track. In a video of the incident you can see a green flag being waved on the right hand side of the shot but this marshal is not believed to be someone tasked with telling the driver when it is safe to rejoin.
Thus, DeFrancesco impeded Herta when rejoining and lost his two fastest laps and the chance to advance to the Fast Six before he'd had a flying lap.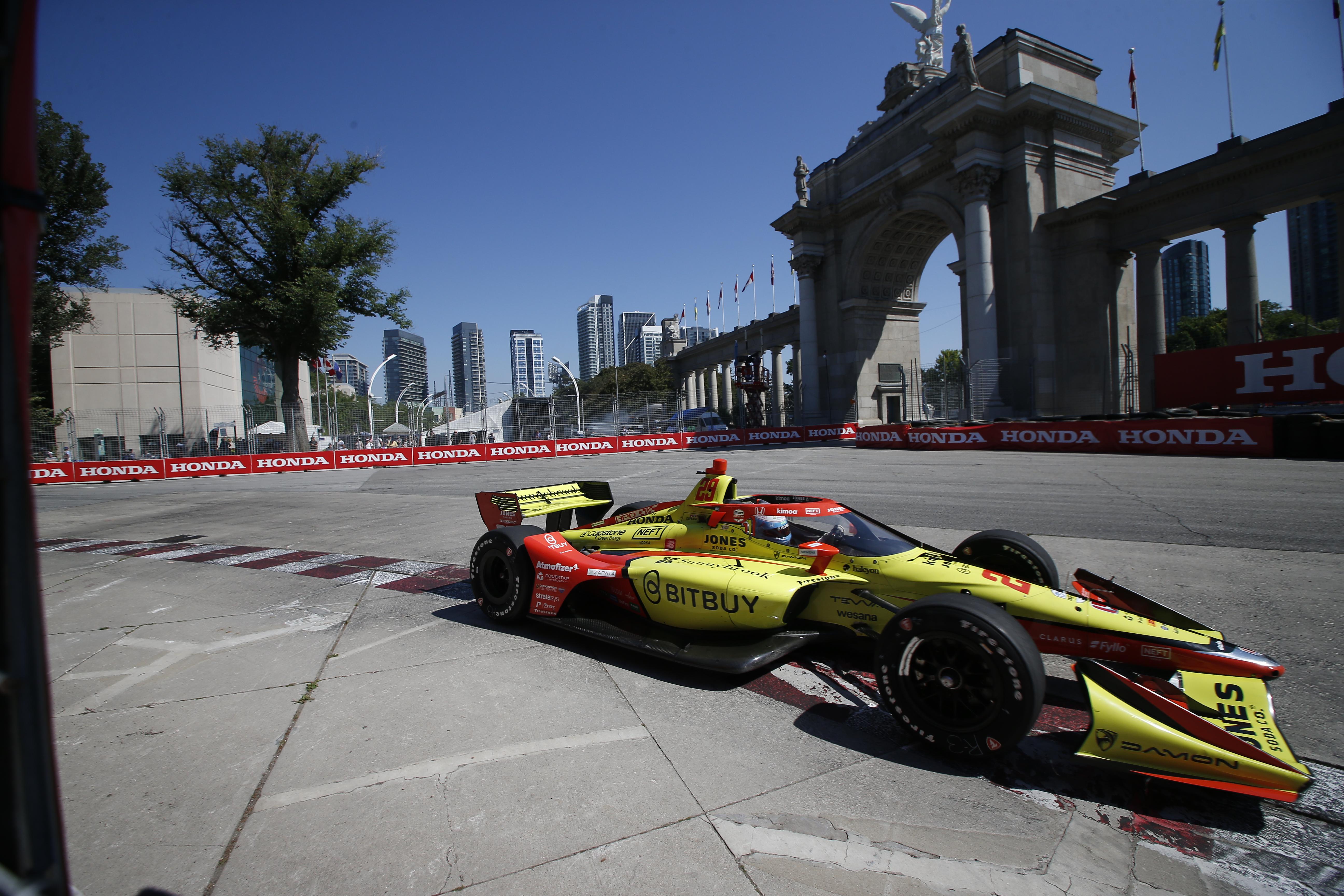 "It's something we brought up in the drivers' meeting," said DeFrancesco.
"When you're entering back on track like that, for us, we can't see anything, it's blind. There needs to be a light entry flashing blue to let us know there's cars coming or open up the walls so we can see.
"A bunch of different things we can do coming back next year. I couldn't see anything."
Herta added: "I think it's something that IndyCar is looking at for next year to alleviate some of the pain of that.
"It could be a killer in a qualifying session if you just go into a runoff that has an outlet and you get a penalty because you don't know who's coming.
"I don't know if that's what happened to you? [Devlin replies yes], Then it's not too fair especially when they haven't put anything in place to help, you know."
A special helmet for a special cause ❤️

Check out @DevlinDeFran's Honda Indy Toronto helmet for his homecoming race in support of @Sunnybrook! #AllAndretti pic.twitter.com/pT9HEcd1fg

— Andretti Autosport / #AllAndretti (@FollowAndretti) July 16, 2022
Not only is it nice to see DeFrancesco get some better fortune at his home race, but his helmet this weekend is supporting Sunnybrook's Racing For the Tiniest Babies programme.
Devlin weighed just over a pound when he was born 22-weeks prematurely and was even read his last rites in hospital, making this cause a special one to him.
Back on the team front and if Mid-Ohio was a snapshot of Andretti at its worse, Toronto has so far been an example of the team at its best.
It might not have shown the consistency in 2022 to be fighting with the likes of Penske and Ganassi, but there are times where its pace is extraordinary and that should be celebrated too.
Even when its drivers crash, make errors or are caught out by an unusual slip road situation, it's still capable of ferrying those drivers to good results through raw pace or strong rebounds from issues.
Pace like that is sadly not enough to win championships alone, but if the old adage of 'you can't teach a driver to be fast' carries over to teams, it gives you faith that the building blocks are there for this team to end its run of coming up to 11 years without a series title.
It's a little too soon to see if Rossi and Grosjean especially have properly buried the hatchet, or at least agreed to race sensibly on track, which is pointed more at Rossi who was certainly the aggressor at Mid-Ohio.
But the Toronto qualifying pace is exactly the start Andretti needed to begin to salvage something from this season.