Whether you think it's the peak of unpredictable but exciting IndyCar street racing or a contrived mess, Nashville certainly divides opinion between drivers, teams and fans.
On the one hand, it gives us the most exciting race of the year on a street or road course and it reflects the series' 'any driver can win on any given weekend' mantra. But the way in which that has happened the last two years will challenge the purists, who want to see the fastest driver and team win.
So, contrived crashfest or unpredictable but brilliant drama and action? The Race breaks down the arguments for and against what Nashville brings to the table.
For: Exciting track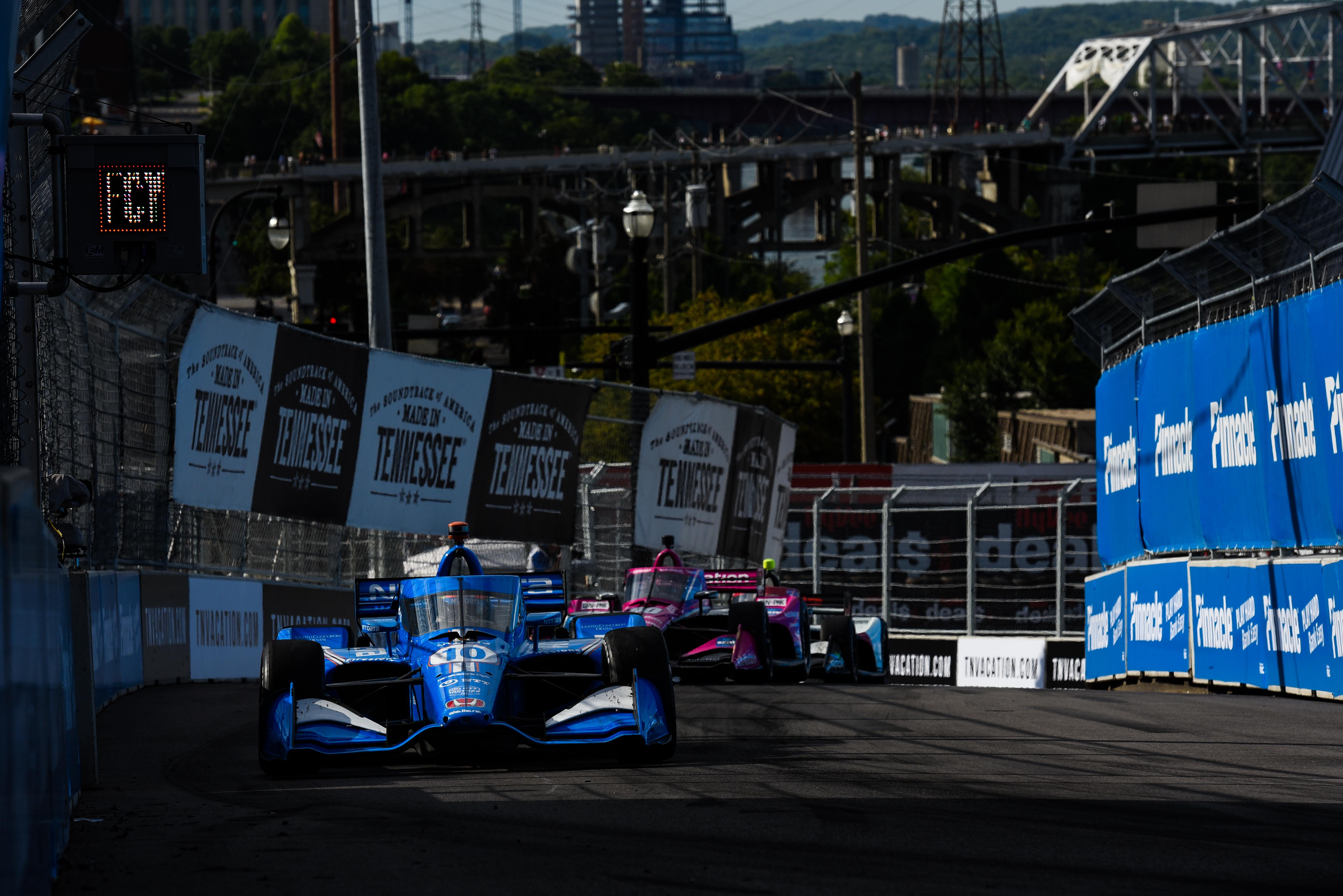 This section pretty much speaks for itself, but the drivers absolutely love driving this track.
With good driving, even the tightest corners such as Turn 10 and 11 at the end of the lap become passing areas, and the Turn 4-8 section might be narrow and tight but it tests tyre management and shows drivers teeing up a pass later in the circuit.
Turns 4 and 9 that follow each end of the bridge are at the end of a long straight with an almost 90-degree corner at the end, so that provides plenty of overtaking opportunities.
The resurfacing done at those two corners made cars more stable in the braking zone, which also encouraged overtaking bravery. It's likely there'd be a tonne of overtakes were there not so many caution laps and we actually saw drivers getting worse over a stint, when those who saved tyres or had better cars came to the fore. You rarely get a stint long enough to show that.
I thought Turn 9 was better before it was narrowed to include hospitality suites. But ultimately I don't think it changed the racing massively.
This track is an instant classic. The fact that it's in one of the most fun and vibrant cities in America is just a bonus.
For: Big comebacks are exciting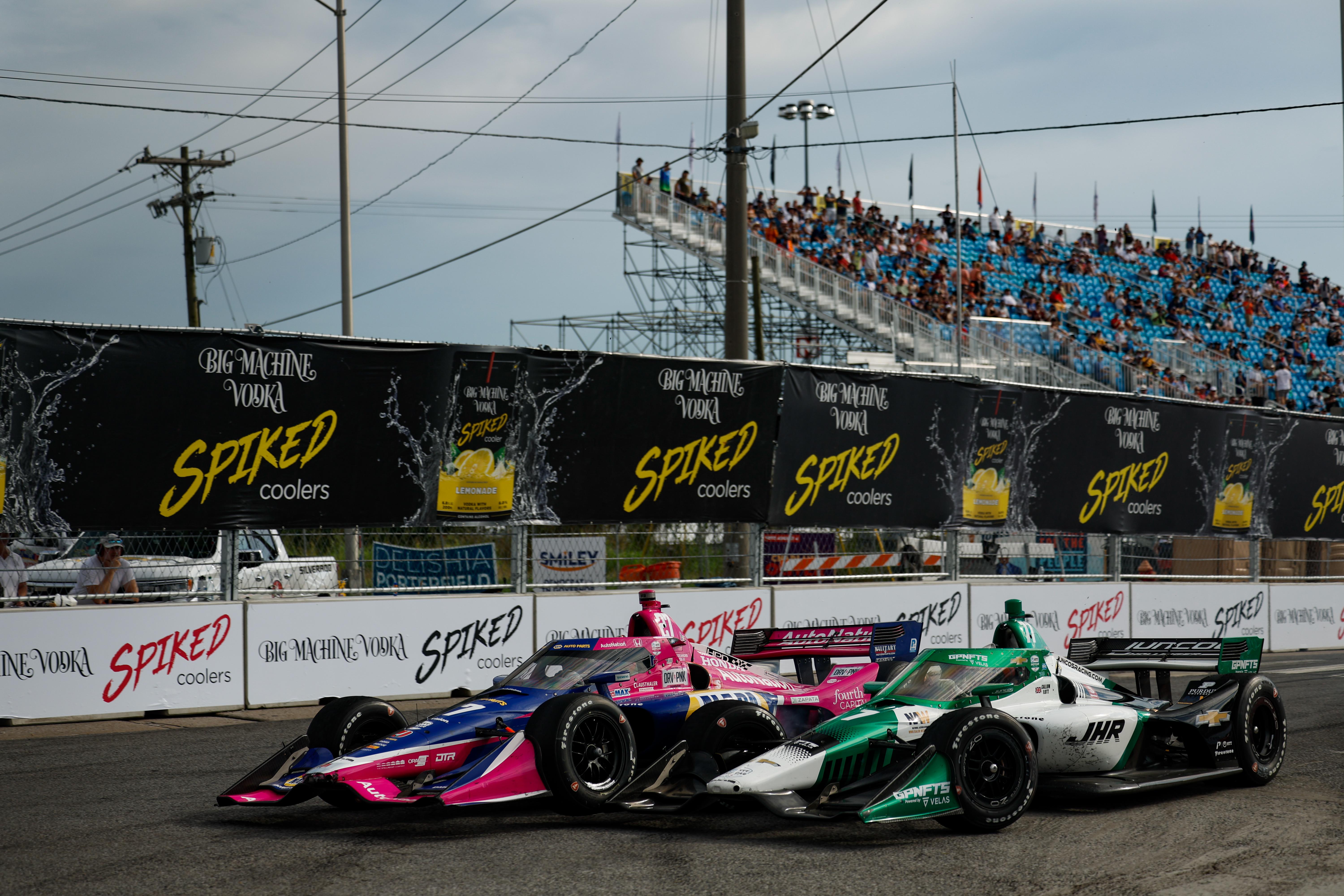 In the two races in Nashville, both winners have come from the back of the pack and a lap down. It means even if a driver's qualifying is ruined (and it probably was; we'll get on to that in a minute) like Alexander Rossi for example, who didn't get a clean lap, they are still able to come back and race into the top five.
The short pitlane opens up strategies for drivers who have been sent to the back and can top up on fuel or get fresh tyres to give them an advantage later in the race.
Plus, there's plenty of overtaking opportunities if you are brave enough to try and sensible enough to know when not to.
For: Bridge is dramatic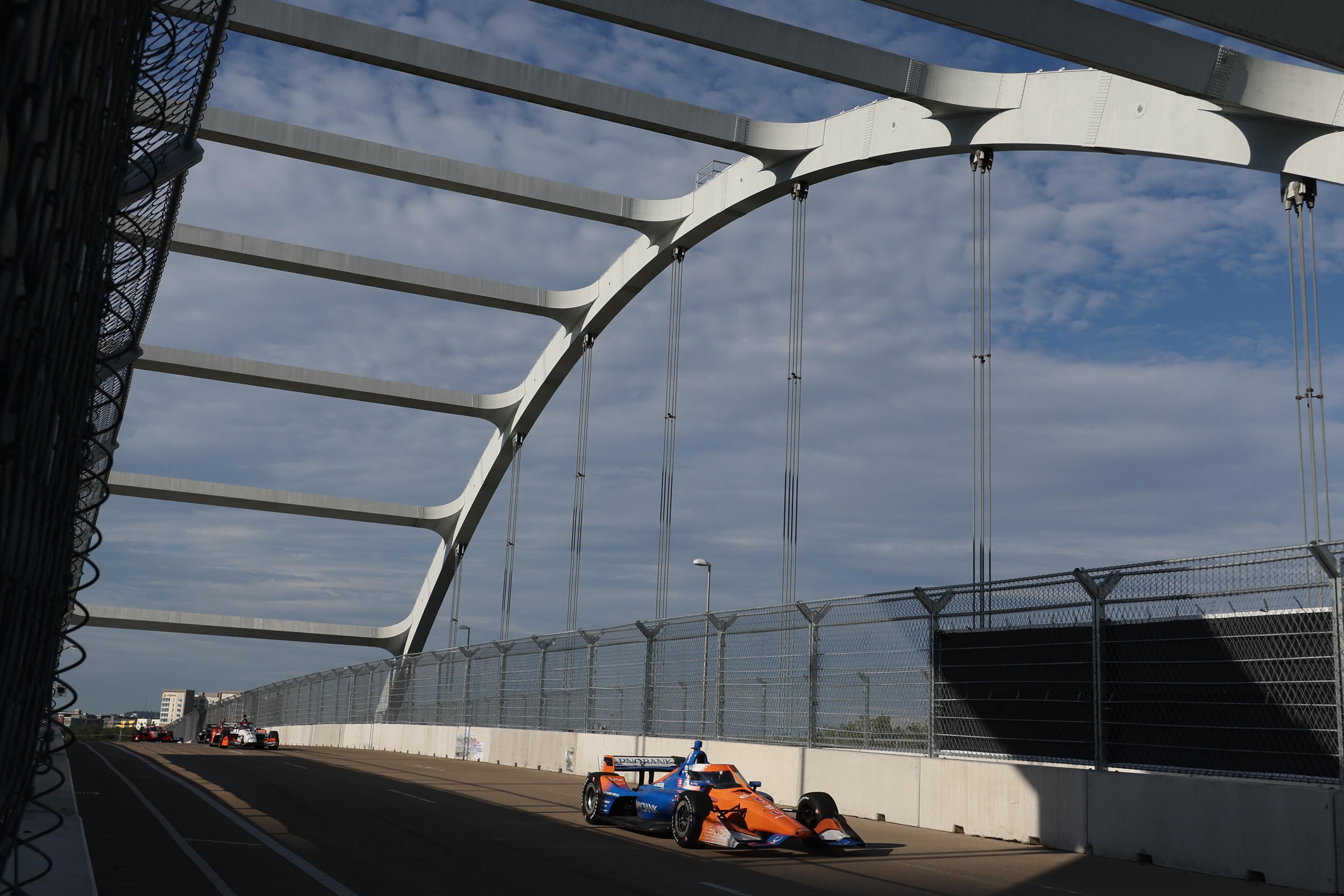 At no other track does IndyCar race over open water. The Korean War Veterans' Memorial Bridge is a staggering backdrop to an already scenic cityscape.
I know that's a side story when we should be focusing on the racing, but when a track looks like this it really adds to the prestige.
For example, Monaco hasn't produced good racing in F1 for years, but it's still one of the most popular events on the calendar because of the glitz, the glamour, and the harbourside backdrop.
Nashville ticks some of the same boxes for me, and the bridge certainly helps.
For: Drivers need to take responsibility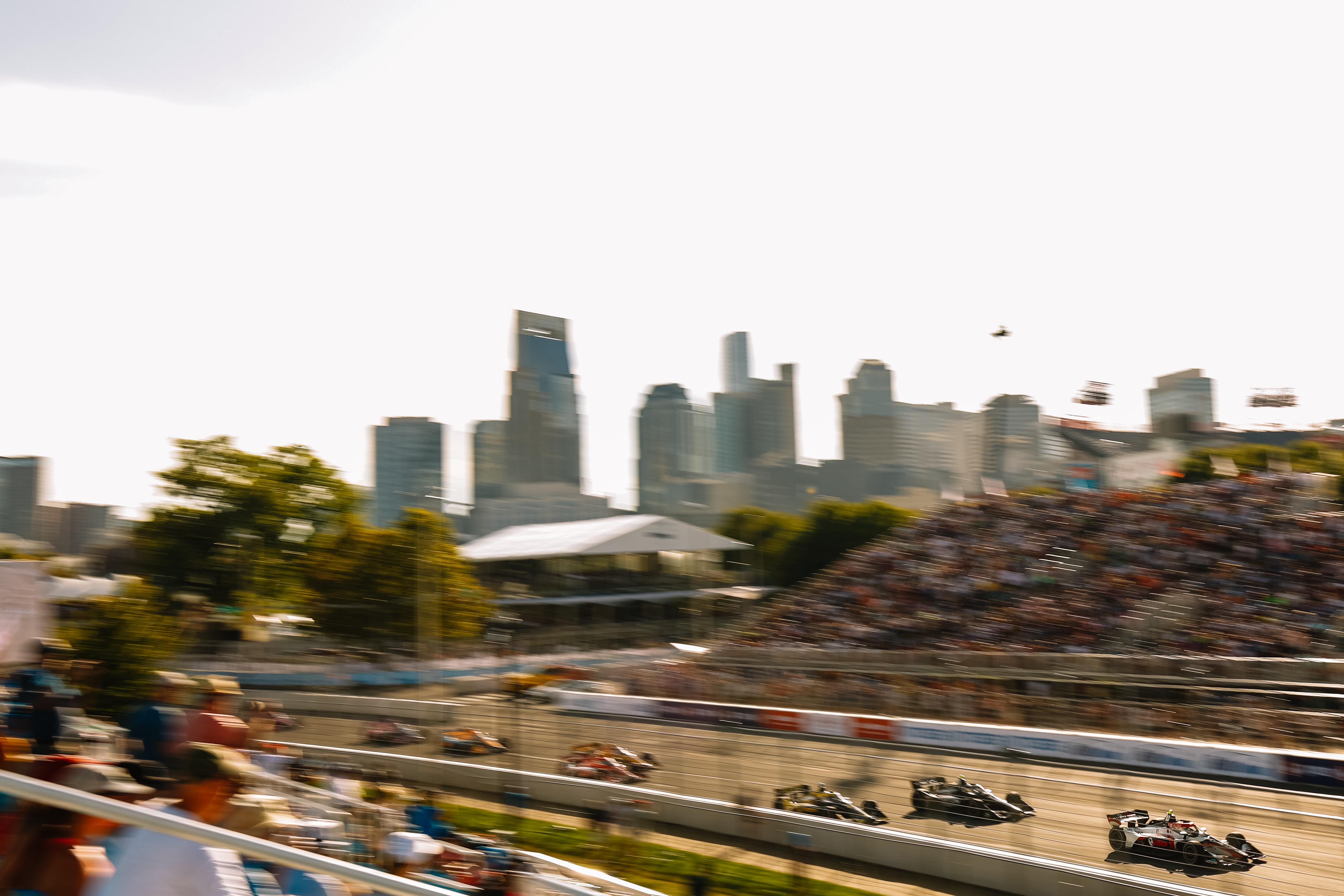 This is a net negative point but a positive one in terms of defending the track.
The IndyCar grid gets plenty of credit for how strong it is – both in terms of the calibre of drivers, and how close and even the field is. There's almost a race-by-race reminder of this. So with that as context, the driving standards in Nashville have been embarrassing.
There were more caution laps this year than last. You'd have thought, knowing how last year's race went, that the drivers would approach with a bit of hindsight and sensibility, but as soon as the engines were fired many of them chose violence instead.
It's a shame because if everybody raced properly in Nashville, the races would be even better because there would be no need to keep closing the pack up for there to be overtaking, it can happen naturally and as cars degrade over a stint others will come to the fore.
And then we'd see the fastest driver in the best car having a shot at winning. A quaint idea that, isn't it?
Both years the fastest driver and fastest car haven't won. You can argue that poor driving is at the heart of that.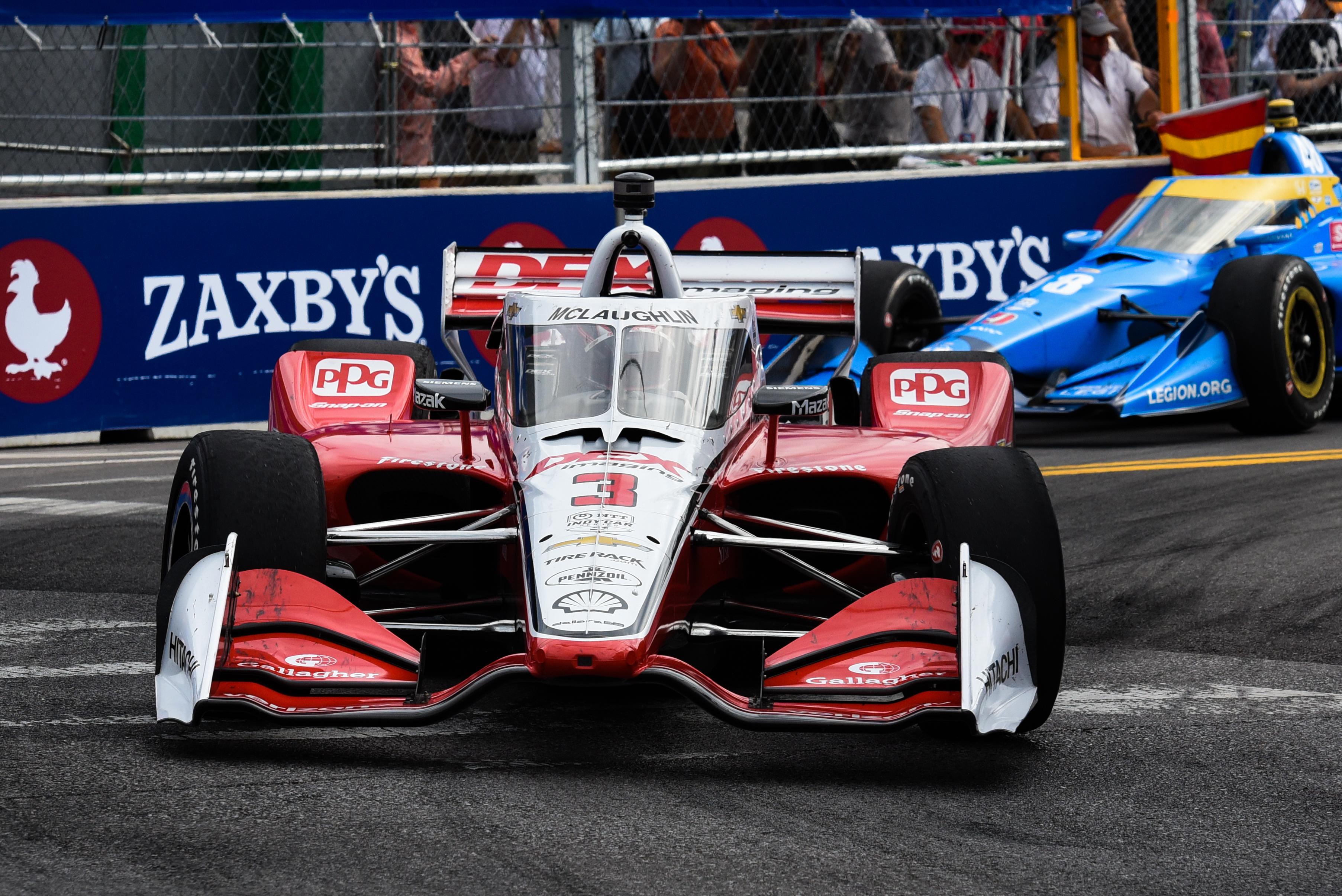 "It's not fun when you lose out on yellows with a fast race car, but at the end of the day, it's just IndyCar, and it's as much of a driving issue as it is a track issue," said Penske's Scott McLaughlin, who was on pole and had comfortably the best package last weekend.
"I don't blame the track at all. I think the track is a great track. Yes, it's tight. Yes, you've got to be assertive when you pass, but sometimes people just don't give up, and that's what happens.
"But, look, I think the driving standards are great in the series. It's just sometimes things happen. It's racing. It's a good spectacle.
"Unfortunately, it's probably one too many cautions that we have. I don't know if you are going to fix that by lengthening or shortening it. I think all the changes they did this year were fantastic."
Against: Too many cautions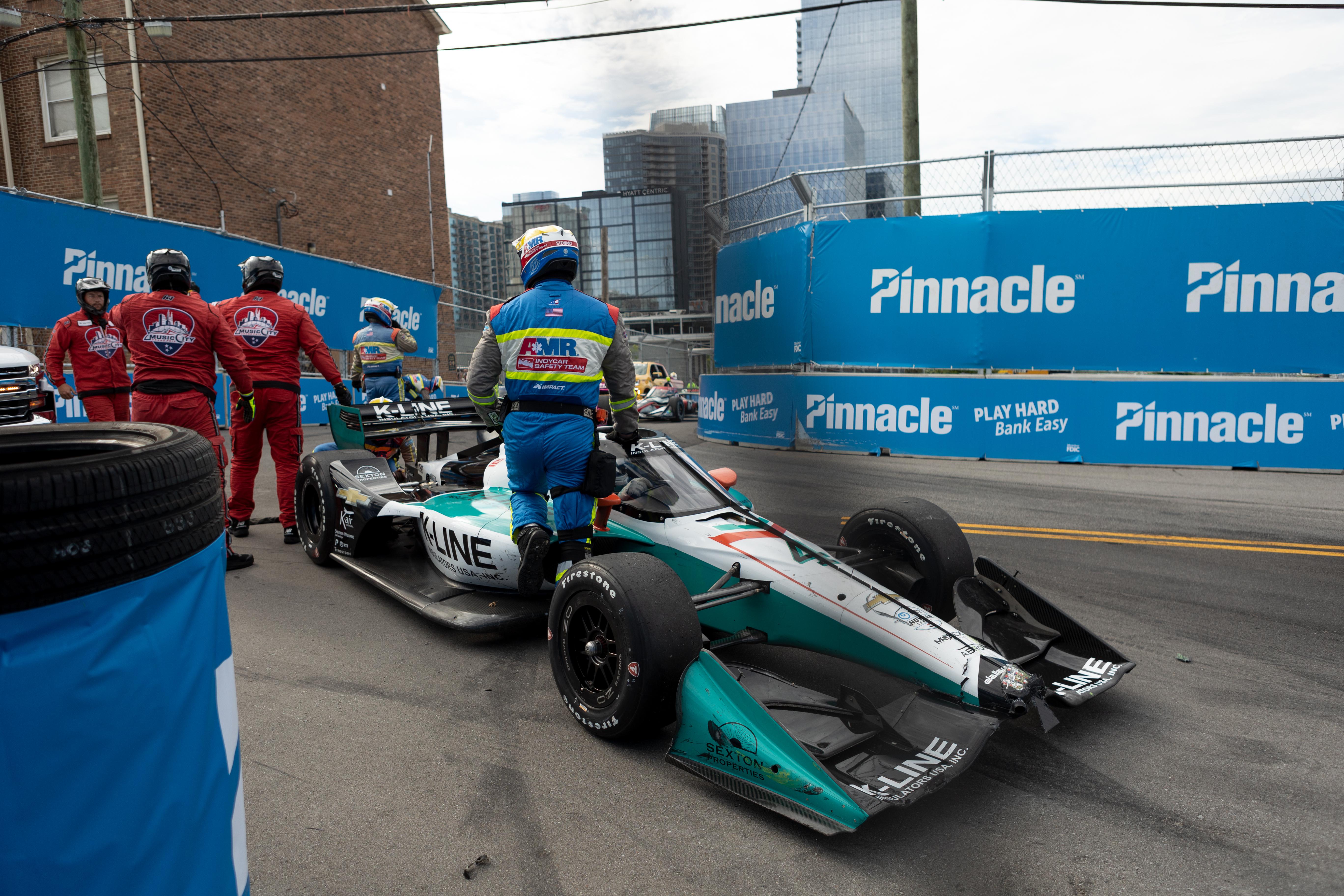 You'll probably have identified some interlocking themes here, with poor driving standards leading to more cautions, which in turn often reward drivers further back and penalise the fastest driver, resulting in a wonky finishing order.
While 2021 had more cautions, nine versus the eight this year, 2022 had more laps under caution with 36/80 instead of 22/80 the year before.
Almost half a race spent pootling around under caution.
It's no wonder the winner Scott Dixon did over 50 laps on a set of tyres. Obviously it comes down to skill that he was able to win against fresher-shod peers, but the fact it was possible is owing to how long the race spent behind the safety car.
Some of that was caused by crashes at Turns 9 and 10 which were almost always someone's fault, so they shouldn't be used as a stick to beat this circuit with. Instead, Turn 4-7 is where we should probably look as the downside of the circuit.
Turns 6 and 7 especially are tight and caused one of the biggest issues of the race on lap 28 when a concertina effect sent cars crashing into the back of each other like dominos with nowhere to go.
Seven total cars involved in this incident.@GrahamRahal, @PatricioOWard and @Dalton_Kellett are now OUT.

WATCH LIVE: @CNBC and @PeacockTV.#INDYCAR // #MusicCityGP pic.twitter.com/gwAZkLoNVz

— NTT INDYCAR SERIES (@IndyCar) August 7, 2022
It's not an overtaking area and doesn't offer much in terms of the racing. But race winner Dixon reported that the circuit is looking at that area.
"I think some changes will come in the future for kind of that [Turn] 4 through 8 section once that construction is done," he said. "And they're talking about even maybe we'll go up another block and then take a left, which would be great for a passing zone as well."
That would certainly help alleviate some of the issues in that sector.
Against: Starts in the wrong place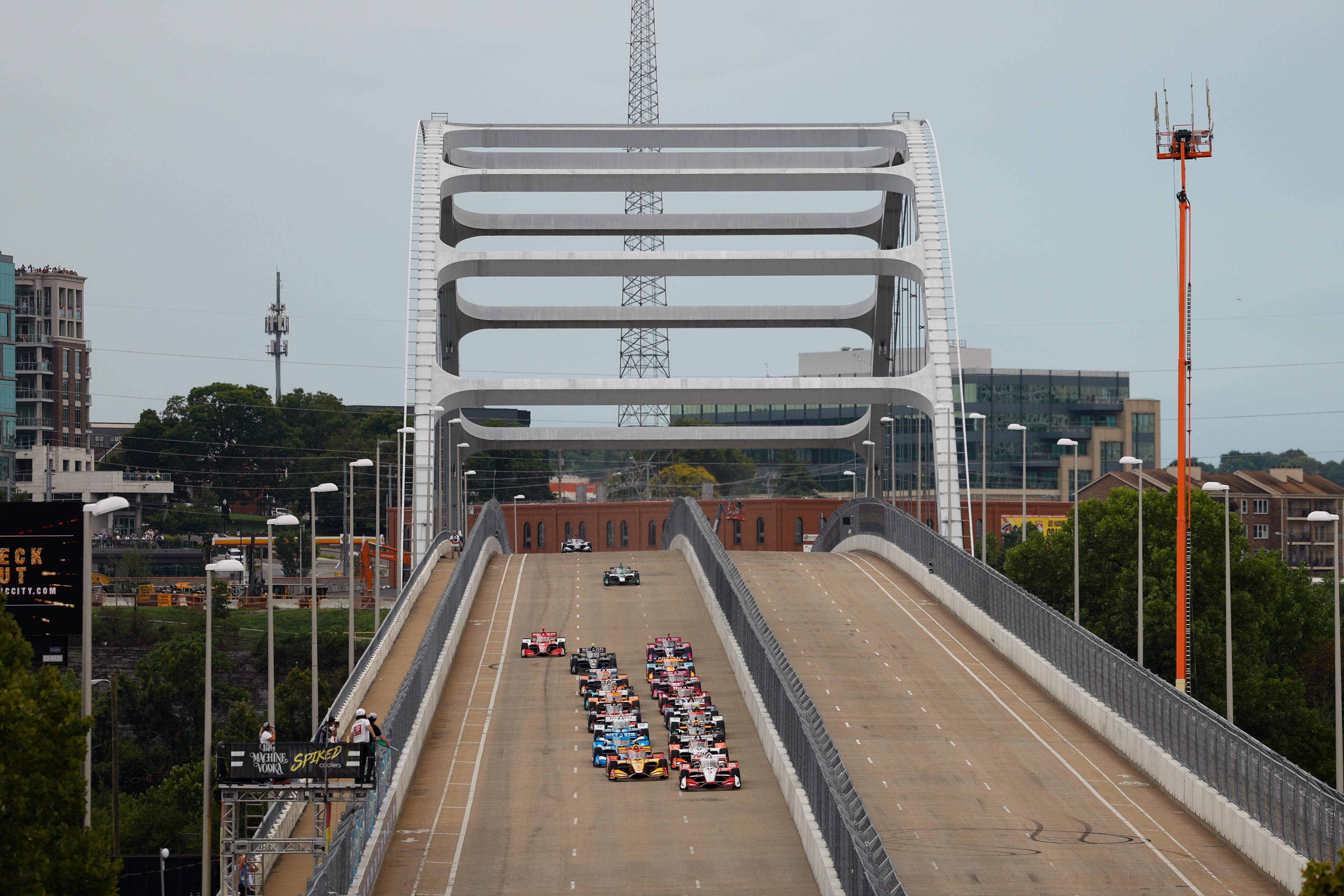 Kudos to the organiser for moving the restarts away from Turn 11, as it was too tight there last year and restarting going into an overtaking zone offered a lot of promise. I certainly argued for restarts to be moved to the bridge last year.
However, it's created another problem.
"I don't think that restarting on the bridge was a good thing," said top-five finisher Colton Herta.
"I thought the closing speeds were incredibly unsafe, and I'm sure that they're going to probably change it to something else for next year because it was really dangerous. Especially going over a bridge like that. You don't want to go over the back of somebody."
26 cars going over the Korean War Memorial Veterans Bridge?

Now that's bridge traffic.

Hop onboard for Lap 1 of the #MusicCityGP. pic.twitter.com/geeR9VBgQt

— NTT INDYCAR SERIES (@IndyCar) August 8, 2022
Dixon added: "It's better than what we had last year.
"I had a moment, too, where you come over the top, and then everybody is stopped. It's kind of maybe a big accident waiting to happen unless they kind of make you go at the top of the bridge so you still have a sightline of people in front of you, and everybody that you do see is accelerating."
The closing speeds were just too high and we almost saw accidents. Problem is, where should the restart zone be moved to? That's going to take some serious thinking.
Against: Qualifying needs to be longer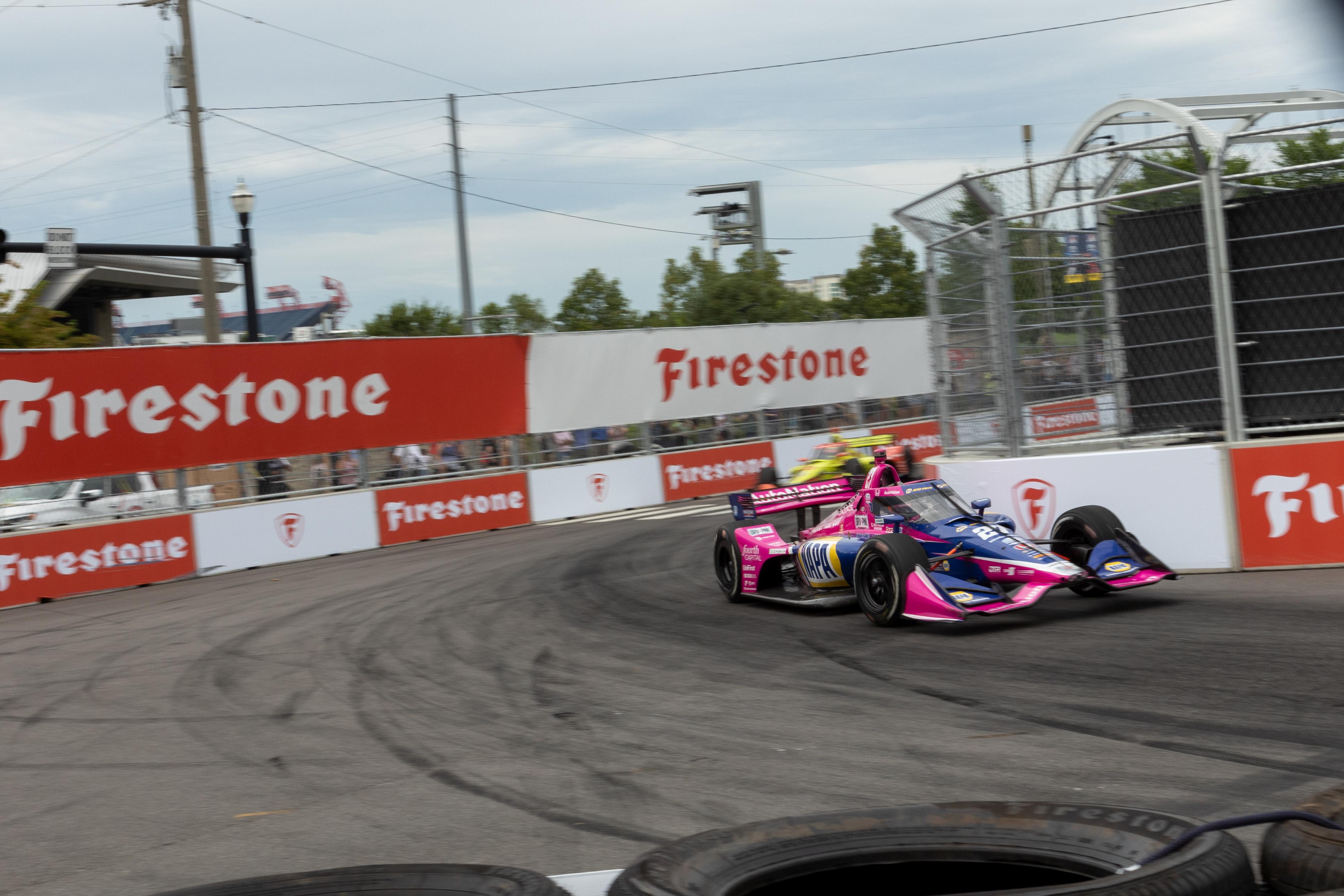 This might be more of an IndyCar problem than a Nashville one, but it really shows here.
Callum Ilott called qualifying a "joke" after not getting a flying lap in. It's been a problem for IndyCar on street circuits this year where crashes and mistakes have caused red flags and the clock ticks down. Felix Rosenqvist and Rossi were among the drivers not getting a fast lap in qualifying but both finished in the top 10, as did Simon Pagenaud.
It seemed there was room to extend the qualifying. I understand the schedules are tight and there's a lot going on in IndyCar alone, not to mention cramming other series in too.
But this track provides a brilliant opportunity to showcase the fastest drivers in the best cars nailing a qualifying lap on a tight, twisty and very entertaining street circuit. We shouldn't be robbed of that because some crash or make errors.
Conclusion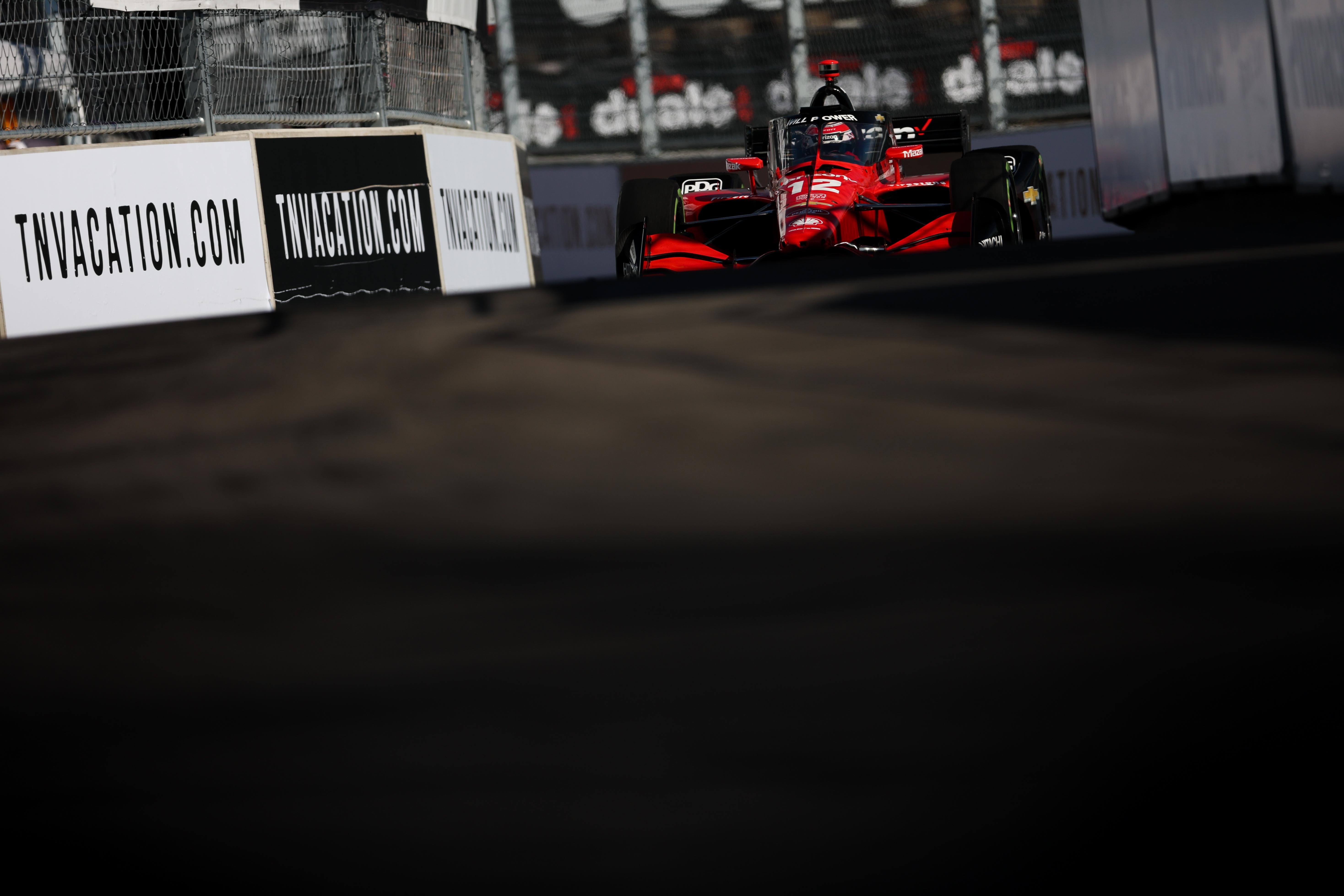 OK, it's not perfect. Opening up the track through Turns 4-8 would definitely make for a cleaner race and it simply has to get the restarts sorted out and in the right place.
But fundamentally, this is a wonderful track and the organiser has done a brilliant job. This is the best of both worlds: a great track in a fun and vibrant city. Rarely do you get those two things going hand-in-hand.
Much of the blame for the criticisms of the circuit has to fall on the poor driving standards we've seen over the past two years. The drivers need to get together and discuss this because even after similar circumstances in 2021, they haven't all learned their lesson to race with more give and take.
Perhaps that is a result of IndyCar's current policy when it comes to policing incidents, where it rarely gives out penalties for on-track collisions. But still, drivers just need to work together to stay in the event and not ruin it with half a race of caution laps.
With the right approach and a few tweaks, Nashville is, in my eyes the second best race on the calendar after the Indianapolis 500.