The latest twist in the Oliver Askew saga – he's been dropped for the 2021 season – has the potential to be one of motorsport's most damaging news stories, if lessons from it are not learned.
Askew was 12th in the standings before the Indianapolis 500 where he crashed at high speed, and after racing on at first, four races later he admitted to having concussion-like symptoms.
The first time the Arrow McLaren SP team and IndyCar became aware of those symptoms was after the Mid-Ohio round when Askew came forward, three weeks on from the crash.
It's more than possible the decision to part ways with Askew had already been made before his concussion-like symptoms manifested.
Arrow McLaren SP has been widely criticised since the announcement that Askew will be leaving, but it would be a stretch – and I'm sure, very offensive to them – to suggest that a team of its stature would drop a driver purely based on a concussion. There's no indication Askew won't be able to race on or that his long-term performance will be affected.
Of course, trial by social media accused the team otherwise.
To understand the fan reaction to the decision, you also need to understand the context.
Last year the team formerly known as Schmidt Peterson took on McLaren backing, and then fired the championship's most popular driver James Hinchcliffe after supposedly previously reassuring him his contract would be honoured.
That move proved wildly unpopular, especially with Hinchcliffe's fans. In truth it was likely politically driven as the team switched to Chevrolet and Hinchcliffe has been a long-time Honda ambassador. That was never going to work, although his 12th in the standings was probably below what the team wanted going into its high-profile new era too.
On the plus side, Arrow McLaren SP came away with two highly-rated young drivers in Patricio O'Ward and Askew, continuing McLaren's Formula 1 policy of believing in youth as it had done with Lando Norris and Carlos Sainz Jr.
Now, a year on, the decision to drop Askew has been made. Whatever the reason, the portrayal of it has terrifying consequences.
It is absolutely imperative that Askew be applauded for coming forward with his symptoms and more drivers must make the same decision in the future
Concussion can be a problem at any level of motorsport, British Touring Car champion Andrew Jordan is a recent example, and his situation has led to the British governing body addressing its concussion guidelines.
It's a dreadful thing to go on with. It's been in the limelight more recently as people begin to understand the effects of concussion more, mainly in light of the situation in the National Football League.
The NFL was accused of covering up how dangerous repeated concussions were to its athletes dating back to the 1970s, and eventually reached a settlement with ex-players or their families.
Various studies conducted since have demonstrated links to depression, suicide, and more.
Closer to home for a motorsport audience, Dale Earnhardt Jr has spoken at length about his battle with concussions while racing in the NASCAR Cup Series.
While he may have made decisions that risked his health in the past, speaking up about it now is the first step to raising awareness about this subject and helping others. He is one of the most popular drivers in motorsport even following his retirement, after all.
Regardless of the context, it is absolutely imperative that Askew be applauded for coming forward with his symptoms and more drivers must make the same decision in the future.
In the NFL, players would often hide symptoms of a concussion so that they could play on unchecked, and we must not let that happen to drivers in motorsport.
As someone who called Anthoine Hubert a friend, I can tell you that motorsport is already dangerous enough and that life is short. Drivers must not be deterred from hiding concussion-like symptoms and must put their safety first. We all know a driver or two who would likely race on without help.
I don't believe for a second that Arrow McLaren SP has parted ways with Askew because he was concussed.
However, quotes from Askew's management did cause a stir when published three weeks ago.
"Oliver clearly demonstrated his talent until lap 91 of the Indianapolis 500, and I hope this does not become another case study of why athletes do not tell their teams they are injured," Jeff Dickerson of Spire Sports management told NBC.
"The reason they do that is because more often times than not they are replaced. In motorsports, there is always somebody to replace you, and whether it was Dale Jr or Oliver Askew, there is always another driver available.
"I hope this is not a barrier to progress for other drivers — especially young drivers afraid of losing their job — to notify their teams they are hurt.
Both team and championship – this isn't a criticism – must take this as a learning experience, in that it's an opportunity to review concussion protocol and work out if anything could have been done to make Askew and others more aware of what was going on
"I hope the team proves me wrong because the good news is, the kid has had a head injury for the past month and has still run 14th in IndyCar."
Regardless of whether those comments were intended as a prediction that Askew could've jeopardised his future by being honest about his injury, their over-riding point is the importance of injured drivers coming forwards regardless of their situation. That must be the priority.
However, it's easy to see in an NFL context why players have shied away from being honest. Playing time, bonuses, salaries and future contracts all come into it and at top-level motorsport it's no different.
Is there something that can be done to offer drivers financial help in this situation? Something must be done to make people comfortable coming forward with this.
Both team and championship – this isn't a criticism – must take this as a learning experience, in that it's an opportunity to review concussion protocol and work out if anything could have been done to make Askew and others more aware of what was going on. Once aware of the symptoms, team and series reacted quickly. But is every possible step in place to avoid this happening again?
It's not just IndyCar this is relevant to either. All championships should be reviewing procedure around concussion to ensure it is taken extremely seriously indeed.
However, ultimately, it's up to the driver to come forward with symptoms and we must strive for a motorsport environment where that is possible.
Now, for Askew, he faces the prospect of not only recovering but trying to finding a seat for next year when others are too.
While Spire did a great job in helping him land at Arrow McLaren SP, the 23-year-old comes with very little family money and relies on sponsors to help him. This season he had the $1million scholarship for winning Indy Lights in 2019. That's now off the table, and his future is unknown.
I first met Oliver in 2016 at the Mazda Road to Indy Shootout. It's where he got on the scholarship ladder to IndyCar and it was clear then he was ultra-talented, and comfortably one of the most polite, well-spoken drivers I've come across. His performances in the UK with the Team USA Scholarship immediately proved that, as have his results since.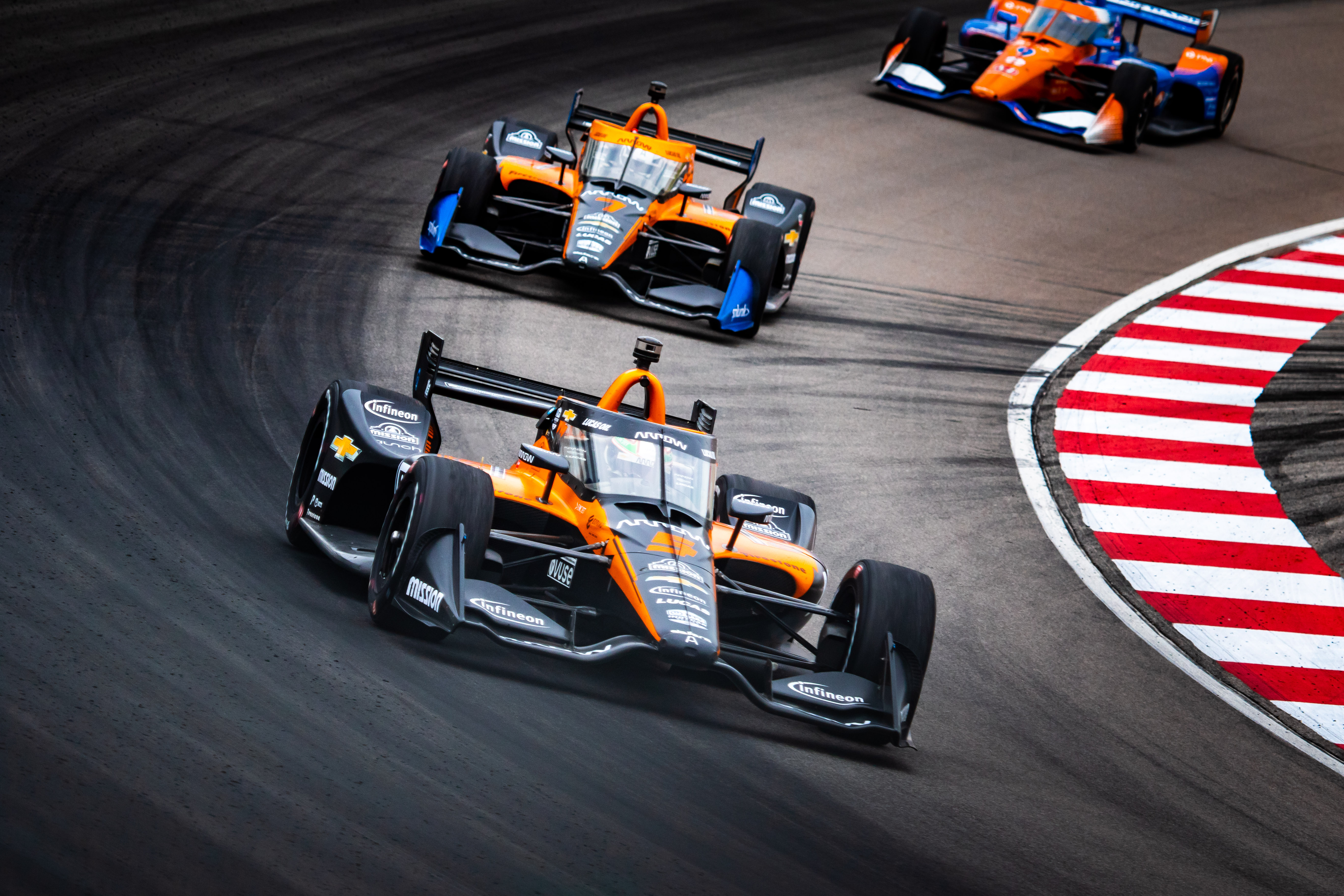 It would be interesting to be a fly on the wall in the Arrow McLaren SP decision. Askew had just scored his first podium – at Iowa – before the Indy 500 crash and lay 12th in the championship and was top rookie. Admittedly, O'Ward was fourth overall at the time, so judging purely against his team-mate you may understand the decision to part with Askew.
Perhaps the fact that IndyCar will have fewer ovals next year also contributed. He had qualified fifth at Indianapolis but made a mistake in the race and crashed. Askew's best finish on a road course in the first half of the year was 15th at Road America.
But even then you have to wonder what the team expected and how much time it would've been fair to give him. He's a rookie learning new tyres and a different car to the one he tested in 2019 due to the aeroscreen. To judge him on half a season can definitely be seen as harsh, especially as the outfit preached its 'faith in young drivers model.
Motorsport has a responsibility to make it known to its drivers – young and old. If you have a concussion, come forward
Perhaps – after offloading Hinchcliffe – Askew was a logical stop-gap to what comes next for the team and that has been the plan all along. Ultimately this is motorsport and whatever the context, if you're outperformed by your team-mate, you're always going to be in the firing line.
Yes, he was top rookie before the crash, but that isn't really an important accolade. Askew and his fellow rookies aren't turning up to beat each other each week. They're there to earn a championship, fight for wins and at the minimum, beat their team-mates. The latter is a much better representation of performance.
It's likely this situation will have hurt Arrow McLaren SP's reputation with young drivers in the future – because many deem Askew's perfromances acceptable for a rookie before his Indy 500 crash.
In that context, you have to feel that when making that decision it had another driver in mind or already lined up. Sergio Perez is an obvious choice – McLaren boss Zak Brown has already made clear that he fancies him for his IndyCar team as he remains without an F1 contract for 2021. Whether McLaren can or has persuaded him away is another kettle of fish.
There are many options left unsigned in IndyCar as well, and Arrow McLaren SP replaced Askew with three-time Indianapolis 500 winner Helio Castroneves for the Indy road course double-header earlier this month.
Castroneves could be a strong option for experience, although you'd think a third car would be more likely for him as this stage in his long career. It's something AMSP has admitted to being open to if the driver brings a budget.
Back to the most important matter at hand. While unbiased, motorsport needs Askew to rebound to avoid a damaging stigma being attached to his concussion. We can't afford drivers to feel like they are forced to race on through it.
It's almost irrelevant whether Askew was dropped as a consequence of his concussion or other factors. The timing of the injury and the announcement means people on social media have drawn the connection themselves regardless. And the consequence of that could be an injured driver hiding their symptoms in the future because they believe Askew lost out for being honest.
Therefore, motorsport has a responsibility to make it known to its drivers – young and old. If you have a concussion, come forward. It is not worth risking your health over and you have to have faith that someone out there will stand by you if you have performed at the level deemed good enough.