MotoGP world championship runner-up Pecco Bagnaia says that it may be time for him to be 'more mature,' after he crashed out of Sunday's French GP while under pressure from fellow Ducati rider (and eventual race winner) Enea Bastianini.
His error forces him to concede a serious haul of points and further dented his hopes of stealing away the crown from reigning champion Fabio Quartararo.
"The thing is, if I want to win the championship, if I want to fight for the championship, I can't put in the trash 20 points like this," Bagnaia told MotoGP.com.
It's not the first time that Bagnaia has made a serious error while under pressure in a fight for the victory, with a series of similar falls over the past few seasons meaning that he's thrown away prizes on multiple occasions.
The most dramatic of those, of course, was at Misano in 2021, when a fall from the lead as Quartararo hunted him down saw the Frenchman be crowned as champion there and then, even after Bagnaia had managed to win four out of the final six races of the season.
This time around, it was made perhaps all the more bitter by the fact that it was Bastianini, riding a third-tier hand-me-down Ducati (the bike that Bagnaia won those four races on), who put him under enough pressure to force a mistake on the final lap, something that no one had previously seen coming before the race thanks to Quartararo's home speed.
"We were all expecting Fabio to be the man to beat," explained Bagnaia, "but I knew that our pace was very good. Like in Jerez, I just tried to push, but maybe the hotter temperature today was a problem for other bikes but not for us. When I saw that Enea was behind me, I was sure that he was recovering me because he was very competitive in sector one and I was not. I was faster in sector three and four. I knew that his pace was quite good."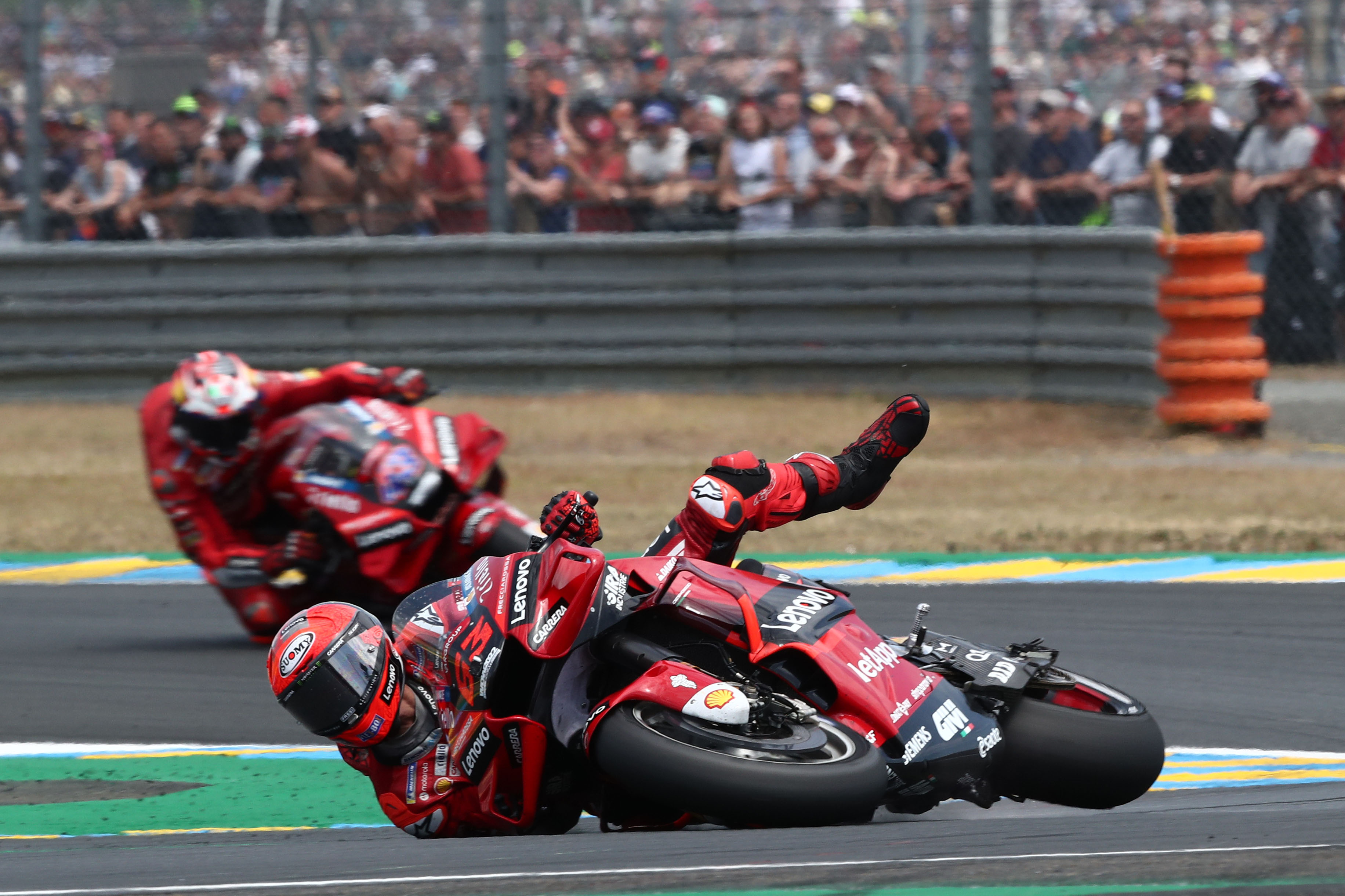 Yet while his own pace was good, it wasn't good enough to slow down Bastianini's late charge first past Bagnaia's team-mate Jack Miller and then into contention with himself. And, once caught, his plan for that eventuality failed to work out, as he tried to defend by attacking, a strategy that worked so well last year against six-time MotoGP champion Marc Marquez on his home soil at Aragon.
"The thing is, without the crash it was the perfect race," the Italian insisted. "I was managing it, I was constantly fast, I managed Jack when he was behind, and when [Bastianini] overtook Jack I managed a bit more.
"My pace was very constant, very competitive, then when Bastianini overtook me I just did the same strategy as in Aragon when I was fighting with Marc. I just tried to be in front of him as soon as possible, then I made a mistake in turn eight.
"I tried to brake a bit harder, but the front lock today was heavy, and I went straight. Maybe I braked too hard, but when I was coming back onto track I was thinking that there was no pressure, that I would just overtake him soon, but with constancy. My plan wasn't to recover to him faster than I could, because I know it was easy to make a mistake.
"But then arriving in the second last corner, I entered a bit slower and I crashed. It was a bit strange. But the only thing I lost today was 25 or 20 points."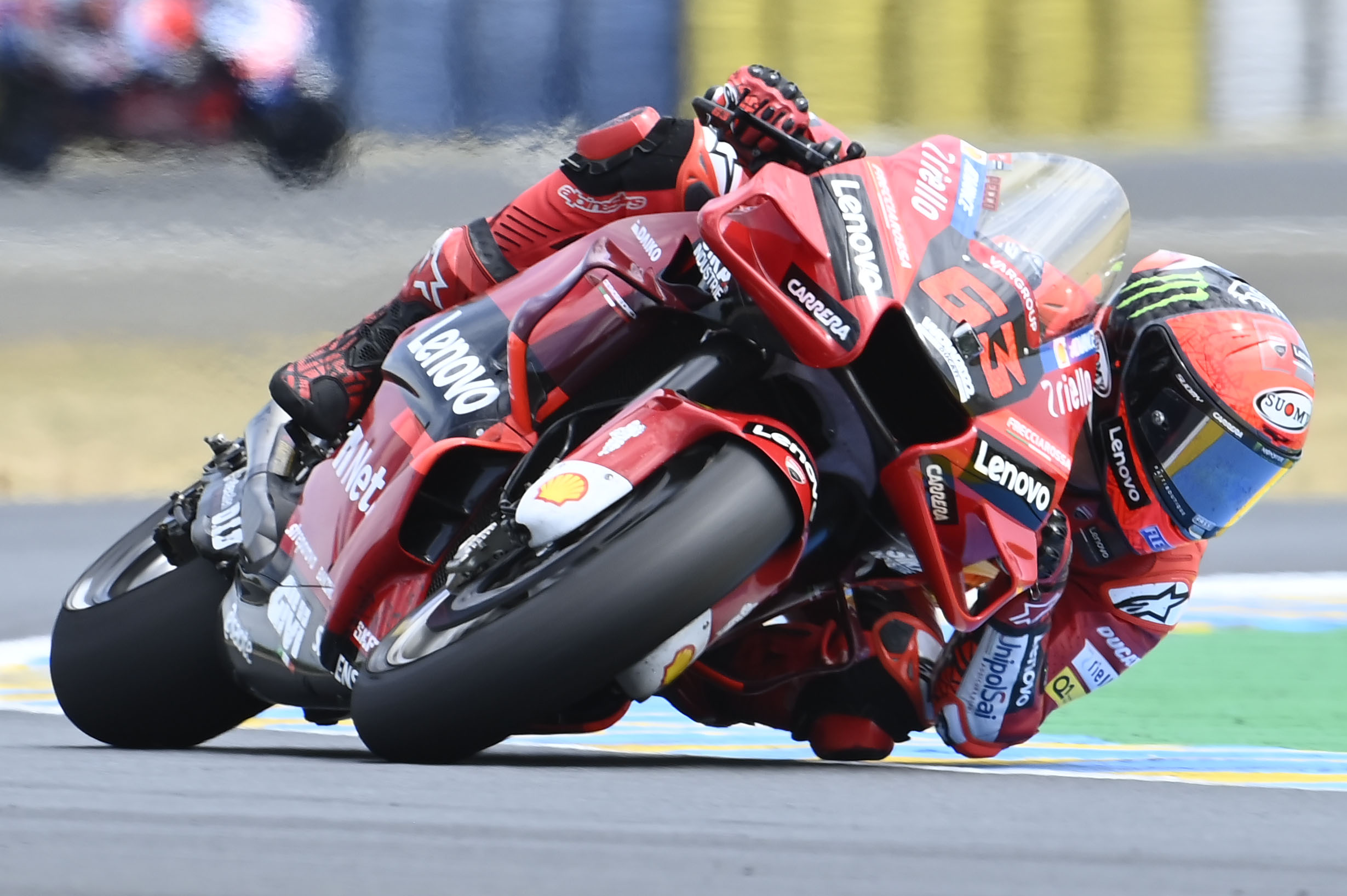 And with that damage done to his championship – on top of the impact of a very lacklustre opening five rounds of the title – it means that Bagnaia is now heading back to Italy for his home race at Mugello in two week's time with a plan for some inward investigation, as he attempts to get to the root cause of the errors that saw him crash out.
"It's difficult to say something about it," he admitted. "I saw the data to try and understand, but it's very difficult to understand, and I'm just a bit angry now.
"I don't want to think about it because I think we were deserving this potential from the start of the season. The reason that I'm angry is that I have days now to think about this crash, to try and understand it, and to try and improve myself.
"Like this, I can't win a championship, with these mistakes. Maybe it's time to be more mature."