The 2020 Portuguese Grand Prix perhaps stands as Tech3's day of days in MotoGP so far, as its rider Miguel Oliveira led all 25 laps en route to an imperious win on home soil. But a swap to factory colours was Oliveira's immediate next step – and the French team hadn't come particularly close to recapturing the magic since.
Until now. Yes, the podium drought still goes on, but Tech3 – now in Gas Gas colours – celebrated Augusto Fernandez's French Grand Prix fourth place like it was every bit a podium finish, in a release of emotion clearly conditioned by the fact the two previous years had brought more in the way of disappointment than happiness.
The best Tech3 finish in 2021 was a fifth place by Danilo Petrucci in the wet. The best finish in the dry that year was a seventh place by Iker Lecuona at Silverstone. Both had made way for an all-rookie line-up of Raul Fernandez and Remy Gardner in 2022, when neither Fernandez nor Gardner troubled the top 10.
The other Fernandez, Augusto, has now outscored the pair of them – combined! – just five rounds into the new season.
KTM took a significant amount of flak – also on these pages – about how it handled various aspects of its two rookies' debuts in 2022. It looked a super-potent line-up on paper, a pair of riders who finished a runaway 1-2 in Moto2 the year prior, but the Raul Fernandez side of the equation looked doomed from the start and never un-doomed itself. The Spaniard had had his head turned by alternative suitors, handed a promotion he seemingly never wanted and then was never at ease with the KTM RC16. An unwinnable situation.
But the Gardner saga was a twistier one. Linked for a long time with KTM and quite jazzed, by all appearances, to finally represent it in MotoGP, he was well on course for a renewal – until suddenly he wasn't. Whether he paid the price for some earnest comments to media about the RC16 that weren't taken the right way, or KTM's uneasy relationship with manager Paco Sanchez, or just performance, Gardner/KTM soured immediately and petered out in a bitter, sad fashion.
Both riders involved fired no shortage of parting shots towards the Austrian firm, and there was sympathy – including from Aleix Espargaro, who said: "It's sad, really, I feel really bad for Remy. I have no explanation in his case, I don't understand why they treated him like this. He was not that bad this year, he won the title last year, he didn't have the best bike this year. So, what did they expect from him? To win races? I don't understand and I feel sad for him."
Earlier this month, Espargaro was the very rider battling Augusto Fernandez for fourth place on the final laps of the French GP, and ultimately admitting defeat.
He was exuberant in his praise of the Tech3 Gas Gas rider – but also referenced what he regarded the team's past failures with rookies.
"Augusto's race was crazy, congratulations to him. Because it's not just about starting in front, but he was able to overtake the KTMs and have a really solid pace.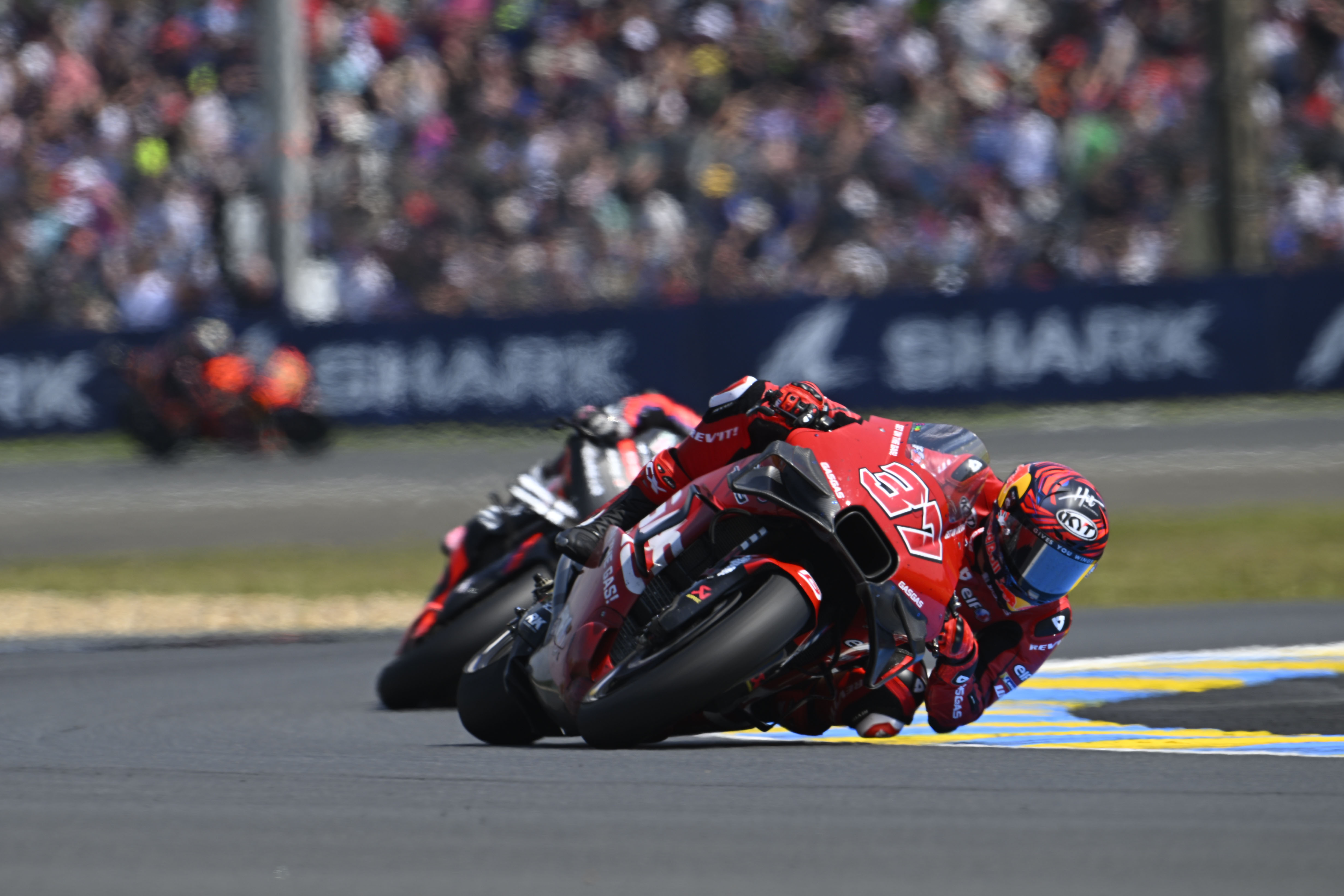 "I was very happy for Augusto. I know how difficult it is to stay and maintain your position in this paddock, you have to fight like a lion, and he's doing it – in a difficult, not the best situation, in a team that we know in the past what it did with rookie riders.
"So his position right now is not easy, but he still works hard and he's the Moto2 reigning world champion, so… actually the last lap I had some opportunities to overtake him in the last split but I decided to not try, because I think the risk was too high and I didn't want to ruin his race, because what he did today was amazing."
Tech3 is probably quite hurt by the perception that it failed its previous two riders – you could feel that in the comments of team founder Herve Poncharal in the off-season, and you could certainly sense the relief in Augusto Fernandez proving a success in new team manager Nicolas Goyon screaming to KTM (and Gas Gas) motorsport boss Pit Beirer after the chequered flag in Le Mans: "We have the guy, we have the champion! We have the guy!"
What is certainly clear is that both Tech3 and the wider KTM/Gas Gas family love how Augusto Fernandez has gone about racing this year.
"He's doing well. He's doing his work, he's not complaining, he's doing what a rookie should do," said KTM rider Jack Miller, in a comment that can definitely be interpreted as being not just about Augusto Fernandez.
"And then results like today come when you keep your head down and keep working. It's a credit to him and the team around him, and doing a fantastic job."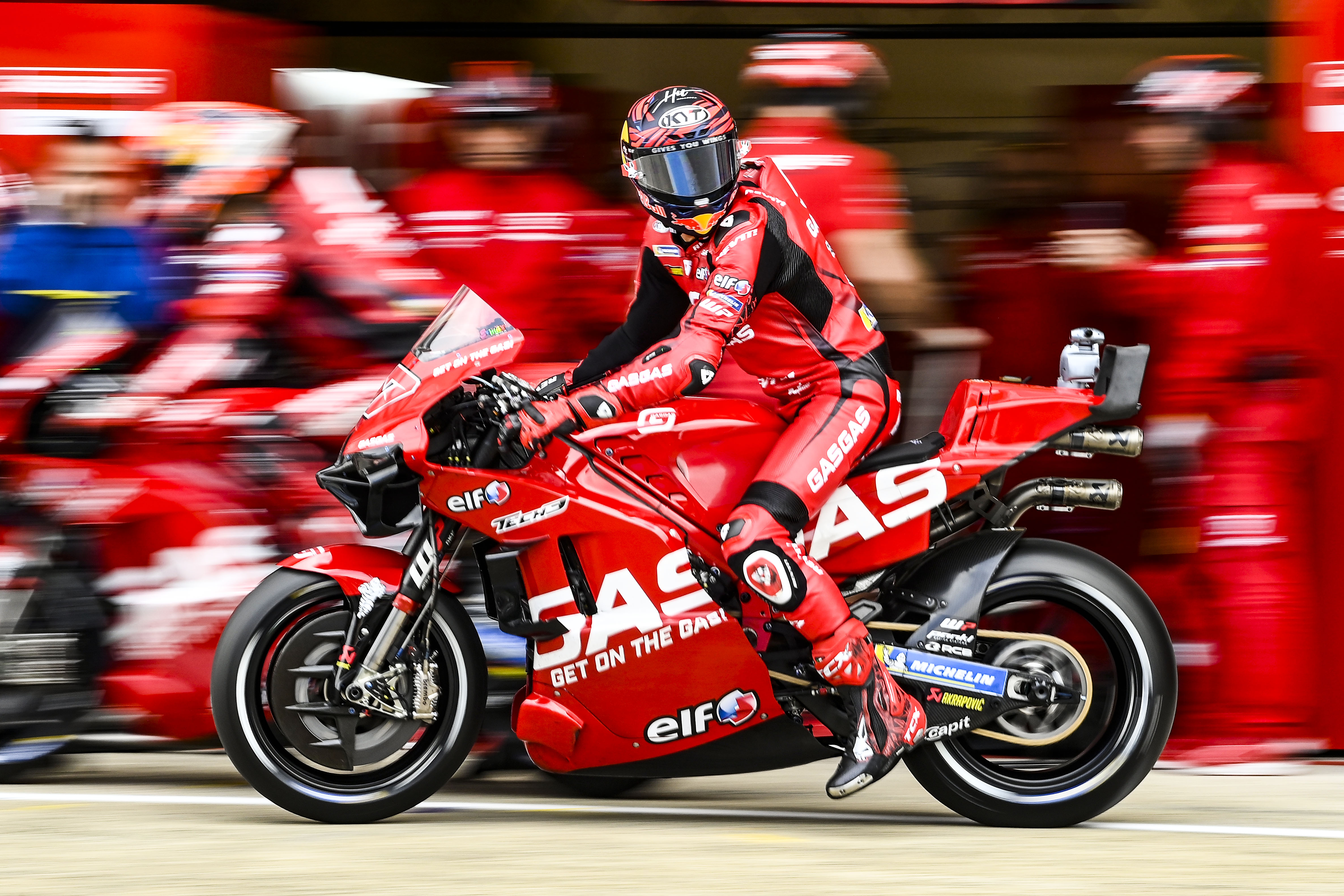 For his part, the rookie was asked about his two predecessors on Friday that weekend – when it was already clear he was set for a good one but not yet clear just how good it would turn out – and gave an answer that perhaps exemplified why he's endeared himself to his employers so much.
"Well, what I see is Brad [Binder] and Jack are in the front and me, I'm still at the back," he said. "This is what I look at.
"I'm not looking at if I'm better than Remy or Raul, honestly. I know I can be better than what I am now."
There is an important factor to account for here, though – the 2023 KTM RC16 is a much better proposition than the 2022 KTM RC16.
Raul Fernandez was never staying, but could Gardner have produced a similar level of performance to Augusto Fernandez had he been kept on?
Comparing their bulk of single-lap performances, benchmarked against the fastest KTM on a given weekend, gives one answer.
---
Single-lap peaks*
Gardner +0.649s over 20 rounds
A. Fernandez +0.724s over five rounds
R. Fernandez +0.802s over 16 rounds
*(Fastest lap of the weekend, against best works KTM, normalised to 90-second lap)
---
Raul Fernandez's data does not include weekends where his single-lap speed was very obviously affected by a lingering injury, but even then it doesn't make for pretty reading – and the fact he needs to figure out qualifying in MotoGP remains obvious this year as well, with it by far his biggest and most limiting shortcoming on an Aprilia RS-GP that otherwise seems to suit him much better.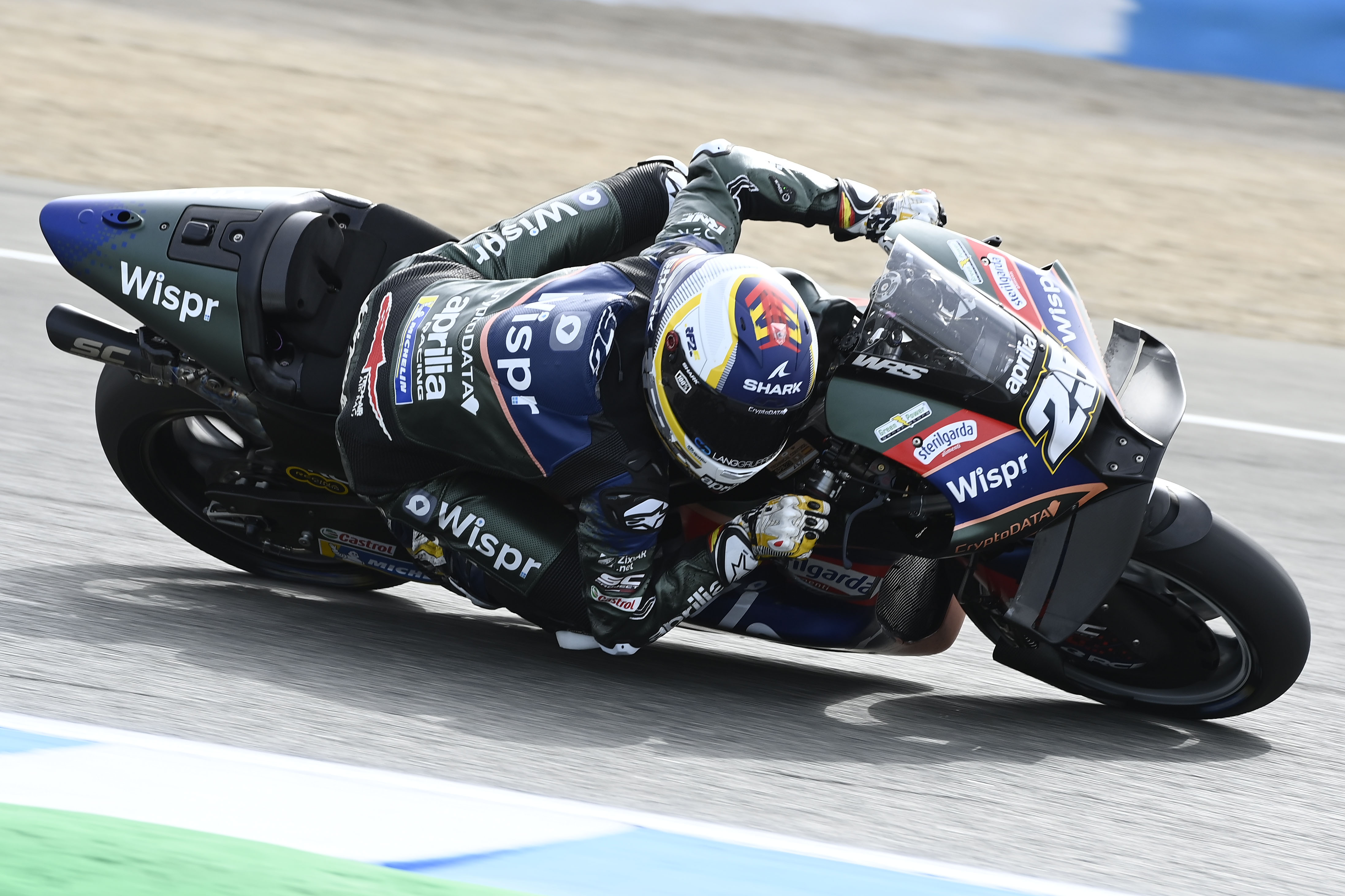 But qualifying is also very obviously Augusto Fernandez's limitation in MotoGP – and, unlike for the other two, the contrast in race performance has been incredibly stark.
---
Race pace comparison*
A. Fernandez +17.396s over seven sprints & GPs
R. Fernandez +26.205s over 16 GPs
Gardner +27.745s over 17 GPs
A. Fernandez +8.702s over four GPs
*(Gap to top works KTM, normalised to 115km race)
---
Including sprints brings Augusto Fernandez closer to his predecessors, but that's not fair – it stands to reason much bigger proportional time losses come in the early laps in the pack, and the second half of the race is a much better opportunity to match pace with those in front.
Excluding those – even with the Circuit of the Americas race, in which Brad Binder was the only works KTM finisher after having fallen off, also excluded – paints a fantastic picture for the 2023 debutant.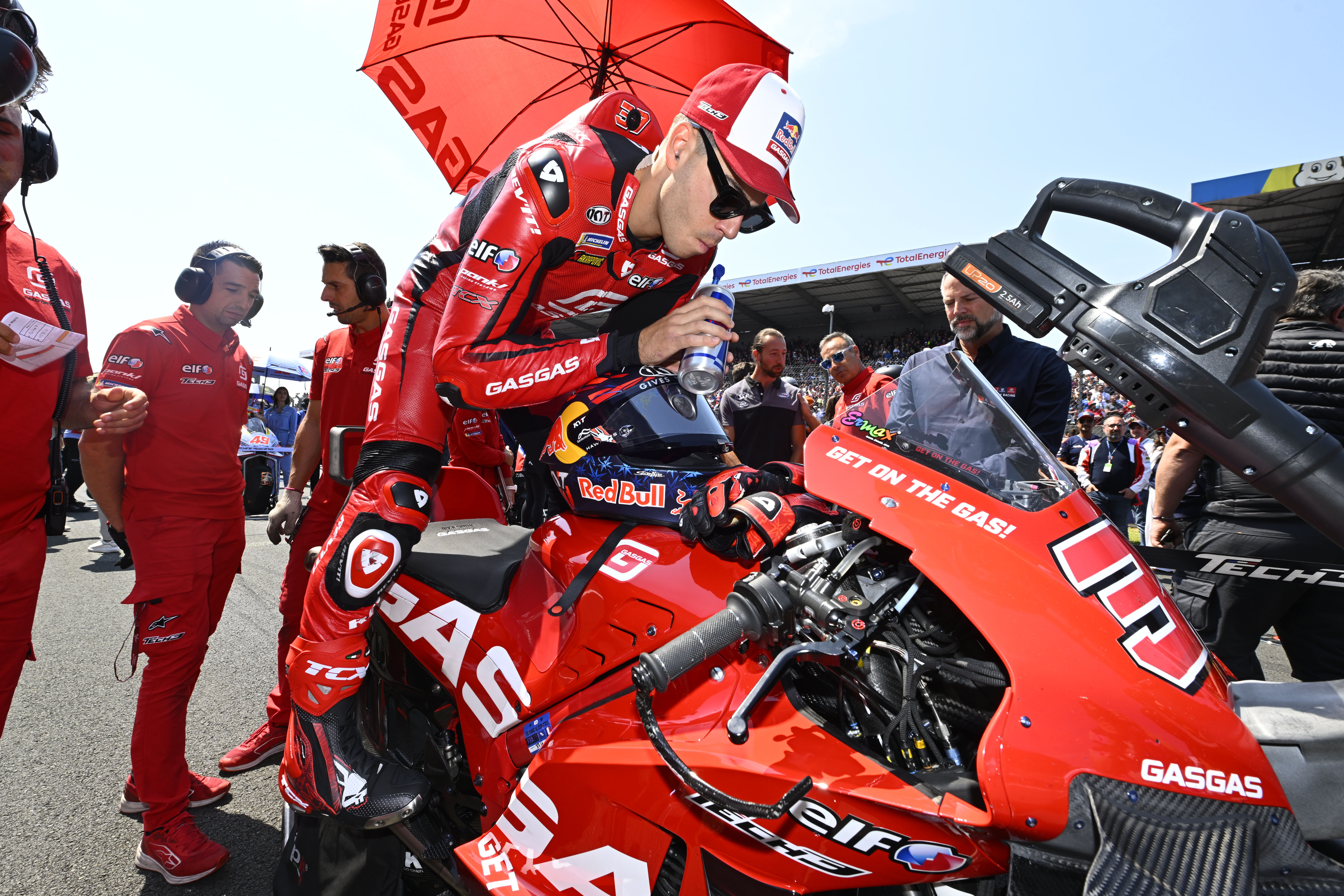 Yes, he's had some relative clunkers this season – not really at all impressive at COTA and Jerez – but Augusto Fernandez has proven beyond any reasonable doubt that his race pace is on the level. And it just never was for last year's Tech3 duo.
"I was surprised when he came past me today, it kind of shocked me," added Miller at Le Mans.
"But I was happy to see another KTM doing well. As I've said in the past, this bike's working well for all of us and we all have quite different riding styles."
Circling back, then, does Augusto Fernandez's form paint KTM's ruthless 2022 decision in a better light?
Well… yes.
You can absolutely have gripes with the way that decision came out and with the effect the handling of the situation had on Gardner, and you can and probably should have sympathy for the extremely likeable Australian, who suddenly got to watch his MotoGP dream wither and fall apart a year on from bringing KTM a Moto2 title.
But if KTM hadn't found MotoGP room for Augusto Fernandez in 2023, would it ever? Or would any vacancy beyond that be instantly filled with Pedro Acosta's name?
In an ideal world, there's maybe room for both Gardner and Augusto Fernandez under the KTM/Gas Gas/Husqvarna/you-name-it umbrella in MotoGP. But manufacturers and teams having to make difficult decisions and bet on one rider over another is very much part of the appeal of the whole thing.
And the bet KTM and Tech3 made, in whatever circumstances, is a winning one right now.