The pulleys of KTM's MotoGP talent conveyor belt have continued their ceaseless rotation this season, with Remy Gardner following in Iker Lecuona's footsteps through his own bitter KTM exit being parlayed into a World Superbike seat, while Raul Fernandez is walking away of his own accord.
For most manufacturers, cutting ties with two riders who finished 1-2 in the main MotoGP feeder series just a year prior would be a fairly seismic event. For KTM, it only means the conveyor belt gets to keep moving.
Its budding superstar Pedro Acosta is still the hottest property below MotoGP, asserting his status with an injury-affected Moto2 campaign that has not been as explosive as his rookie season Moto3 title win but has still been plenty good enough.
And now another rider in the KTM family has had the audacity to not only succeed Acosta as the Moto3 champion but do it in an almost as impressive fashion.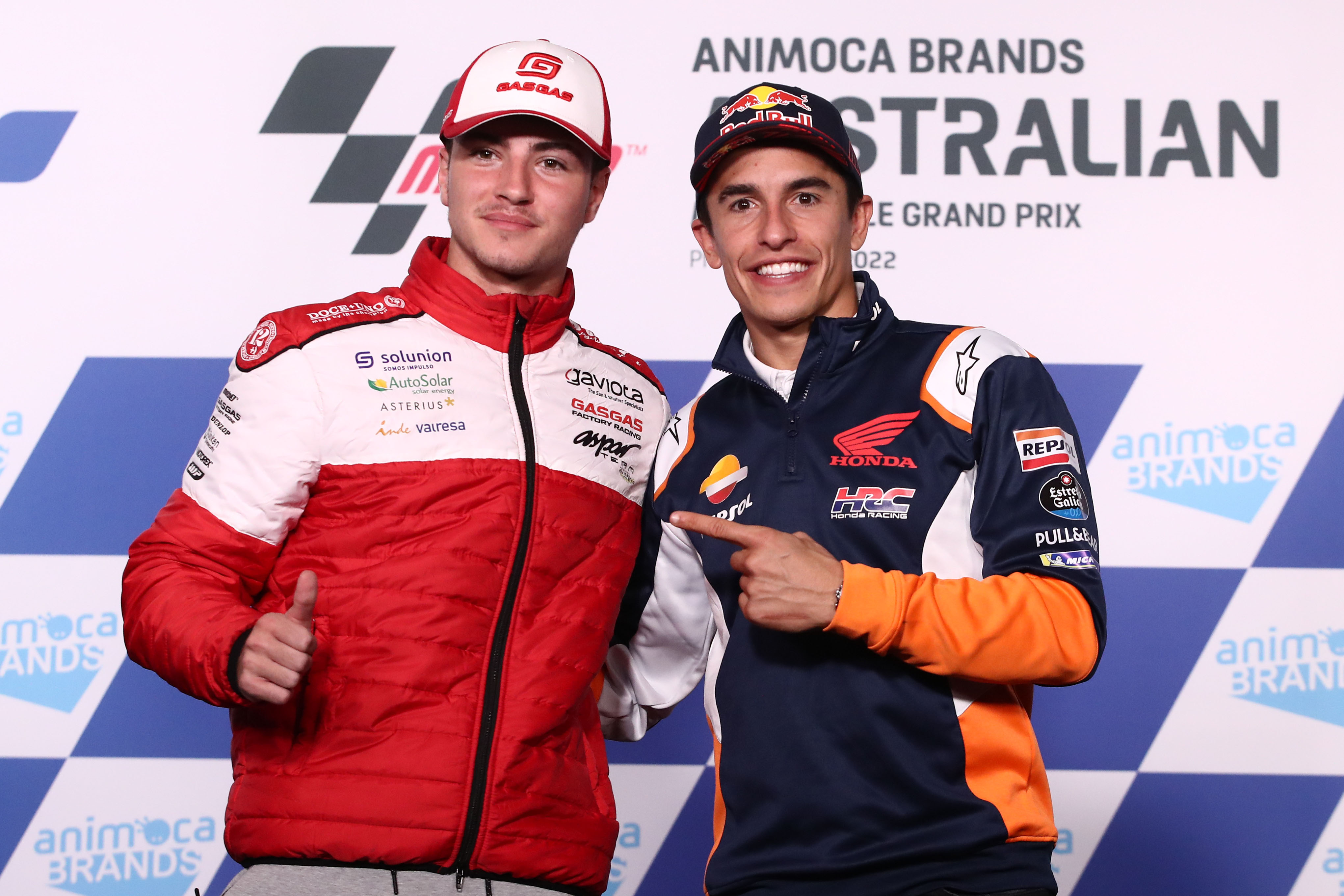 Representing sister brand Gas Gas on a KTM RC250GP run by the Aspar team, 18-year-old Izan Guevara had his first chance at wrapping up the Moto3 crown at Phillip Island last weekend with two races to spare. He was called up to the Thursday pre-event press conference, where Marc Marquez spoke of the pep talk he gave Guevara, having perceived him as being too "nervous" in the way he rode to fifth in the previous race in Buriram.
"He just needs to follow his instinct. By his instinct, he's fast," said Marquez.
"He'll have many chances to do it – and just enjoy this moment, because he's a rider that will be…
"I don't want to say the name, but [he's] a good rider in Moto3, but will also be a good rider in the future in higher categories."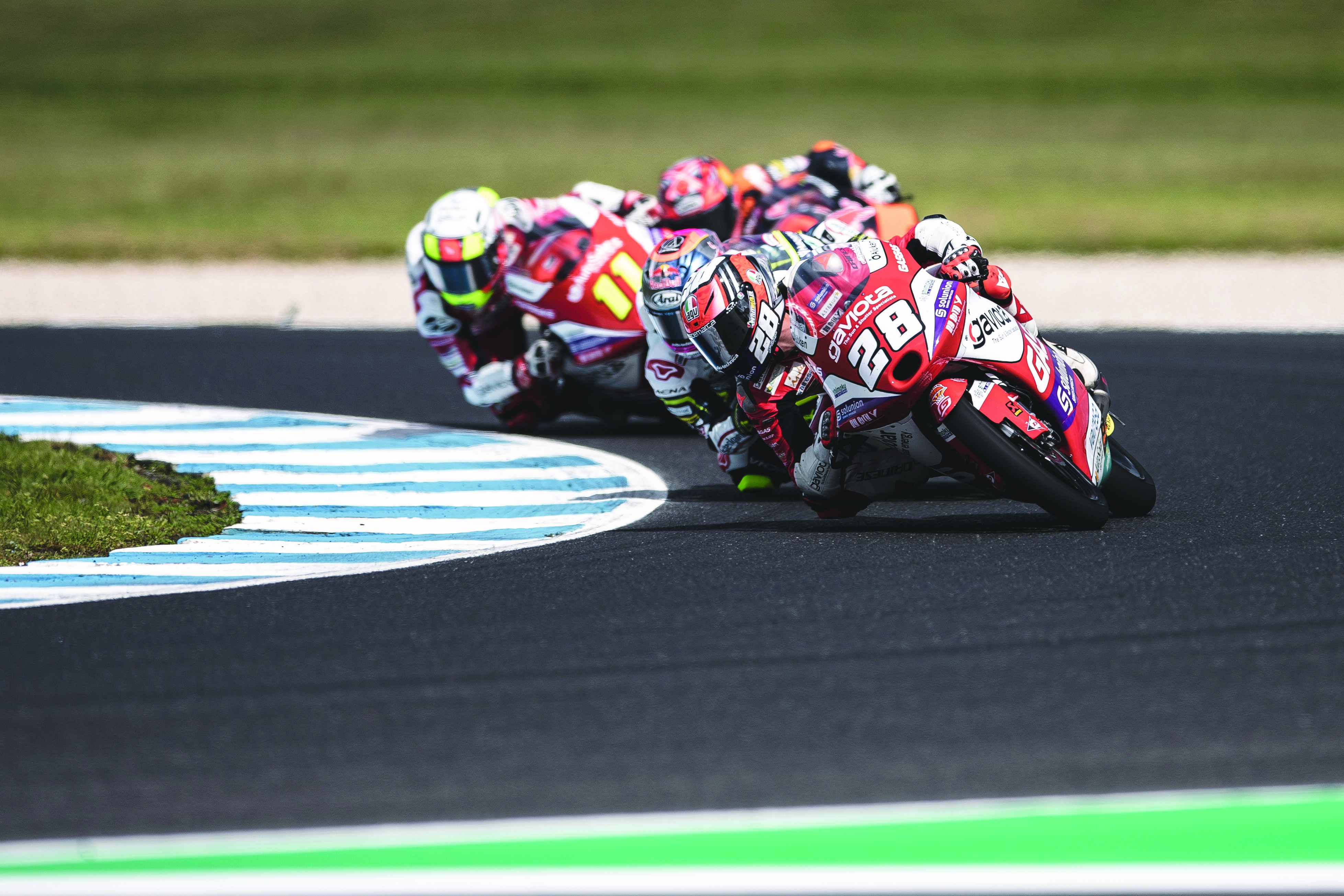 Not to be putting words into Marquez's mouth, but it's likely that what he was trying hard not to say was 'this kid is heading to MotoGP'.
And, in any case, that pep talk definitely didn't hurt – at Phillip Island Guevara looked free and absolutely magnificent, taking on three rivals in a mesmerising 20-lap lead-group tango before seizing on a last-lap chance to wave goodbye to the trio and escape with the win, ensuring his title with two races to spare.
It was his third title in four years, too. Guevara had earlier won two Portugal/Spain-based series – the European Talent Cup in 2019 and CEV Moto3 in 2020, beating Acosta among others in the latter (although Acosta did vastly outperform him in the more international Red Bull Rookies Cup).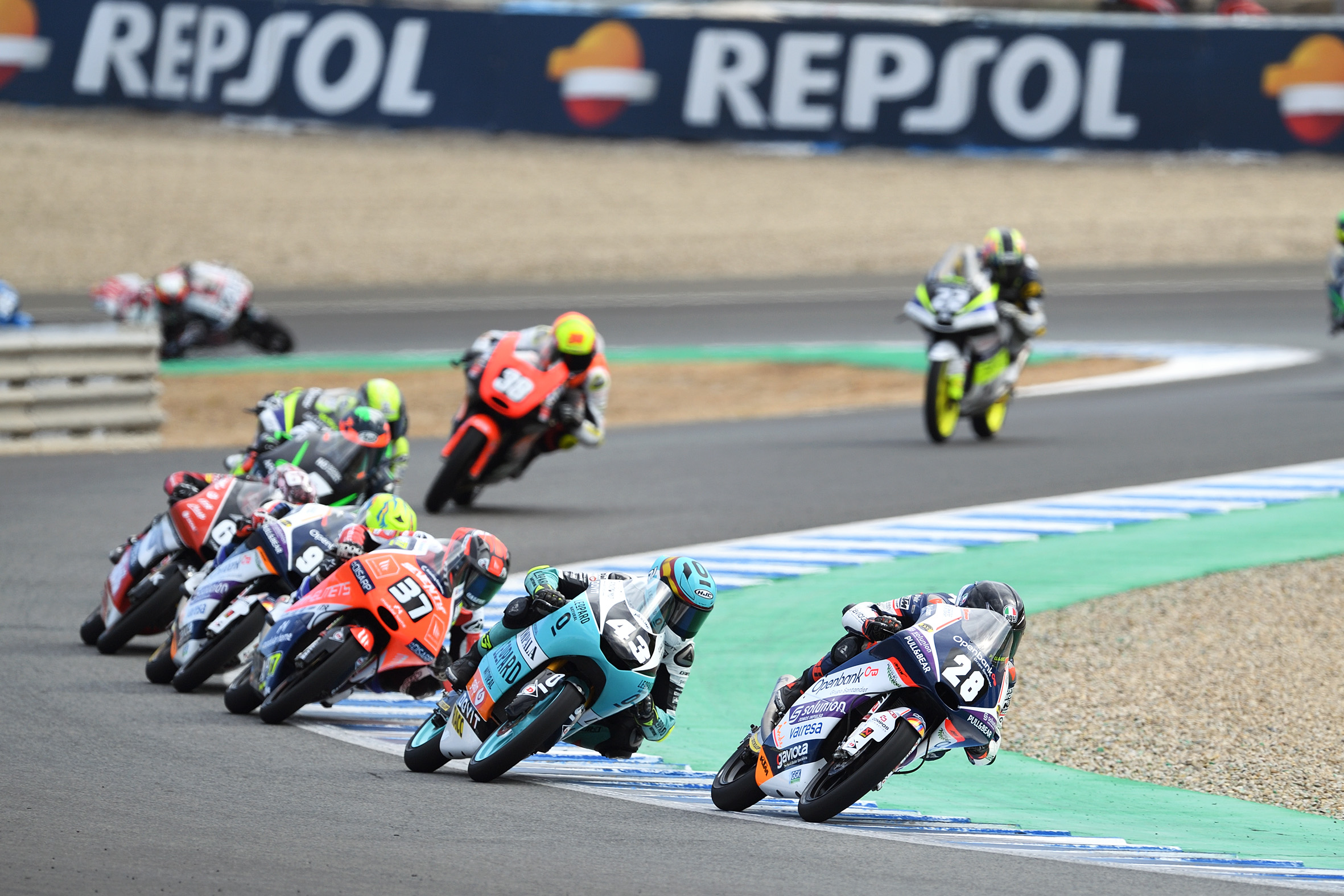 But how can a second-year Moto3 title be anywhere near as impressive as a first-year one? Well, it's a matter of its nature, its context, its feel. Acosta's triumph was built on electric moments that made his outrageous talent impossible to ignore, but he also had something of a mini-slump that threatened his crown and frankly wasn't qualifying particularly well throughout.
He still scored more than double fellow rookie Guevara's points in 2021, but 2022 pitted Guevara against more experienced versions of the rivals Acosta had thwarted, and he bested them simply by being an extremely complete rider.
Was he faultless? Absolutely not. He got a big penalty for the Qatar opener for irresponsible riding in qualifying and did not take responsibility, he had a very costly jump start at COTA and he was lucky to escape both unhurt and non-sanctioned after inexplicably running into the back of John McPhee in the Motegi warm-up.
But he was never slow and always put himself in position to score big, his only two non-scores of the year being a mechanical failure in Argentina when leading and an Ivan Ortola-triggered shunt in Britain. Between those two, he delivered a run of six straight podiums that he regards as "the critical moment to win the championship".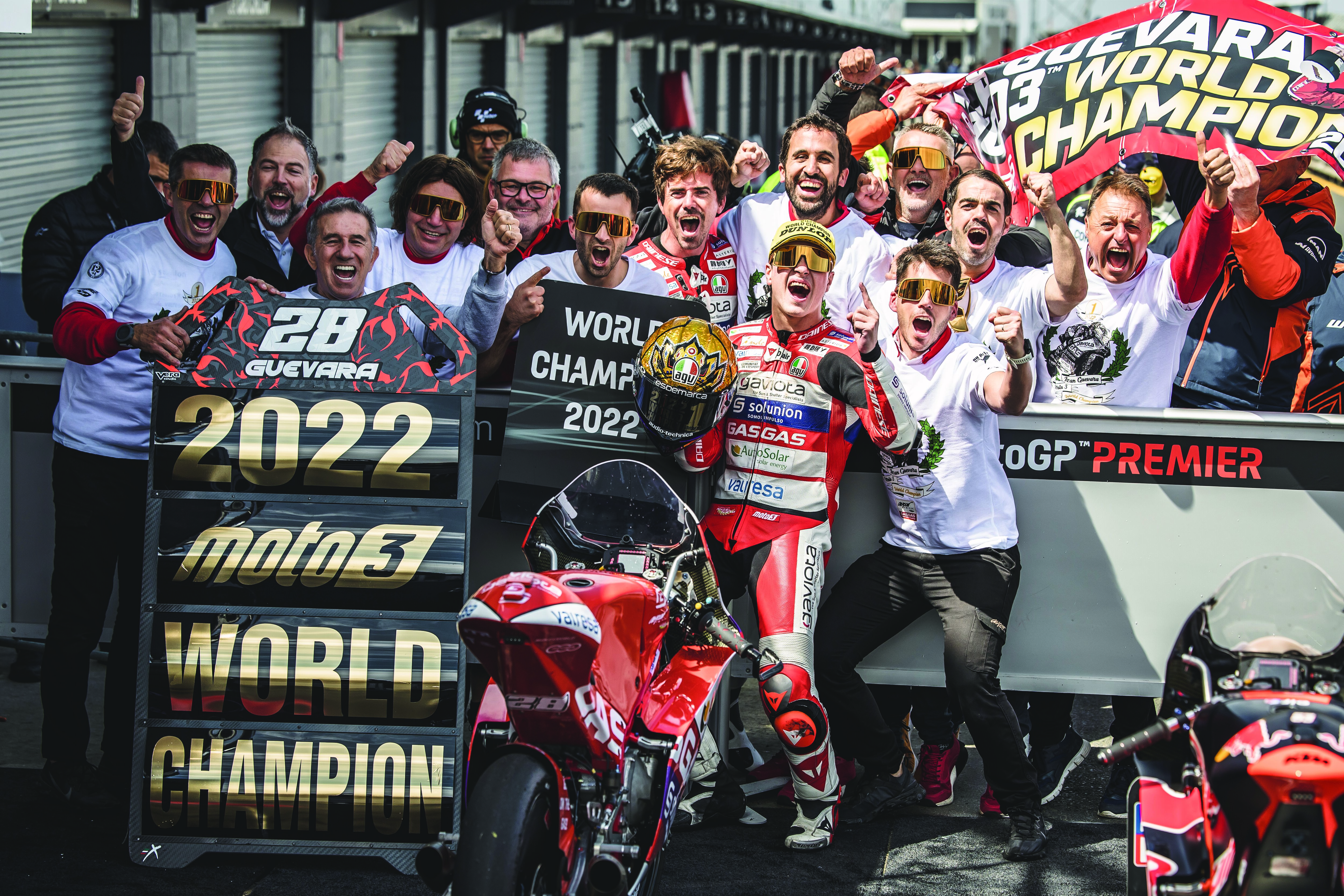 He never missed Q2 once all season, and only once qualified outside the top 10 – in 11th, at that. And if he leads more than five laps across Sepang and Valencia, he will (admittedly benefitting from a larger calendar) break Maverick Vinales' 2013 record of most laps led in a Moto3 season. That record stands at 142 – for comparison, Acosta led 35 last year.
As the two pre-season favourites Sergio Garcia and Dennis Foggia slipped, Guevara refused to do so. And while Garcia and Foggia are two good riders who may one day be in MotoGP, they will need to make a strong case in Moto2. Guevara now just needs to hold serve.
Maybe not even that. After all, Joan Mir – whose time in Moto3 is not all that dissimilar, stats-wise, to Guevara's – didn't do a whole lot in the intermediate class, but had a MotoGP deal in hand before anybody had any real chance to assess him as a Moto2 rider.
And to say his employer Suzuki didn't come to regret that MotoGP deal would be a massive understatement.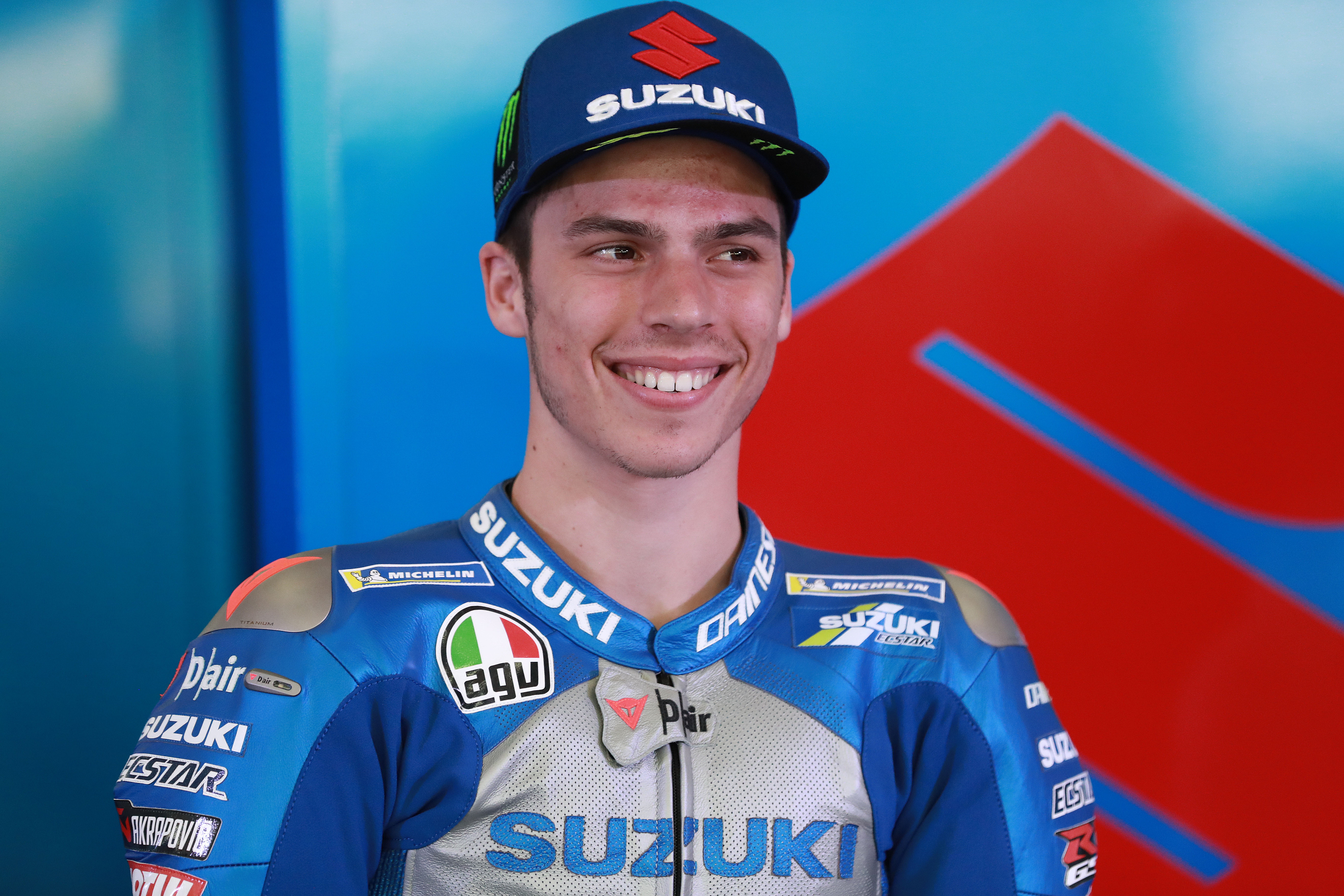 But there will be no Suzuki to take a punt on someone like Guevara going forward. And he's part of that KTM family anyway, meaning that factory should be the one to offer him his MotoGP debut.
Except, well, it's obviously more complicated than that.
The logjam lives on
The situation with KTM's MotoGP roster is as follows: next year's factory duo, Brad Binder and Jack Miller, have deals running through 2024, as does Pol Espargaro, recruited to spearhead the satellite Tech3 team that will now carry the same Gas Gas branding that Guevara took to the Moto3 crown.
The odd man out here is Moto2 title hopeful Augusto Fernandez, who will probably be under massive pressure to prevent his time in MotoGP being a one-year rental – what with Acosta waiting in the wings and seeming a no-brainer for 2024.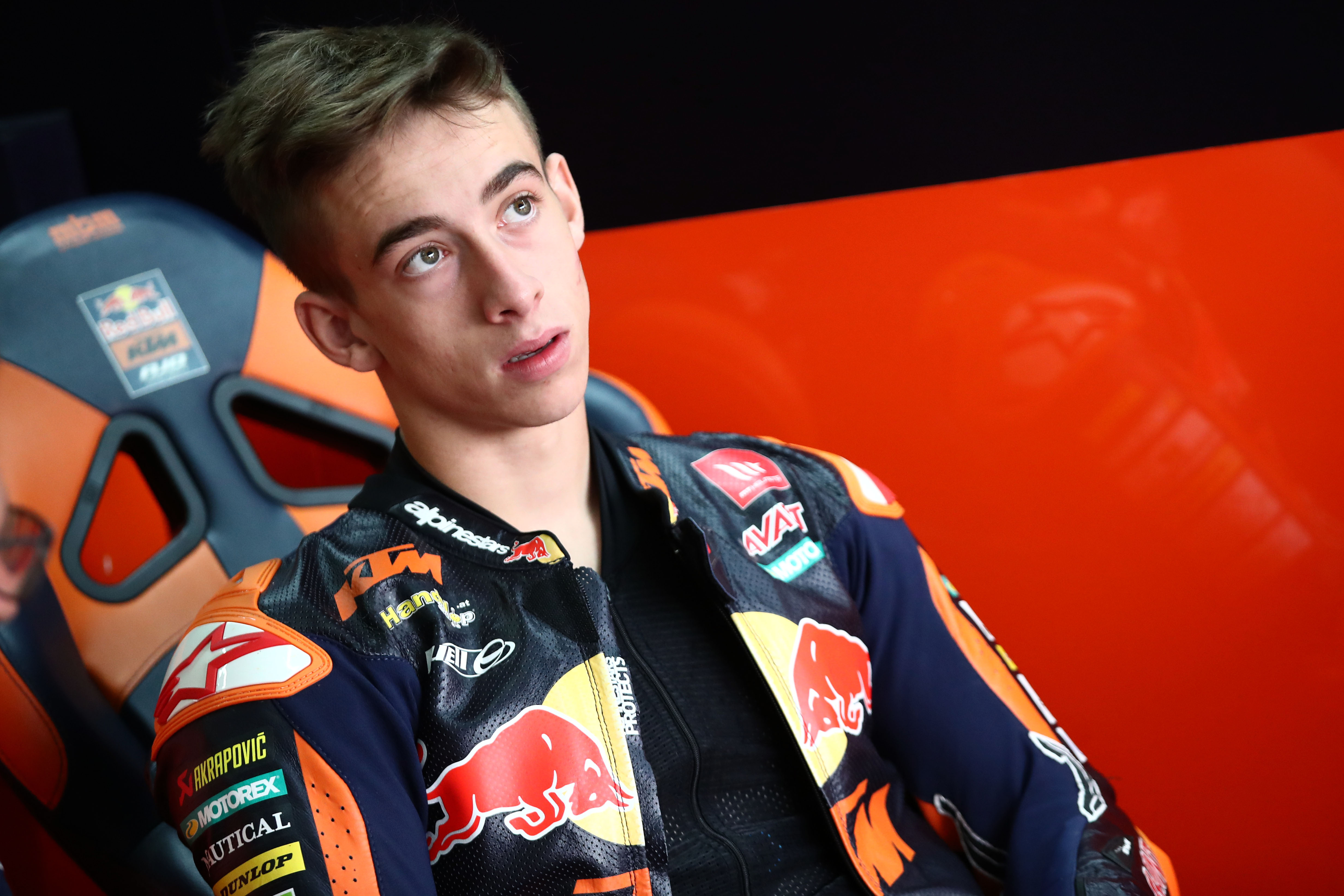 And that's not even the extent of the options. Who knows what Acosta and Guevara's Moto3 champion predecessor Albert Arenas can deliver now that he's been given the KTM Ajo 'golden ticket' in Moto2 as Fernandez's replacement – or whether Jake Dixon, who will be Guevara's Gas Gas Aspar Moto2 team-mate next year, can do well enough for the attraction of having a British full-timer on the MotoGP grid to get him over the line.
Of future team-mate Guevara, Dixon said: "He's done an incredible season. He's only so young. He has a lot of potential, like all of these guys that are really young.
"I feel as young – even though my age [26] isn't, but my inexperience in the world championship is the same [going straight to Moto2 in 2019], it's almost like the years they've done in Moto3 are like my years I've done in Moto2.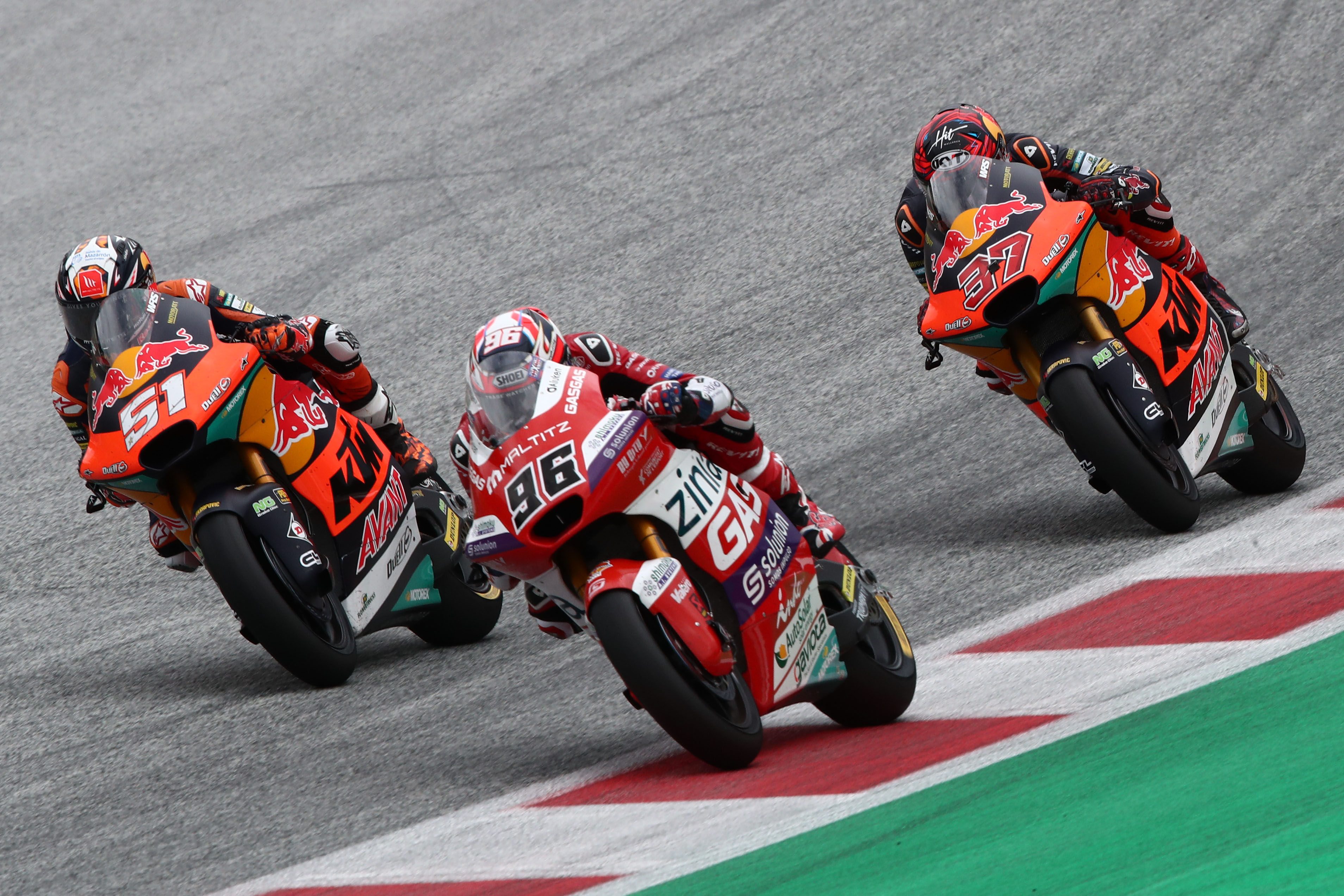 "I can understand where Izan's coming from, he's obviously done a fantastic job to win the title in his second year, it's incredible, just shows what a great team I have and he has. I'm welcoming him to the side next year."
Even if he takes care of Arenas and Dixon, Guevara is very unlikely to unseat Acosta as KTM's MotoGP debutant-in-waiting for 2024. But how much longer does he wait after that? How much longer should he wait?
And, if he's anywhere near as good in Moto2 as he was in Moto3, how long will it take for MotoGP factories to start seriously sniffing around – perhaps factories like Yamaha, which already tried to poach Raul Fernandez off KTM last year, or Ducati, which has an abundance of bikes and is bringing in Guevara's current team boss Gino Borsoi as the Pramac Ducati team manager next year?
Or could it be Acosta that will see himself elsewhere?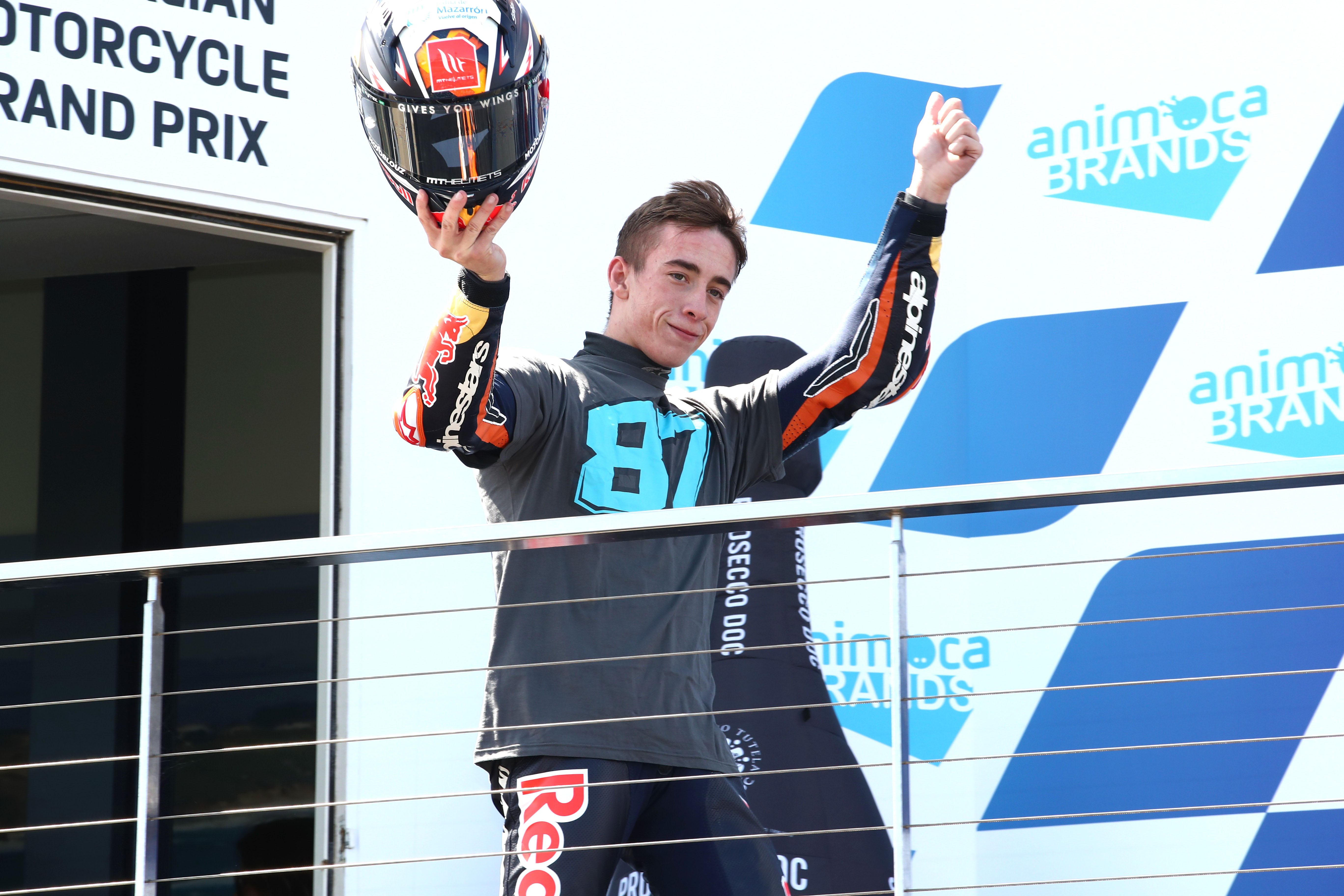 There have been no reports of discontent on the side of KTM's prized jewel, but it's been difficult not to read a wider context into an Australian GP gesture of Acosta's – donning a Remy Gardner t-shirt on the cool-down lap and wearing it on the podium.
"It was pretty cool," Gardner said. "I didn't know, actually. I was about to go get changed [for the MotoGP race], and Clara [Moller], my girlfriend, knew he was going to do it.
"She said 'no-no, just wait, and say hello to Pedro in the pitlane'. I was waiting for him, he stopped in the entrance of pitlane, I was like 'what's he doing? Hurry up, I've got to get changed'.
"And I saw him coming down with my t-shirt on, which was pretty awesome. I'm sure the Aussie fans loved that as well."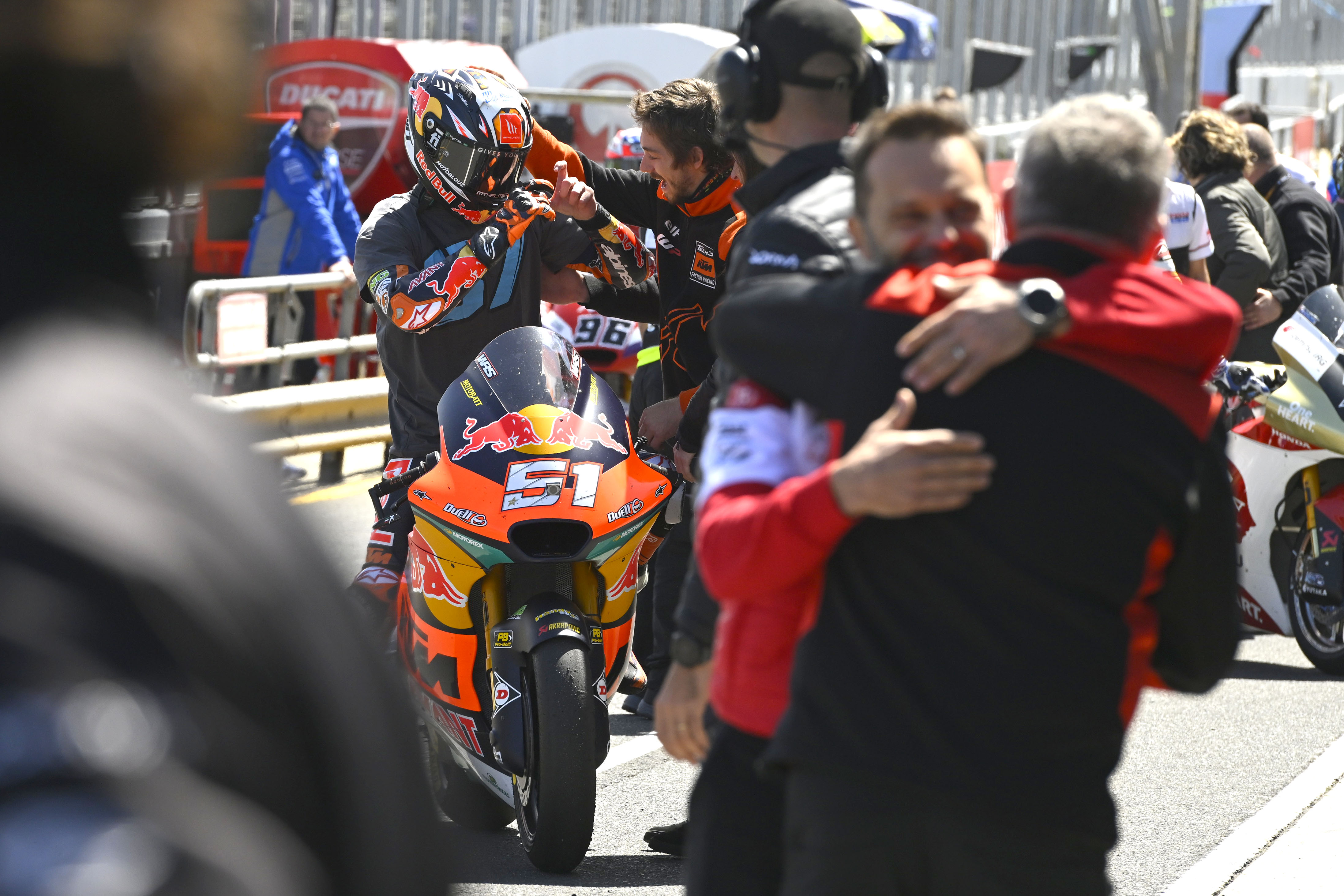 Gardner and Acosta are close. And Gardner and KTM have split in massively acrimonious circumstances. Even if Acosta doesn't hold that against KTM, he will presumably have a first-hand account of life as a KTM MotoGP rookie whenever he wants it – and it is unlikely to be a glowing one.
So could he yet turn wantaway? Could Guevara? Or will KTM pull off an incredible trick of hanging on to two of the best young prospects around, and do that while crucially keeping them happy?