Walking through the Imola paddock last weekend, you could be forgiven for thinking that the Circuit Enzo e Dino Ferrari was hosting a MotoGP round and not the opening race of the GT World Challenge Europe campaign.
The chants of 'Ole, ole, ole, ole, Vale, Vale!' from the hundreds of fans, some five or six rows deep, crowded around the back of the Team WRT Audi hospitality, were proof of the impact seven-time MotoGP champion Valentino Rossi has already had on the GT world. His first weekend as a fully-fledged GT driver did not disappoint.
Further down the paddock, beyond Pirelli's tyre zone, there was a slightly smaller, but no less passionate crowd, desperate to get a moment, a picture, anything with former Honda rider Dani Pedrosa.
Motorcycling royalty came to the GT racing party and took it utterly by storm.
For Rossi, this wasn't his first rodeo in the discipline (he contested two races in the series' previous incarnation as the Blancpain Endurance Series in 2012, and he's done the occasional endurance event in the Middle East) but it was the first weekend as a full-time GT racer.
The pressure wasn't on per se, but 'The Doctor' quickly noticed the change in tempo between a pre-event test and the real thing.
"We did some tests during the week to try and better understand the car, but after, everything is different in a real race weekend, because there are a lot, a lot of cars," Rossi told a select group of media in a press conference on Saturday.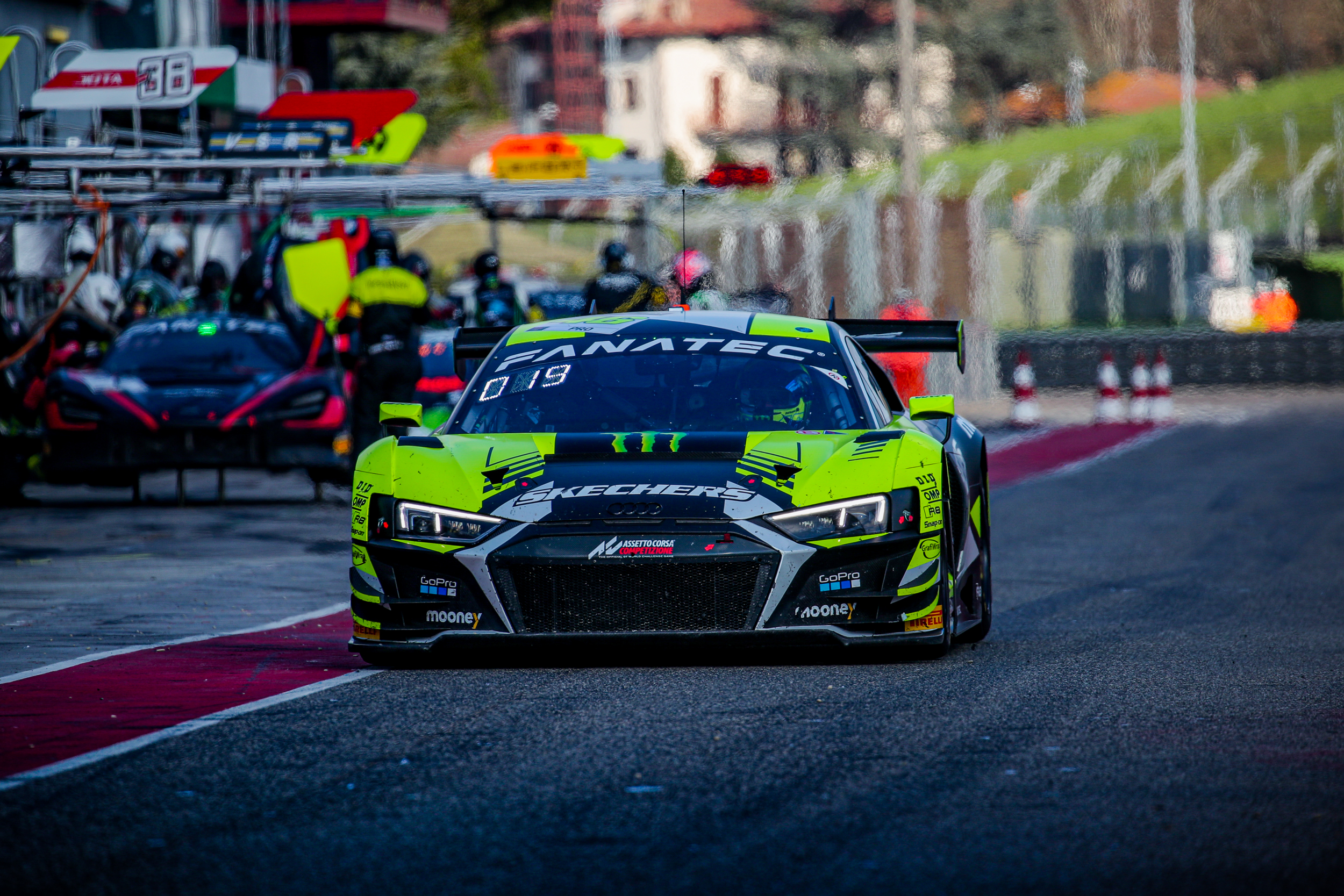 "We still need to work on the balance of the car, which is not perfect, but the pace was not so bad. The racetrack is like a jungle, with a lot of battles, a lot of traffic."
So often at the front of a crowded MotoGP field in the past, Rossi found himself in an altogether different environment come qualifying as a whopping 52 drivers tried to engineer themselves something resembling a "clean" lap.
In the end, precious few did get a clean lap, with the bulk of the field settling for a "less busy" lap as a way of a compromise.
Comparing his qualifying times against far more experienced WRT team-mates Nico Mueller and Frederic Vervisch, Rossi performed reasonably well in the final segment, despite a few lairy moments.
---
Team WRT qualifying times compared
Q1 – Vervisch 1m40.618s
Q2 – Mueller 1m40.849s
Q3 – Rossi 1m41.132s
---
Although Rossi's best Q3 effort was only three-tenths of a second slower than Mueller's fastest Q2 time, it must be remembered that Rossi had the best of the track conditions in the final segment, as well as the lighter car, as the cars are not refuelled between sessions.
That said, the fact Rossi got as close as he did to Mueller's time was impressive given that most of that deficit came from getting sideways exiting the Variante Alta.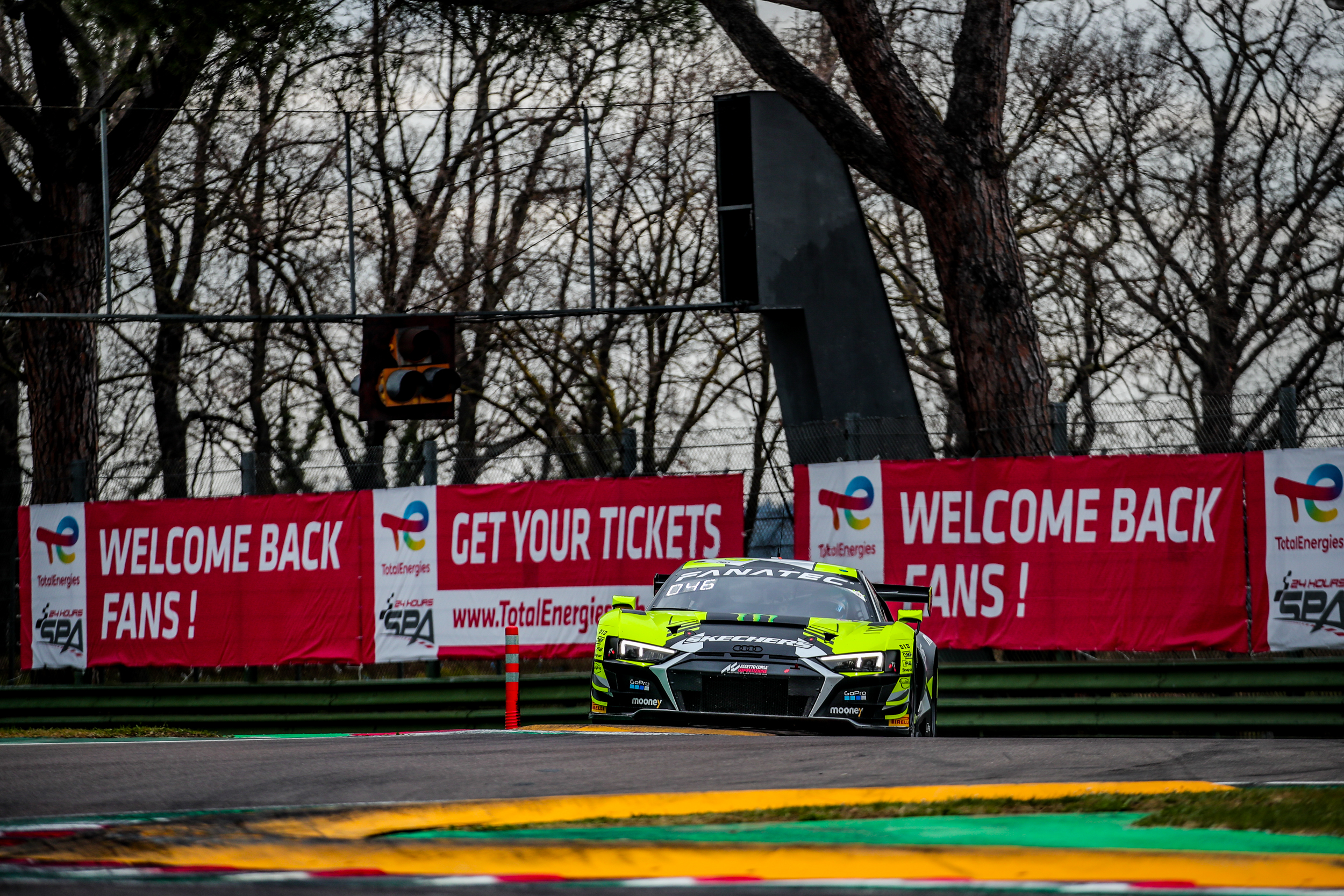 He showed incredible car control to keep his Audi R8 LMS pointing in the right direction but too often found himself squabbling with other cars in an attempt to find clear air off his own back. This, rather than backing off and creating a gap in front, was perhaps the biggest sign that Rossi is still getting used to the GT world.
The #46 Audi lined up 15th on the grid, not a bad effort considering the size of the field, and the car ran comfortably in the top 20 before Rossi got in for the second hour.
As is common in GT3 racing, the more experienced drivers tend to take the first and third stints, with the slower of the three occupying the middle stint generally considered less risky.
When Rossi jumped aboard, the #46 car was 14th and quickly in a battle with the leading Pro Emil Frey Racing Lamborghini of Albert Costa, who had just taken over from Williams Formula 1 reserve driver Jack Aitken.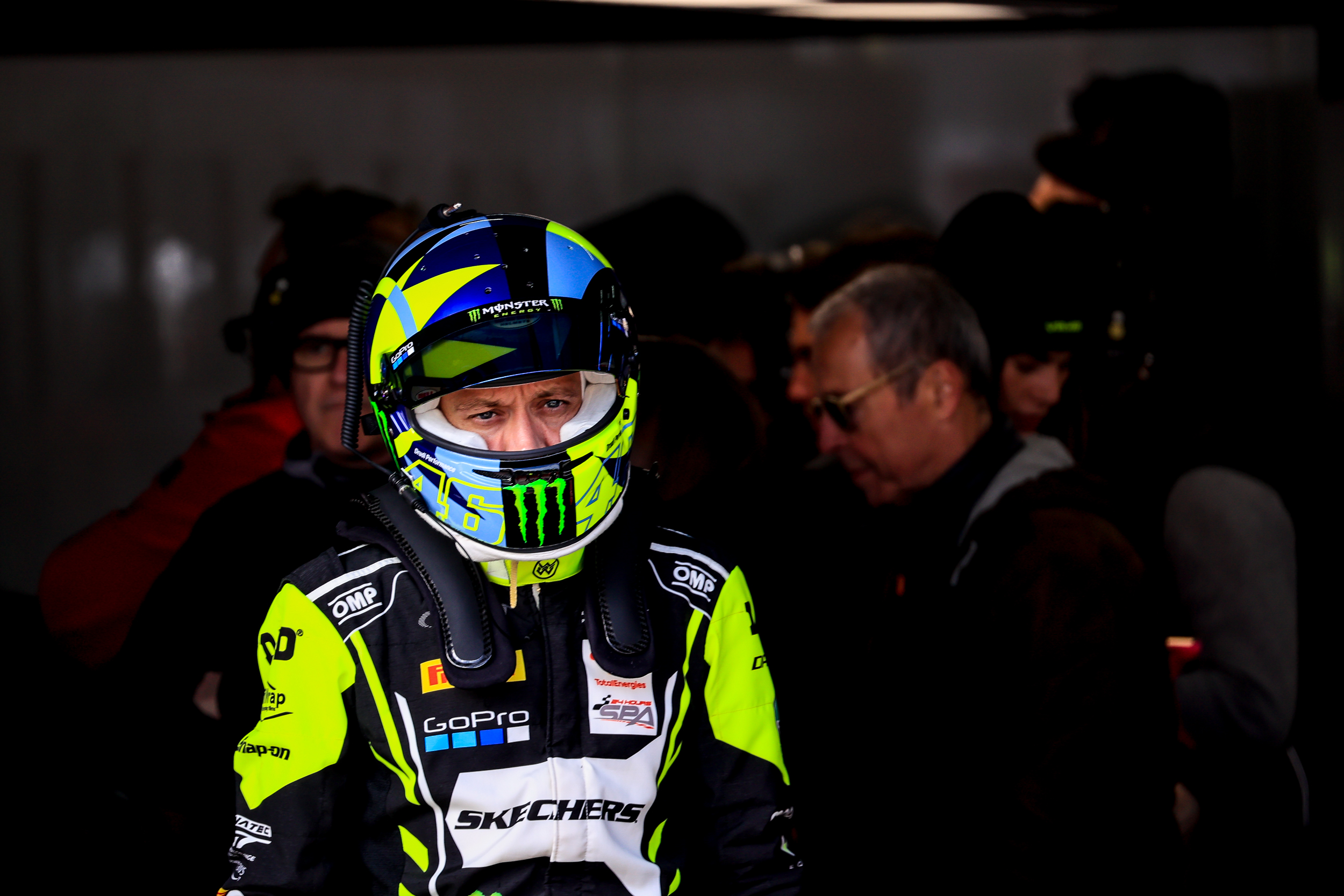 Rossi was racy, but this was to be expected. The competitive juices took over and Rossi looked in his element, dicing with those more experienced in front. He also had to deal with two full-course yellow periods, after which he committed the sort of blunder that happens even to the best of drivers.
Pitting with the majority of the field after Jordan Witt's Leipert Motorsport Lamborghini got rear-ended by the Bentley of Matthieu de Robiano and caused a temporary traffic jam from Variante Alta right the way back to Aqua Minerali, Rossi missed his pitbox amidst the plethora of cars coming in.
Almost coming to a stand-still, a bemused Rossi had to re-tighten his belts and do another lap, while his mechanics tried everything to make him enter his box.
"Unfortunately, there was a lot of confusion, a lot of cars and I missed the box," Rossi told the TV broadcast. "But this is experience."
WRT team principal Vincent Vosse was quick to defend his driver following the error.
"All the attention, obviously, was on Valentino, he did a very good job, [made] no mistakes and had a good pace," he said.
"He is not at fault in the pitstop issue, it is something that we have to analyse but that can happen when almost the entire field comes into the pitlane at the same time."
Rossi climbs aboard. The crowd – and we're not just saying this – go wild.

🇬🇧 https://t.co/EKRrFj9iiF 🇮🇹 https://t.co/MqKoDFCd1j
🇩🇪 https://t.co/4qEylVd8RH 🇫🇷 https://t.co/90pDsKuRR9#GTWorldChEu pic.twitter.com/Qmq6TBbDCL

— GT World Challenge Europe (@GTWorldChEu) April 3, 2022
The extra lap cost the car dearly, but it was a similar time loss to that of several other cars that were forced to pit a lap later, some of which out of necessity as they had to meet their fuel targets.
Rossi handed over to Mueller and the team celebrated a creditable 17th place. Not a bad result for the first proper outing, but the potential was most certainly there for a top-10 finish.
Much of the pre-weekend talk had been about the difference between the motorcycle world and the GT environment he's now launching himself into.
Rossi has shown that he not only has what it takes to be fast on four wheels, he is also an extremely quick learner.
"The level of competition in this championship, the drivers and even in my own team, is very comparable to MotoGP," explains Rossi.
"Of course, in this championship, there are more people because there are more mechanics needed for cars than for bikes, but I think we are there.
"To bring the car to the limit is a big emotion for me. I enjoy it and I hope to have fun, but to have fun you need to be fighting for the important positions."
Rossi will be in action again at the end of the month, when the GT World Challenge Europe Sprint Cup kicks off at Brands Hatch.
Pedrosa loving life as debutant in Super Trofeo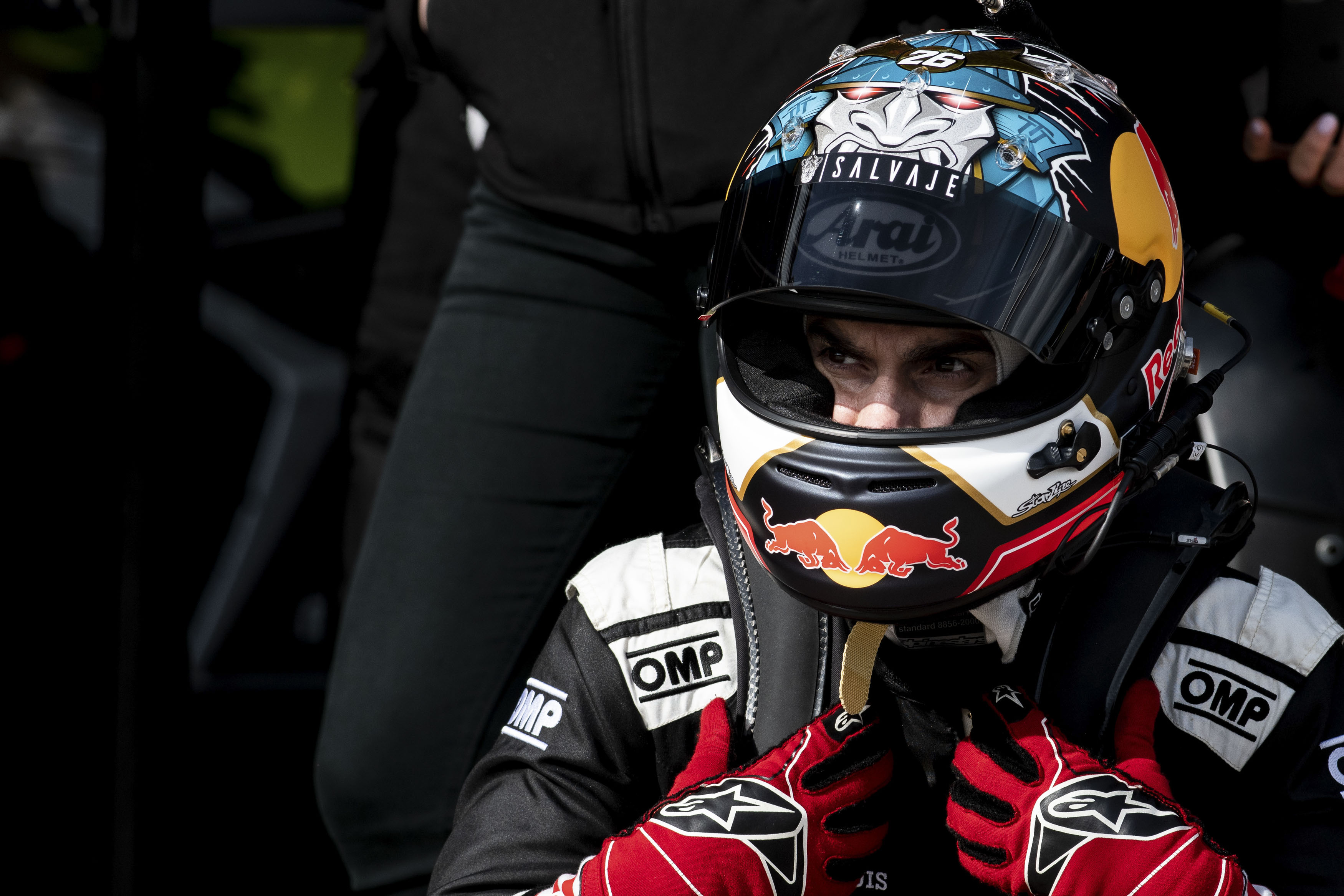 In any other context, Dani Pedrosa would have been the star attraction at Imola, as he made his car racing debut in the one-make Lamborghini Super Trofeo Europe championship with FFF Racing Team.
However, you get the impression that the softly spoken, affable Spaniard preferred having the limelight taken from him.
"I know nothing about car racing!" he beamed to the TV crew ahead of his first race. "But I will try to enjoy it and learn."
For Pedrosa, it wasn't just his first-time racing on four wheels, it was also his first at Imola. Talk about a baptism of fire.
So, what did the 31-time Grand Prix winner think of his first race outing off a bike?
"There are so many differences between a car and a bike, of course, I am more used to bikes," he told The Race.
"The biggest difficulty for me was finding how much grip I had in the corners and how much I could brake in the corners. This took a lot of time to get used to and understand."
"I was learning so much from my team-mate Antonin [Borga], everything about racing a car is new to me, such as how much steering effort I need to put into the corners, what the ideal racing line is in a car versus a bike."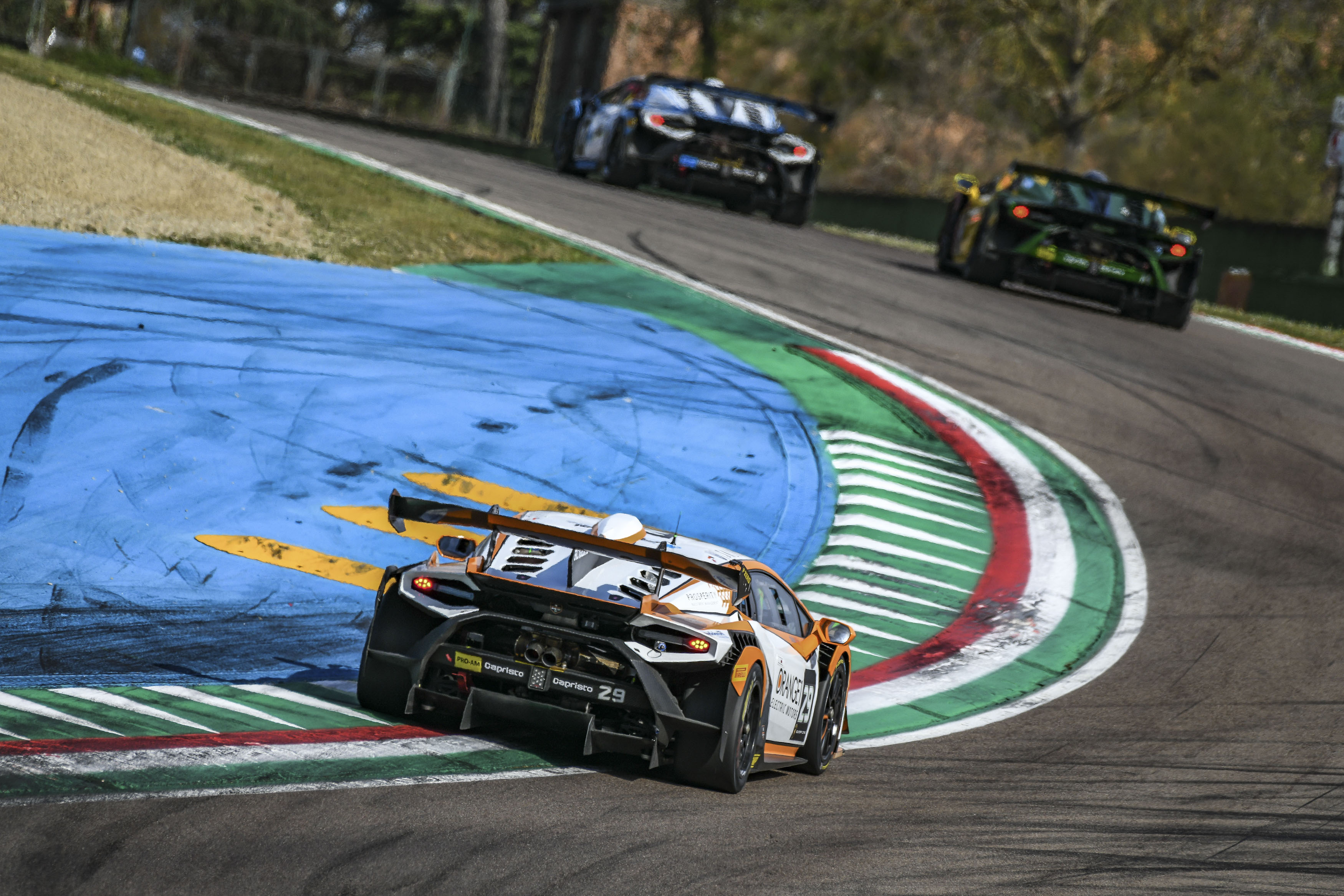 Pedrosa's progress was steady throughout the weekend, and he gained invaluable lessons in racecraft and exactly how to manhandle the 520bhp V10 Lamborghini Huracán ST EVO2 – upgraded for the 2022 season – in the corners in particular.
They are interesting beasts to drive, let alone race, and Pedrosa capped off a promising opening weekend with eighth overall in the second 50-minute race on Sunday, just off the Pro-Am class podium as well.
He'll be back out on familiar territory in July, when Super Trofeo joins the GTWC Sprint Cup bill at Misano.