KTM expects to reap significant competitive benefits from its "super refreshing" tie-in with the Red Bull Formula 1 team's technology department – with the brand admitting it's been left behind in terms of aero development in MotoGP.
But it also feels that its project is just the latest item of evidence supporting its past warnings to MotoGP over an aero war becoming a financial 'dump hole'.
Aerodynamic devices have grown exponentially more visible and more important to performance in MotoGP in recent years, with the aero push largely fronted by Ducati tech guru Gigi Dall'Igna – whose former right-hand man Fabiano Sterlacchini moved to none other than KTM a year and a half ago.
And last year, as per Red Bull-owned German publication Speedweek, KTM chiefs visited the Red Bull F1 team's Milton Keynes headquarters in the UK, where they formalised a 'working group'-style cooperation between Red Bull Advanced Technologies – "the technological arm" of the F1 team – and KTM's MotoGP project.
"The work with Red Bull Advanced Technologies, it's super exciting, super refreshing. We feel we have a strong partner," said KTM motorsport boss Pit Beirer in a media session following the launch of KTM's 2023 MotoGP team launch.
Having been asked about involvement by 'external companies', he stressed he wouldn't call Red Bull that as "it's our friend, our neighbour, our partner, we share so many projects and things".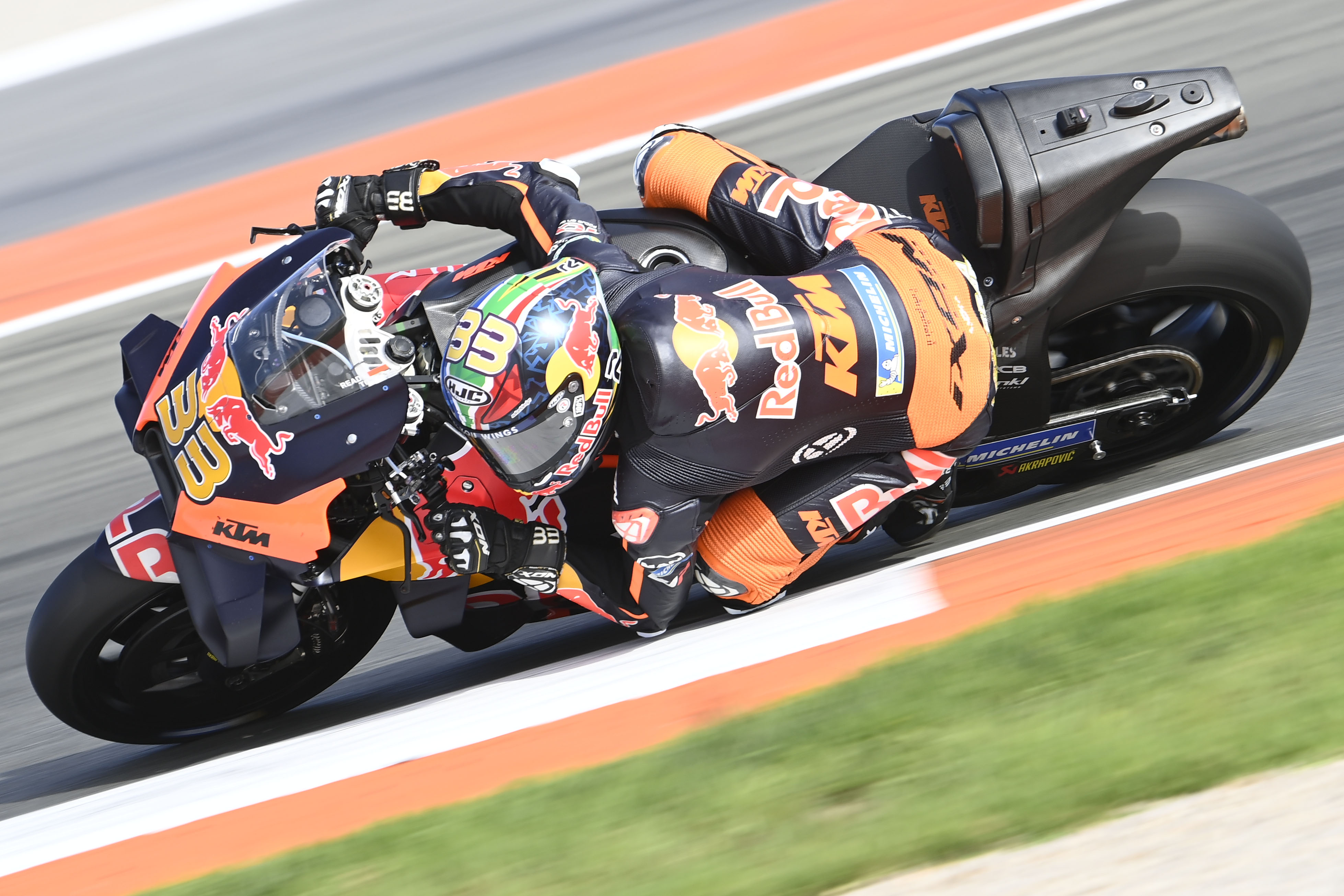 Though involved with other MotoGP projects, namely the Honda works team, Red Bull has been the KTM factory team's title sponsor all throughout its premier-class tenure so far.
"I mean, that they opened the door for us to work together on the aerodynamics, that was definitely a big one and it will be an important support going into the future," Beirer continued.
"Because that's something [where] we just didn't grow up our knowledge and our experts enough, for the fact what's going on right now in MotoGP. That you need to bring wings and different things all around the motorcycle, and everything is affecting the bike.
"It's quite easy to create downforce, it's easy to create top speed, but to combine that you have everything you want out of the aerodynamics, that's a very complex topic.
"We have established this working group, we're exchanging informations – but the rest of the motorcycle we really want to build in our own facility, with our own people, and we have great people. But that aerodynamic door, I feel that's like a long-term working plan we're going to have together with Red Bull."
KTM has been making use of windtunnel testing "quite a lot, definitely much more than before" due to not just MotoGP's increased reliance on aero but also having "many more options to try" thanks to the Red Bull cooperation.
But Beirer – having earlier warned that MotoGP risked repeating F1's mistakes in terms of aero development getting out of control and having a negative impact on the quality of racing, something many feel has already been evident in the premier class in the past few years – reiterated that none of this is KTM's ideal vision for MotoGP.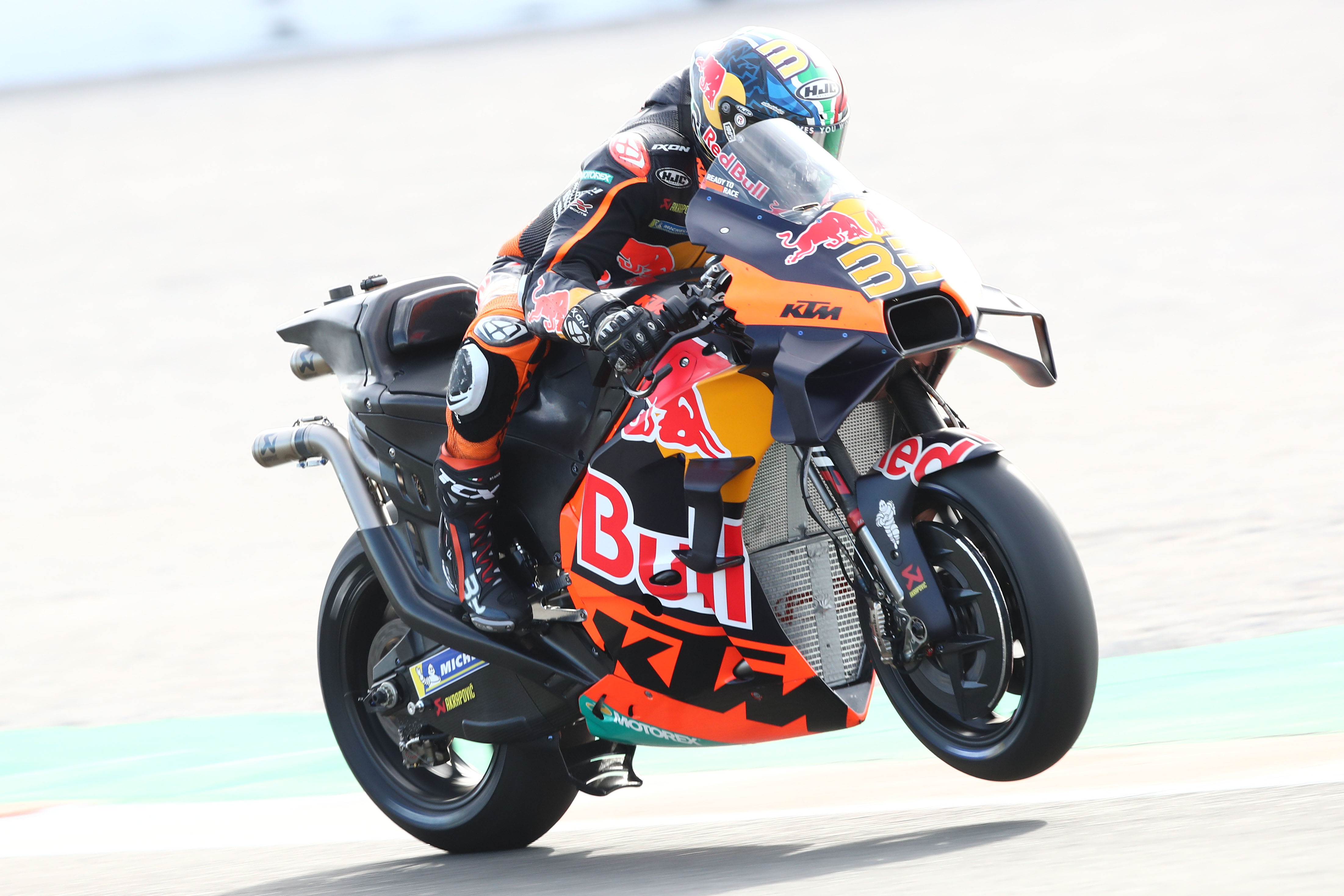 There are, of course, aero restrictions in MotoGP, both in terms of the specific technical regulations and the fact only two aero packages can be homologated by a team in a season, but it has not stopped bikes from sporting increasingly intricate designs, with 'stegosaurus' rear winglets now presenting an extra development battleground in addition to the complicated winglet layouts on the front and carefully sculpted shapes on the side of the fairing.
"I mean, we warned about that scenario. That it will open a new dump hole for a lot of money on the budget side," said Beirer.
"We warned about it for many years. We were never in favour of that development, so I don't want to hide that.
"But, yeah. We didn't really get support on that, to limit that much more, which could keep the bike more in a classic way how it was.
"But that's now behind us. We've found a great partner, we have the budget, and we go for it, and we enjoy the wind tunnel and we go there as often as we can. Yeah. It's part of our project and we enjoy it – but we needed also that partnership to enjoy it, I have to be also honest from that side."