American domestic superbike series MotoAmerica has responded to criticism of its response to a high-profile crash involving MotoGP race-winner Danilo Petrucci at Virginia International Raceway last weekend.
Petrucci had taken to social media to hit out at series bosses in the aftermath.
Catching a slower rider as he took the chequered flag in the second race of the VIR weekend, Petrucci was forced to take avoiding action through the 170mph Turn 1, running wide, falling and hitting a number of sponsorship boards as he fell.
Petrucci, who is now part of the factory supported Warhorse HSBK Racing Ducati team in MotoAmerica, said he was then left virtually unassisted as he picked himself up again.
— Danilo Petrucci (@Petrux9) May 23, 2022
"Nobody recognised my accident because there were no safety cameras and nobody got a video of my crash," he explained on social media when asked by The Race.
"I rolled for over 100 metres, maybe one of the worst crashes of my entire career.
"And I [was] lying down for over two minutes with no assistance, hearing the bikes pass next to me, till I stood up by myself and went alone to the medical centre."
That raised questions about the safety of both the track in particular and the series in general, after a number of similar issues raised both by Petrucci and other former Grand Prix racers who have headed to MotoAmerica in recent years.
Frenchman Loris Baz in particular echoed Petrucci's sentiments on Twitter following the fall, after his own experiences with the Warhorse team in 2020.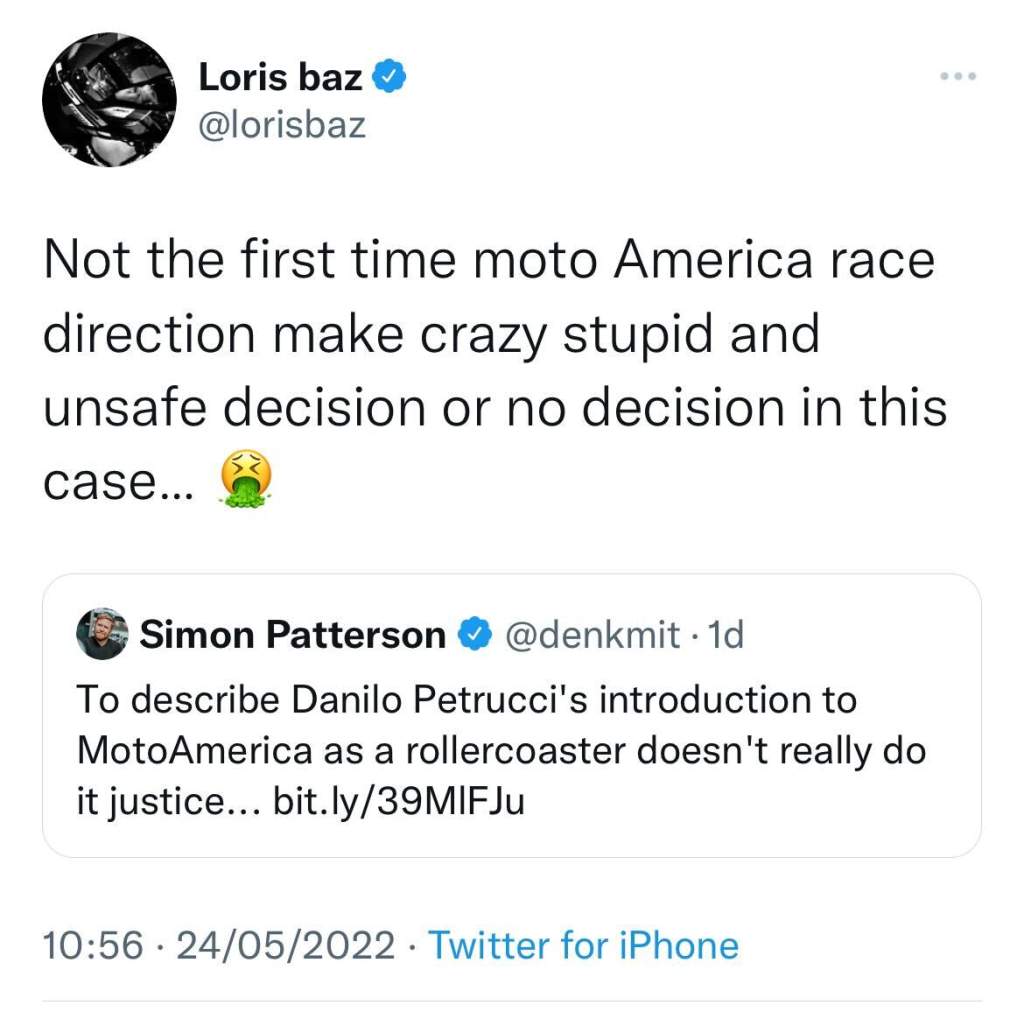 Give me penalty point last year for riding on the limit they said but then leave us 2 mn on a grid in brainerd ( worst and most dangerous track of the calendar )in the other side of the track so we started with cold tyre and crashed.. https://t.co/6nVxSjMmFS

— Loris baz (@lorisbaz) May 24, 2022
Speaking in a statement issued on Tuesday, the championship refuted some of Petrucci's claims, denying that he spent as long as he did without medical intervention or that the crash had been wholly unnoticed by race control.
"On Sunday afternoon at VIR," the promoter explained in a press statement, "there was an accident at the end of the Medallia Superbike race in which Danilo Petrucci crashed after crossing the finish line in third place.
"Unfortunately, the crash itself occurred off camera. Race Direction witnessed the end of the crash and immediately acted. As appropriate, a yellow caution flag was deployed.
"By this time, eighth-place finisher Ashton Yates had crossed the finish line, 27 seconds behind Petrucci. Roughly 17 seconds later, race direction could see that Petrucci was on his feet and appeared to be not seriously injured.
"Although Petrucci's crash occurred in a fast section of the racetrack, it's also an area with the most run-off of any track at which MotoAmerica rounds are held.
"A sliding Petrucci also struck a single lightweight sponsor sign that consequently gave way as it is designed to do.
"Petrucci was up and continued walking and stood trackside until he deemed it was safe to walk across the track.
"He was then met by MotoAmerica staff and escorted in a vehicle to the trackside Medical Center, which was some 200 yards from the site of the incident.
"At that point, roughly three minutes had passed, and Petrucci was treated for his injuries."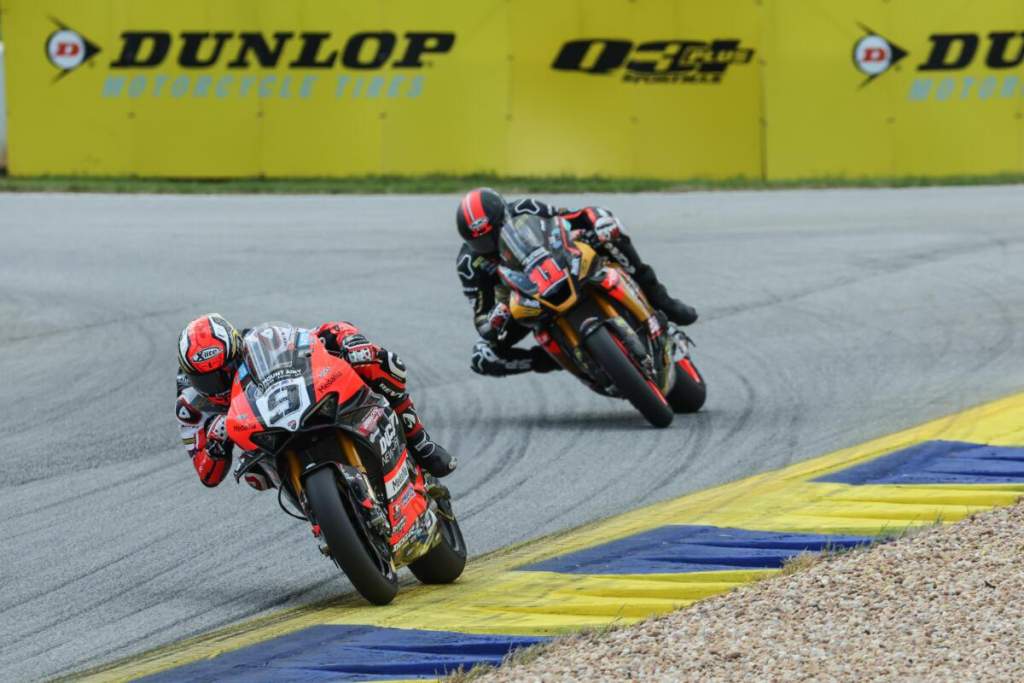 However, the series also acknowledged that there are lessons to be learned from what happened with Petrucci, and those lessons will be studied and acted on.
That vow comes from someone well familiar with racing motorbikes both in Europe and America: series boss and three-time 500cc world champion Wayne Rainey.
"Attention to detail is paramount when it comes to safety and the safety of our riders is our number-one priority," said MotoAmerica president Rainey.
"That's where we start, and our process goes forward from there.
"In MotoAmerica's eight years of racing, we have never neglected a rider who was injured.
"I have nothing but respect for Danilo and his safety and the safety of all our riders is of the utmost importance.
"We will never minimise a rider's injury nor their views of the incident that took place.
"We needed to get to Danilo more quickly and we will study the incident and will make changes where necessary.
"The situation was made even more difficult in that, although the crash was after the chequered flag, the track was still hot with riders still at speed and thus mobilising workers became more difficult.
"Additionally, Race Direction places a lot of emphasis on what they witness of a rider's actions following an incident.
"Petrucci was standing and walking under his own power and that quickly lessens the severity of the response.
"We hope Danilo's injuries are healing and he's feeling better. And we look forward to seeing him at Road America."
Petrucci currently leads the MotoAmerica standings in his first season in the series by four points over Mathew Scholtz.